Biden Sees Problem With Running Mate Who Backs Medicare For All
(Bloomberg) -- Former Vice President Joe Biden said Sunday he would be unlikely to choose a running mate who supports Medicare for All, essentially ruling out progressive rivals Bernie Sanders and Elizabeth Warren.
"There has to be some correlation between their views and mine," he said, speaking at an event in New Hampshire, which holds its Democratic presidential primary on Tuesday.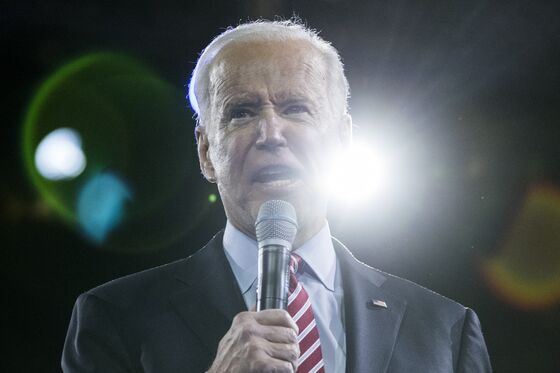 "For example," he said, "if I pick someone who had a view that they insisted that we do Medicare for all, which costs over $35 trillion and has no chance of becoming law and would not support my plan for Medicare for those who want it building in Obamacare and building the public option, that would be a real problem."
Biden hinted that he would consider former South Bend, Indiana Mayor Pete Buttigieg as a running mate, but later backed off when asked about his criticism a day earlier that Buttigieg is unqualified for the top job.
"That's why I don't want to get into who I'd pick as vice president," addressing the issue later at the same event. "There's a lot of people qualified. A lot of people qualified."
He also said some candidates who had dropped out were on his short list for vice president or even a Cabinet post.
"There are a number of people who have run and have dropped out already who are completely capable and confident to be a vice president or a secretary of defense or secretary of state or national security adviser, et cetera," he said.