Biden Makes Direct Appeal to Latinos in First Trip to Florida
(Bloomberg) -- Democratic presidential nominee Joe Biden made his most direct appeal yet to Hispanic voters on Tuesday, seeking to bolster turnout among the crucial voting bloc during his first trip to Florida as the Democratic nominee.
Reminding Latino voters of the power of their vote, the former vice president directly asked for their support as he criticized President Donald Trump's leadership.
"Donald Trump has failed the Hispanic community time and time again and that's not a secret," Biden said at a celebration of Hispanic heritage in Kissimmee on Tuesday evening. "He's done nothing but assault the dignity of Hispanic families over and over and over again. It's wrong. That's not who we are."
But, he added, "Hispanic voters, especially right here in Florida, can help put our nation on a new path forward."
Biden's trip to Florida comes as polls show the race tightening in a state that Trump won by slightly more than 1 percentage point in 2016. Some Democrats have expressed concerns about the president's inroads with Hispanics, a demographic that Hillary Clinton won overwhelmingly in the last election.
In his speech, Biden emphasized his Roman Catholic faith and sought to strike a contrast with Trump, who he said had disregarded Puerto Rico after the devastation of Hurricane Maria in 2017, which brought a large influx of residents of the U.S. territory to Florida. Earlier in the day, Biden released a plan to end austerity measures for Puerto Rico, carefully timed for his visit.
"Donald Trump doesn't seem to grasp that the people of Puerto Rico are American citizens already," Biden said. "I'm running to be president of all America."
Before Biden spoke, three Latino celebrities -- Eva Longoria, Ricky Martin and Luis Fonsi -- spoke about the power Latinos hold in the presidential election and the importance of voting for Biden in November.
"These are the most important elections in the history of our country and Puerto Ricans have the power to decide it," Martin said.
Just before Biden spoke, he pulled out his iPhone, played "Despacito," a song Fonsi wrote, and bobbed his head to the music.
While a Monmouth poll released Tuesday found Biden leading President Donald Trump 50% to 45% among registered voters in the battleground state, an NBC News-Marist poll last week found Trump had made significant strides in Latino support in Florida, with an edge of 50% to Biden's 46%.
In 2016, Clinton won support from Latino voters -- 62% to 35%, according to exit polls. But this year, Democrats are worried that Trump is gaining, particularly with Cuban-Americans, who lean Republican. Democrats say they hope Biden can make up ground with non-Cuban Hispanics, who typically tend to prefer Democrats.
Some 209,000 Florida voters were born in Puerto Rico, according to 2018 voter roll data compiled and analyzed by University of Florida political science professor Daniel Smith. That's up by about 17,000 since 2016. But in the last presidential election year, Puerto Ricans' turnout was just 66%. By comparison, participation was 77% for Cuba-born voters.
Representative Darren Soto, a Florida Democrat, said Biden must counter Trump's assertions that he is a "socialist," a particularly potent label for people who have fled repressive leftist regimes such as exiles from Cuba or Venezuela.
"No one in the world thinks Joe Biden's anything other than a capitalist who has led the greatest economy back from the brink, and the great recession, but people are going to lie and try to play on the fears of those who left socialist dictatorships," Soto said.
Biden began his trip to the state, which has voted for every president since 1996, with a veterans roundtable. His campaign is fighting hard to boost his support from those voters, who usually lean Republican, after The Atlantic reported Trump denigrated war dead as "losers" and "suckers."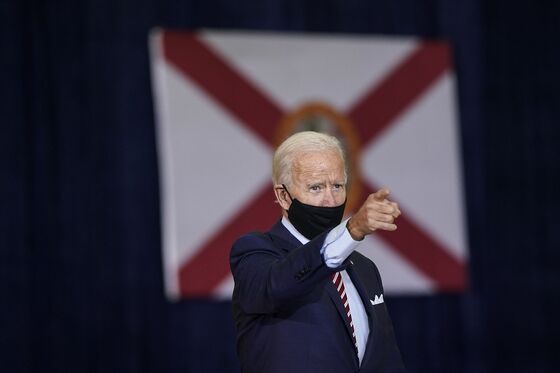 "My son Beau, who volunteered to go to Iraq and came home with the Bronze Star, was not a sucker," he said at an event in Tampa. "The men and women who served with him are not suckers. And the service men and women he served with – who did not come home – are not losers. They're heroes."

"It's a disgrace," he said.
The Monmouth poll showed Biden is lagging Trump 50% to 46% among the state's military or veteran households, which account for more than one-third of the voters there. The president won those voters by double digits in 2016.
A recent court ruling, however, may have added to Biden's challenges in Florida — a federal appeals court ruled that former felons, who secured the right to vote in 2018, have to first pay all their court fees before being allowed to cast a ballot. More than 774,000 convicted felons, who lean Democratic, owe legal fees.
Biden's running mate, Kamala Harris, traveled to Miami last week with her husband, Doug Emhoff, picking up arepas at a Venezuelan restaurant in Doral before Harris visited Florida Memorial University for a discussion on the challenges facing the Black community in South Florida. Emhoff, who is Jewish, attended a roundtable with rabbis at a synagogue in Aventura.