Biden Touts Pfizer Boosters After CDC Boss Overrules Panel
(Bloomberg) -- President Joe Biden said 60 million Americans who got the Pfizer Inc.-BioNTech SE Covid-19 vaccine will soon be able to get a booster shot, after one of his top health officials overruled an advisory panel to expand eligibility.
"We took a key step in protecting the vaccinated with booster shots, which our top government doctors believe provides the highest level of protection available to date," Biden said Friday at the White House.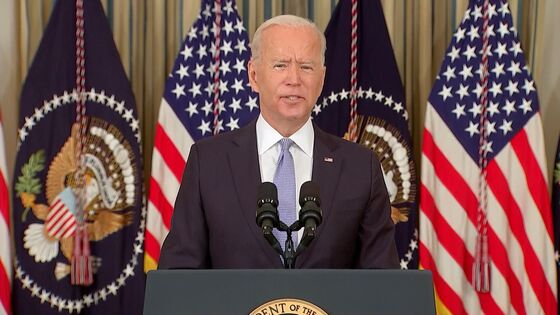 The Centers for Disease Control and Prevention director, Rochelle Walensky, issued a statement late Thursday advising that booster shots could be given to certain adults with the Pfizer vaccine 6 months after the second of their first two shots. 
Her statement broadened eligibility for the shots beyond the recommendations of a CDC advisory panel. But Biden said Walensky was in-line with medical science.
"The decision of which booster shot to give, when to start the shot, and who will get them, is left to the scientists and the doctors," Biden said. "That's what happened here."
In particular, Walensky said that people age 18 to 64, who have no underlying medical conditions but who work in places with a high chance of Covid-19 exposure, would be able to get a Pfizer booster if they previously got the Pfizer vaccine. That overruled a vote earlier in the day by the CDC's Advisory Committee on Immunization Practices, but was in line with recommendations from the Food and Drug Administration. 
Walensky also opened eligibility to those 65 and up and those age 50 to 64 with underlying medical conditions, saying both groups should get a booster.
And she said people age 18 to 49 with underlying medical conditions could get a booster "based on their individual benefits and risks." 
All of her recommendations pertain only to people who initially got the Pfizer shot. The FDA has not yet considered booster shots for people who received the Moderna Inc. or Johnson & Johnson vaccines.
About 100 million people in the U.S. have been fully vaccinated with the Pfizer shot. Biden said that 60 million of them will eventually be eligible for boosters, though only 20 million are immediately eligible because six months has elapsed since their second shot.
Biden asked Americans who got the Moderna or J&J shots to be patient. 
"You still have a high degree of protection," he said. "Our doctors and scientists are working day and night to analyze the data from those two organizations on whether and when you need a booster shot, and we'll provide updates for you as the process moves ahead."
"You're safe as possible, you're in good shape, and we're doing everything we can to keep it that way, which is where the booster comes in," he said.
And Biden asked Americans who got Pfizer but aren't yet eligible for a booster to wait their turn. 
"In the near term, we're probably going to open this up anyway," he said, including for people with Moderna and J&J. Everyone "basically across the board" eventually will be able to get another shot, he said.