Biden in Talks With Mexico on Migrants, Expects to Stem Flow
(Bloomberg) -- President Joe Biden expressed confidence that Mexico will accept families arriving at the U.S. border, while defending his administration's approach to the surge in migration, pinning some of the blame on former President Donald Trump.
Thousands of families from Mexico and Central America have traveled to the southern border in recent weeks in the hope of being allowed to stay, contributing to the spike. While the Biden administration has said families are being expelled under a public-health order invoked by Trump during the pandemic, an increasing number have remained in the U.S., officials have said, because Mexico has been unwilling to receive them.
"We're in negotiations with the president of Mexico. I think we're going to see that change," Biden said Thursday during his first formal news conference at the White House. "They should all be going back."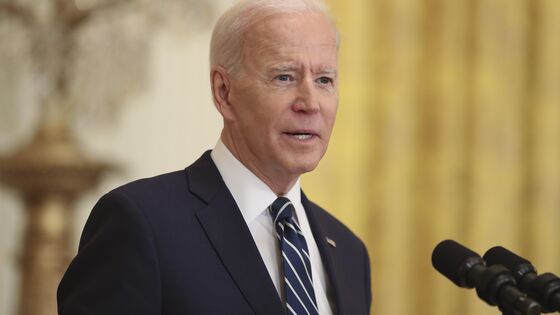 Biden rejected the assertion from Republicans, and some Democrats, that his welcoming rhetoric toward migrants is the reason more of them are seeking to cross the U.S. border. He defended his efforts to repeal Trump's hard-line immigration policies, and said that's not why migrants make the often dangerous trek north.
"I make no apologies for ending programs that did not exist before Trump became president that have an incredibly negative impact on the law, international law, as well as on human dignity," he said.
The president said he would not resume Trump's pandemic-era practice of turning away unaccompanied children at the border.
"The idea that I'm going to say, which I would never do, that if an unaccompanied child ends up at the border, we're just going to let him starve to death and stay on the other side," Biden said. "I'm not going to do it."
The surge in undocumented migrants -- including thousands of unaccompanied minors -- has created a dilemma for Biden, who's caught between his campaign promise to create a more humane immigration system and mounting pressure from lawmakers in both parties to do more to deter them.
Images of children and teens in crowded facilities near the border have garnered national attention, complicating the debate over Biden's proposal to offer a path to citizenship to millions living illegally in the U.S. Officials from border states have said the situation threatens to become a full-blown humanitarian crisis.
Biden said he would continue using the public-health order, known as Title 42, to turn away single adults and families arriving from Mexico and Central America, despite pleas from immigrant-rights groups to end the practice. Negotiations with Mexico have focused on the implementation of a child-protection law that's caused at least one state along the border with Texas to stop accepting families with children under six, according to an administration official.
The American Civil Liberties Union had been in discussions about curbing the use of Title 42 on families, and agreed to delay pursuing its lawsuit in federal court to allow the talks to proceed. But the group raised the possibility Biden's comments may force it to push ahead with legal action.
Biden "said his hope is that U.S. wants to expel ALL families if Mexico will allow them," Lee Gelernt, the lead ACLU lawyer working the case, said in a tweet. "Then litigation may be only choice."
Biden's main challenge is finding enough shelter space to house the growing number of unaccompanied children and teens arriving at the border, which the administration says is on pace to be the highest number in 20 years.
Roughly 5,000 minors are being held in Customs and Border Protection facilities that are deemed unfit for children, and often for longer than the maximum of 72 hours required by law. The Department of Health and Human Services, which operates shelters where children stay until they can be reunited with family or sponsors, has roughly 11,500 minors in custody as of Tuesday, according to data from the department.
Biden said his goal is to move 1,000 children out of CBP custody "quickly." He indicated some administration officials may be out of a job soon if the situation doesn't improve.
"They're already getting better, but they're going to get real -- going to get a whole hell of a lot better real quick or you're going to hear some people leaving, OK?" he said.
Biden on Wednesday put Vice President Kamala Harris in charge of the U.S. response, saying the surge began during his predecessor's term "but it is our responsibility." The president has said he would travel to the border to witness the situation for himself, but said he didn't want to make the trip immediately because his security requirements would cause too great a disturbance.
The White House sent southwest-border coordinator Roberta Jacobson and other top aides to Mexico this week for high-level talks to stop unauthorized migrants before they reach the border. The group was expected to hold similar meetings in Guatemala but the trip was scrapped when volcanic ash caused the cancellation of its flight, according to a senior administration official. The in-person meeting is expected to be rescheduled and virtual talks are being planned in the meantime, the official said.
Lawmakers in both political parties have urged Biden to step up his efforts. Texas Republican Senator John Cornyn and Arizona Democratic Senator Kyrsten Sinema wrote a joint letter to the president this week saying he should take "immediate action" to ensure there is enough space in facilities to house migrants and improve the asylum process.
Biden on Thursday pointed to struggling economies and unsafe conditions in Central America as the root causes of migration, while blaming Trump's efforts to dismantle the U.S. asylum system for making the situation worse. Biden also pointed out the number of migrants spikes every year during the spring months, even under Trump.
"I'd like to think it's because I'm a nice guy, but it's not; it's because of what's happened every year," the president said.
The administration has rushed to create more space for the minors. It's opened three influx facilities and emergency intake sites over the past month and is planning to open at least six more, HHS has announced. Altogether, the facilities would have almost 16,000 beds for unaccompanied children, according to HHS data.