Biden Says He Doesn't Think He Can Overrule Governors on Masks
(Bloomberg) -- President Joe Biden said he doesn't think he has the power to overrule governors who nullify requirements imposed by school systems calling on kids and staff to wear masks to protect against Covid-19.
"I don't believe that I do thus far. We're checking that," Biden told reporters Tuesday in response to a question at the White House. "On federal workforce, I can."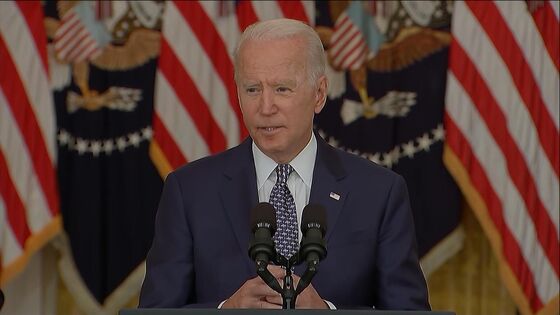 Biden's comments came as school leaders across the country face a dilemma as millions of students prepare to return in person to classes as the delta variant of Covid-19 spreads rapidly.
A group of parents in Florida have gone to court to block an executive order by Governor Ron DeSantis that bans school districts from imposing mask requirements when classes resume this fall. At least six other states, including Arizona, Texas and Arkansas, have banned local school districts from requiring students to wear masks.
"One of the things that I find a little disingenuous when I suggest that people in zones where there is a high risk wear the masks like you all are doing, I'm told that government should get out of the way, and not do that. 'They don't have the authority to do that,'" Biden said.
"Some of the very people who are saying that, who hold government positions, are people who are threatening that if a school teacher asks a student if they've been vaccinated, or if a principal says that everyone in my school should wear a mask, or the school board votes for it, that governor will nullify that," he added.