Biden Says China Made 'Mistake' Skipping G-20, COP26 Summits
(Bloomberg) -- President Joe Biden said that Russia, Saudi Arabia and especially China were mistaken to skip the Group of 20 and UN climate conferences in Europe this week, noting that Beijing missed an opportunity to participate in global leadership.
"They've lost an ability to influence people around the world and the people here at COP," he said at a news conference in Glasgow, Scotland, to conclude the COP-26 climate summit.
"The single most important thing that's gotten the attention of the world is climate," he added on China. "It's just a gigantic issue. And they walked away."
Chinese Foreign Ministry spokesman Wang Wenbin said Wednesday at a regular press briefing in Beijing that that world needed action, not "empty rhetoric."
"On the same day that President Biden made these comments, China reforested another 9,800 hectares and put in place about 90,000 kilowatts of photovoltaic" equipment, Wang said, adding that China hoped the "the U.S. can earnestly shoulder its responsibilities."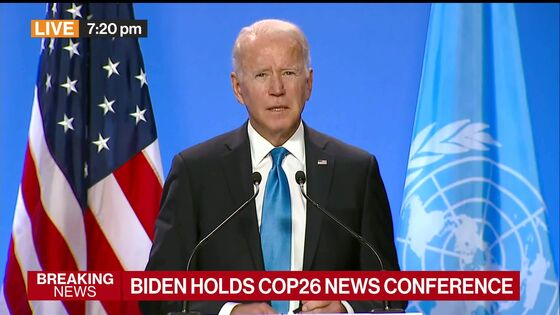 Chinese President Xi Jinping addressed the G-20 in Rome remotely, but he has not traveled from his country since the beginning of the Covid-19 pandemic. Russian President Vladimir Putin also addressed the G-20 remotely. Neither participated in the climate summit.
Biden confirmed that he's planning a virtual bilateral summit with Xi, though he said the date wasn't settled. He said he is not worried about "armed conflict" with China and described the relationship with the U.S. as "competition.
"It doesn't have to be conflict," he said. "We expect him to play by the rules," he added of Xi.