Warren Hits Bloomberg Over NDAs for Workers: Campaign Update
(Bloomberg) -- Democratic presidential candidate Elizabeth Warren said Monday that rival Michael Bloomberg should release women from non-disclosure agreements they signed with his company if they want to speak publicly about allegations of crude remarks and an uncomfortable work environment.
Warren also said Bloomberg should address the issue. She was asked to respond to a report by ABC News about several lawsuits accusing the former New York mayor of making crude remarks to female employees in the 1990s and creating a workplace where such behavior was tolerated.
"When women raise concerns like this we have to pay attention, we have to listen to them and if Michael Bloomberg has made comments like this than he has to answer for them," Warren told reporters in Fort Madison, Iowa, on Monday.
Bloomberg has denied such allegations. A spokesman for Bloomberg's campaign did not immediately respond to a request for comment. Bloomberg is the founder and majority owner of Bloomberg LP, the parent company of Bloomberg News.
On Sunday, Bloomberg said his company has an "enviable record" of gender equity.
"There will always be somebody that's not happy, but we are -- we do very well in terms of attracting men and women to come to work in the company, and the retention rate with both of them is good as I think any real company," Bloomberg said. "So, I'm very proud of what we do."
Warren said Bloomberg should release women from any non-disclosure agreements they might have signed so they can speak out.
"I think NDA's are a way for people to hide bad things they've done," she said. "And I think that women should be able to speak. They need to be released from the NDA's, yes I do."
Former Treasury Secretary Lew Endorses Biden (5:20 PM)
Former President Barack Obama hasn't yet made an endorsement for president, but top officials from his administration are increasingly lining up behind one of their own: former Vice President Joe Biden.
Former Treasury Secretary Jack Lew joined that list Monday, saying Obama's old running mate is best positioned to lead on the economy.
"I have known Joe Biden for 25 years and saw firsthand his leadership and strong advocacy for working families, and for an economy that works for all Americans," Lew said in a statement released through the Biden campaign. "With so much at stake in this election, the country needs a president with not only compassion and heart, but with the legislative and executive experience to deliver on promises to the American people."
Lew is the fifth Obama cabinet secretary to endorse Biden, after former Secretary of State John Kerry, former Labor Secretary Hilda Solis, former Agriculture Secretary Tom Vilsack and former Interior Secretary Ken Salazar. -- Gregory Korte
Biden Shows Strong Lead in Quinnipiac Poll (4:36 p.m.)
Joe Biden has a strong lead in the race for the Democratic presidential nomination, while Senators Elizabeth Warren and Bernie Sanders are tied for second place, according to a poll released Monday.
The Quinnipiac University poll showed Biden, the former vice president, with 30% support, followed by Warren and Sanders at 17% at 16%, respectively. Pete Buttigieg is at 9% and Michael Bloomberg is at 7%. Bloomberg, who entered the race Nov. 24, is the founder and majority owner of Bloomberg LP, the parent company of Bloomberg News. Andrew Yang and Senator Amy Klobuchar each had 3%. No other candidate topped 2%.
But the survey also suggests there's still a lot of room for movement in the Democratic contest. Almost half of those supporting Biden and Sanders say their mind is made up — while more than three-fourths of those supporting Warren and Buttigieg say they could change their minds. In all, 61% of Democratic voters nationally said their minds aren't made up.
While Warren's support is softer than her main rivals, she's also best positioned to pick up support from other candidates. She's the second choice of 21% of Democratic voters, including half of all Sanders supporters and a 26% plurality of Biden supporters. The poll of Democratic voters was conducted Dec. 11-15 and has a margin of error of 4.1 percentage points.
Quinnipiac also found President Donald Trump's approval rating was at 43%, the highest mark registered by the poll since June 2018. Opinions on impeachment were unchanged from a week ago, with 45% in favor and 51% opposed. -- Gregory Korte
Bloomberg to Urge Wall Street to Back Democrats (1:10 p.m.)
Presidential candidate Michael Bloomberg plans to meet Thursday in New York with Wall Street executives and donors to encourage them to get more involved in supporting Democrats and efforts to beat Trump in 2020.
The campaign confirmed reports last week by CNBC and the Washington Post that the former New York mayor is meeting with Wall Street leaders who run hedge funds and private equity firms, as well as wealthy New York activists and donors. The campaign declined to provide the names of attendees.
"He'll encourage giving to state parties and the DNC to support efforts across the country to make sure Donald Trump does not get a second term," spokesman Marc La Vorgna said in a statement. "Many donors have been sitting on the sidelines, waiting for the primary to play out, and Mike is making it clear we simply cannot wait."
Besides spending money on his own campaign, Bloomberg has pledged $100 million for digital ads targeting Trump and an estimated $15 million to $20 million registering voters in key battleground states, and he's promising to support state-level efforts to elect Democrats in 2020 whether he's the nominee or not.
Bloomberg is the founder and majority owner of Bloomberg LP, the parent company of Bloomberg News. -- Mark Niquette
Trump Says He Could Skip 2020 Debates (11:06 a.m.)
Trump on Monday attacked the non-partisan Commission on Presidential Debates, accusing it of bias and raising the possibility that he skip the general election forums.
Trump said in a series of tweets that as president he has authority to circumvent the nonprofit organization that organizes presidential debates, adding that he may hold debates directly with the 2020 Democratic nominee.
"The problem is that the so-called Commission on Presidential Debates is stacked with Trump Haters & Never Trumpers. 3 years ago they were forced to publicly apologize for modulating my microphone in the first debate against Crooked Hillary. As President, the debates are up to me and there are many options, including doing them directly & avoiding the nasty politics of this very biased Commission. I will make a decision at an appropriate time but in the meantime, the Commission on Presidential Debates is NOT authorized to speak for me" or Republicans, Trump tweeted.
After his first debate against Hillary Clinton in September 2016, Trump complained of a faulty microphone. The Commission on Presidential Debates later issued a statement saying "there were issues regarding Donald Trump's audio that affected the sound level in the debate hall."
The first of a series of presidential debates is scheduled for Sept. 29 at the University of Notre Dame in South Bend, Indiana.
"The televised general election debates are an important part of our democratic process," the commission said in a statement. "Since 1988, the Commission on Presidential Debates has conducted 30 general election presidential and vice presidential debates. Our record is one of fairness, balance and non-partisanship. -- Mario Parker
Biden, Sanders Top Democratic Field in New Poll (5:00 a.m.)
Biden and Sanders lead the field of Democratic presidential candidates, followed by Warren, according to a NPR/PBS NewsHour/Marist poll released Monday.
The poll of Democratic and Democratic-leaning independents shows Biden with 24% support and Sanders at 22%, within the margin of error of 5.4 percentage points. Warren had 17%, and Buttigieg had 13%.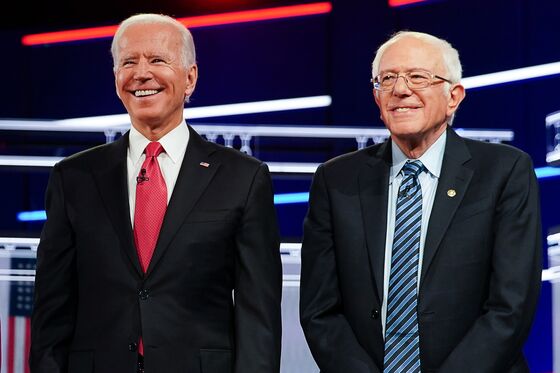 Yang came in fifth with 5%, while Bloomberg, Klobuchar and Cory Booker registered 4%. Other candidates drew 1% or less. Bloomberg is the founder and majority owner of Bloomberg LP, the parent company of Bloomberg News.
The poll, released before a debate of Democratic candidates on Thursday, shows a very fluid field, with 76% of Democratic and Democratic-leaning respondents saying they could change their minds about the contender they favor.
The survey separately found 48% of Americans oppose the impeachment of Trump, while 47% support it -- statistically unchanged from last month. The new poll follows survey data released Sunday that showed little change in Americans' views on impeachment, despite weeks of televised hearings and debate. This broader sample of respondents had a margin of error of 3.7 percentage points. -- Jordan Yadoo
Biden, Warren, Sanders, Buttigieg, Klobuchar, Yang and Tom Steyer will participate in the final Democratic presidential debate of 2019 in Los Angeles on Dec. 19.
(Michael Bloomberg is also seeking the Democratic presidential nomination. Bloomberg is the founder and majority owner of Bloomberg LP, the parent company of Bloomberg News.)