Justice Department Looks Into Trump Fraud Claim: Election Update
(Bloomberg) -- The Justice Department is looking into allegations by President Donald Trump's campaign of voter fraud in Nevada. Democratic nominee Joe Biden is closing in on the 270 electoral votes he needs to win the presidency, while Trump's path to re-election has narrowed.
But Trump has sought a recount in Wisconsin, filed lawsuits in Michigan, Pennsylvania and Georgia and complained about various states' counting procedures.
Justice Department Looking Into Trump Claims of Fraud in Nevada
The Justice Department is looking into whether mail-in ballots in Nevada were improperly cast for president by individuals who had moved out of the state, a department official said late Thursday night.
The move was in response to a letter from lawyers for Trump's campaign who made allegations of "voter fraud" in Nevada. Joe Biden, Trump's Democratic opponent has a lead of about 11,000 votes, with the count continuing.
It's the first sign that Attorney General William Barr might be willing to have the department mount a legal challenge to voting in Nevada. Democrats have broadly dismissed the Trump campaign's claims of widespread irregularities.
Biden's Lead in Arizona Narrows to 46,000 Votes (9:27 p.m.)
Biden's lead over Trump in Arizona narrowed to about 46,000 votes after Maricopa County reported about 76,000 more ballots Thursday evening. His lead in Maricopa County, which includes Phoenix, shrank to about 64,000 from about 75,000 earlier.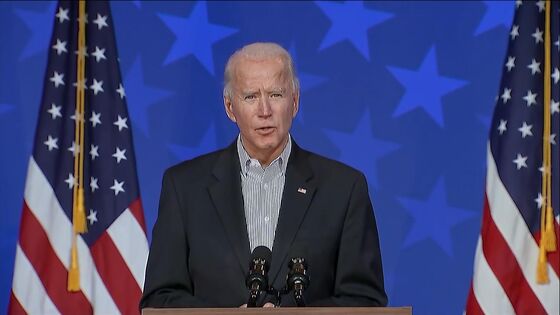 The Associated Press has called Arizona's race for Biden, but Trump's campaign says the president will prevail there.
Maricopa County has about 226,000 outstanding ballots, according to its Election Department. The county expects to release more results Friday at 11 a.m. ET. Arizona had roughly 450,000 ballots left to count at the start of the day with the bulk of them in Maricopa County, Secretary of State Katie Hobbs told NBC. Biden's statewide lead also narrowed to 46,257 from 56,833.
Pro-Trump protesters again gathered outside the Maricopa County tabulation center Thursday night, and greeted the latest results with cheers, video posted on Twitter showed. -- Brenna Goth
Georgia's Tight Race Raises Military-Ballot Issue (7:58 p.m.)
The presidential race in Georgia is such a nail-biter that, in theory, it could be decided by the fewer than 9,000 ballots requested by members of the military and overseas residents.
Service members living overseas or in the U.S., as well as American residents who are abroad, had requested 8,899 ballots from Georgia that had not been returned by Thursday afternoon, said Gabriel Sterling, the state's voting systems implementation manager. To be counted in the state's vote tally, they needed to be postmarked by Tuesday and must arrive by Friday.
It's not clear how many of those would-be voters sent their ballots in or how many of them will arrive in time. But they might be enough to really matter. As of 7:50 p.m. Thursday, Trump led Biden by about 3,500 votes out of more than 4.9 million ballots cast in the race for Georgia's 16 electoral votes. The pool of uncounted mail-in votes was down to about 20,000.
While the military would seem to be a core Trump constituency, the president fared poorly in a survey of active-duty troops by Military Times. It polled 1,018 active-duty members in July and August and found that 41% favored Biden and 37% favored Trump. Of that group, 40% identified themselves as Republican or Libertarian, while only 16% identified as Democrats. Another 44% said they were independent or favored another party.
One caveat is that the respondents' average age was 39, so it reflected an older and more career-oriented outlook than more junior soldiers. Generally, enlisted members have viewed the president more favorably than officers, the publication said. -- Michael Sasso
As Trump Spoke, His Lead in Georgia Shrank (7:48 p.m.)
As Trump spoke from the White House Thursday evening, assailing the ballot counting process that was reducing his lead in crucial states, his lead in Georgia shrunk to roughly 3,500 votes.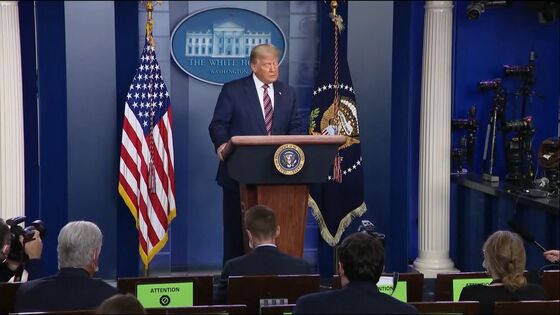 Georgia's updated numbers came as Trump repeated his unsupported claims of massive voter fraud in multiple states.
At the same time, Erie County, Pennsylvania released new numbers that showed the majority of voters in the bellwether county, which backed Trump in 2016, had supported Biden. Trump's lead in Pennsylvania is now down to roughly 64,000. In Arizona, which the Associated Press has called for Biden, the Democratic nominee's lead stands at about 59,000 votes. -- Ryan Teague Beckwith
Pennsylvania Won't Pinpoint Timing for Outcome (6:17 p.m.)
Pennsylvania Secretary of the Commonwealth Kathy Boockvar backed off her comment earlier Thursday that a winner in her state's presidential race "definitely could" be declared Thursday night, saying counties are still counting hundreds of thousands of mail-in ballots and "the closer the race is, the longer it takes."
Speaking at a news conference in Harrisburg on Thursday evening, Boockvar said "we're coming in the home stretch here" and that the state is ahead of a previous projection she made -- to have the overwhelming majority of ballots counted by Friday.
As of 6 p.m. EST, with Trump leading by 78,422 votes, the Department of State's supplemental dashboard showed more than 326,000 mail-in and absentee ballots still to be counted, or about 12% of such ballots, including almost 85,000 from heavily Democratic Philadelphia.
Boockvar also told reporters she's not aware of any cases of voter fraud except an incident earlier this year when a man tried to apply for a ballot in the name of his deceased mother.
She also said she expects a "tiny fraction" of ballots to arrive late this week. Republicans are trying to exclude ballots that were mailed before the election but arrive by 5 p.m. Friday, and counties have been told to keep them segregated pending possible litigation before the U.S. Supreme Court. -- Mark Niquette
YouTube Runs Ads on Baseless Vote-Fraud Claims
YouTube is running advertisements on several videos from right-wing personalities promoting baseless theories of widespread voter fraud. Bloomberg News counted five videos on Thursday from prominent YouTubers that repeated debunked claims of fraud or argued that Democrats and "leftists" were stealing the election. Collectively, the videos reached over 1 million viewers.
The video site, part of Alphabet Inc.'s Google, has said it will remove ads from videos "that contain content that is demonstrably false about election results."
So far, YouTube has stuck to its approach to make controversial or inaccurate election-related videos hard to find on the site, rather than taking them down. YouTube left up two videos from One America News Network, a pro-Trump cable outlet, that called Trump the outright winner before vote count was finished. Both videos ran ads before YouTube removed them.
A spokeswoman didn't immediately return a request for comment. -- Mark Bergen
Las Vegas Area Has 90% of Nevada's Ballots (5:09 p.m.)
Approximately 190,150 ballots remain to be counted in Nevada, with 90% of them in Clark County, the home of Las Vegas, Nevada Secretary of State Barbara Cegavske said Thursday afternoon. The slow trickle of election results from the Silver State -- where Biden currently leads Trump by fewer than 12,000 votes -- has become a focal point in the 2020 race.
Results from Clark County will continue to be released Friday and over the weekend, according to Joe Gloria, the county's registrar of voters. That will begin Friday with a planned tally of 51,000 mail-in and dropped off ballots. More than 120,000 additional votes await verification and tabulation.
Statewide, 123,554 of the remaining ballots were returned by mail or at a ballot drop box, while 66,596 are ballots cast in person under Nevada's same-day voter registration law, Cegavske said. Also uncounted are 2,500 provisional ballots that require additional action, as well as 3,500 ballots that have mismatched or missing signatures, which can be "cured" by voters until Nov. 12.
Nevada's final results won't be unknown for some time: an "unknown number" of additional mail-in ballots postmarked on Election Day can be received and counted by counties until Nov. 10, Cegavske said. -- Laura Bliss and Sarah Holder
Georgia's Tally Proceeds, May Take Until Friday (3:53 p.m.)
With Trump leading Georgia by less than 13,000 votes, the state has about 47,277 ballots left to count, said Gabriel Sterling, the state's voting systems implementation manager. That's down from 61,000 at the beginning of the day.
Sterling said he still hopes voting would be completed today, but that it could slip to tomorrow. Between Thursday morning and Thursday afternoon, officials counted approximately 14,000 ballots, suggesting it could a day or more to process the remaining ballots.
The biggest groups of ballots are in Democratic-leaning counties, including Savannah's Chatham County, where 17,157 votes remain to be counted. In Fulton County, which contains most of Atlanta, there are 7,305 absentee ballots outstanding and more than 3,000 provisional ballots. Two other Biden-leaning counties, Gwinett and Clayton, have 4,800 and 6,000 ballots left to count, respectively. Forsyth County, which voted for Trump in 2016, has rough 4,700 ballots left. Two small Republican-leaning counties, Harris and Laurens counties, have a combined 5,400 ballots outstanding.
As many as 8,000 ballots from active-duty military members could also arrive by Friday.
"The effort here is to make sure everyone's legal vote is counted properly," Sterling told reporters at a press conference denying allegations that election officials are moving slowly in an attempt to "steal the vote." -- Michael Sasso
FAA Restricting Flights Over Biden's Delaware City (3:35 p.m.)
Most low-flying planes are being prohibited from flying over parts of Wilmington, Delaware, where Biden lives and where he's been addressing the media and supporters.
The Federal Aviation Administration has issued a series of temporary flight restrictions in recent days for the area. One of them cited "special security reasons."
Since the terror attacks of Sept. 11, 2001, the FAA, in conjunction with the Secret Service and other agencies, has moved aggressively to close airspace in locations above events held by presidents, foreign dignitaries and other potential targets.
The restrictions apply to aircraft and drone operations. -- Alan Levin
Trump Backers Hold 'Stop the Steal' Gatherings (2:41 p.m.)
Clusters of Trump supporters organizing around the "stop the steal" mantra gathered in Phoenix, Atlanta and Las Vegas Thursday, with more events planned later in the day and Friday. In Philadelphia, they were met by anti-Trump protesters with signs reading "count the vote."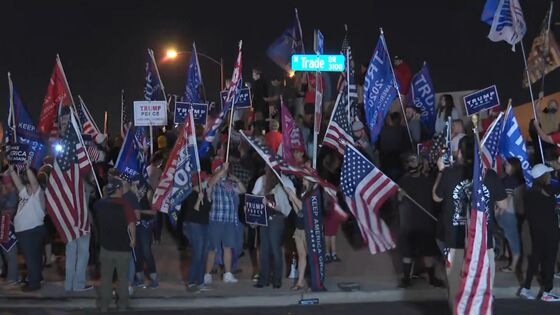 Protests near the White House and throughout Washington D.C. continue as ballots are being counted around the country, though they were drawing smaller crowds. Shutdown D.C., the group responsible for the largest assembly on Nov. 3, is planning an action for noon on Friday, but details weren't yet available.
Overall, tensions had subsided a bit since Wednesday afternoon, when hundreds of protesters challenging the count bypassed police at a Detroit ballot-counting location, and demonstrators gathered in cities including New York and Portland to protest Trump's false claim of victory.
While isolated arrests have occurred, with some reported instances of violence, the widespread unrest that cities and businesses across the U.S. had braced for has yet to materialize. Still, many are keeping preparations in place as vote-counting continues. -- Brenna Goth, Kriston Capps, Sarah Holder, Laura Bliss and Margaret Newkirk
Pennsylvania Making Progress on 550,000 Ballots (2:24 p.m.)
Pennsylvania Secretary of the Commonwealth Kathy Boockvar said she believes that the "overwhelming majority" of what she estimates to be 550,000 remaining ballots will be counted by day's end.
Trump led Biden in the battleground state by about 111,000 votes as of 2:20 p.m.

About 100,000 of the remaining votes are from heavily Democratic Philadelphia, which is Pennsylvania's largest city, and tens of thousands more are from the suburban "collar counties" surrounding it, Boockvar said in an interview with CNN.
One county not counting ballots on Thursday is Allegheny, home to Pittsburgh, which has spurred speculation that workers are simply taking the day off there. At a news conference to clarify matters, County Executive Rich Fitzgerald explained that the county is required by law to wait until Friday to review 35,000 mail-in and absentee ballots identified during the counting process that were damaged, couldn't be scanned or have other problems. Those include 29,000 replacement ballots that had to be mailed after a vendor sent the wrong ones.

The county finished counting its other 313,072 mail-in and absentee ballots late Wednesday night, Fitzgerald said.
The Trump campaign is pursuing legal action in Pennsylvania to exclude ballots mailed before the election that arrive by 5 p.m. on Friday. Boockvar said she didn't see the disputed ballots "making or breaking" the election for either candidate because the numbers of ballots included in the lawsuit were so small. -- Laura Davison and Mark Niquette
Biden Leads Nevada Despite Slow Las Vegas Tally (2:04 p.m.)
New election results from the Nevada Secretary of State showed a thin lead of 11,438 votes for Biden on Thursday morning -- but the numbers included just 14,285 ballots from urban Clark County, a fraction of what county officials said they could process yesterday.
Still unprocessed are at least 63,262 ballots in Clark County, which includes Las Vegas. They're mostly mail-in ballots dropped off on Election Day, said Clark County Registrar Joe Gloria. County officials are preparing to count 51,000 of those ballots today and will release the results of that count before Friday at 1 p.m. EST. More than 60,000 provisional ballots also remain uncounted. "Our goal in Clark County is not to count fast. We want to make sure we're counting accurately," Gloria said.
The majority of mail-in ballots will likely be counted over the weekend, Gloria said, though more will be read as they come in. Nevada allows counties to receive mail-in ballots postmarked Election Day through Nov. 10.
Ahead of a press conference, Trump supporters stood outside the election department to question the transparency of the count. The Trump campaign announced a lawsuit to challenge the count in Clark County earlier this morning. -- Sarah Holder and Laura Bliss
Trump Wins Court Order, Philadelphia Appeals (1:14 p.m.)
The Trump campaign claimed a small victory Thursday morning when a court ordered Philadelphia election officials to watch the counting of mail-in and absentee ballots from as close as 6 feet. By noontime, the city filed a petition with Pennsylvania's Supreme Court asking it to allow an appeal to overturn that order.
The city briefly stopped counting mail ballots amid the legal dispute, but has resumed, the Philadelphia Inquirer reported.
The dispute is over a complaint that observers from campaigns and political parties who are permitted to watch the process were being kept too far away from the city workers who are opening envelopes, flattening ballots and scanning them. Rudy Giuliani, speaking for the campaign, said Wednesday that the observers were being kept as far as 30 feet away.
An order from Judge Christine Fizzano Cannon of Commonwealth Court on Thursday morning had required the city to allow all approved observers to watch from within 6 feet while following Covid-19 protocols such as wearing masks. Trump tweeted "big legal win in Pennsylvania!" shortly before the appeal to the state's high court.
Pennsylvania is among a handful of states that may determine the winner of the presidential election. -- Mark Niquette
Biden's Nevada Lead Grows in Latest Results (12:48 p.m.)
New election results from the Nevada Secretary of State showed Biden's lead over Trump has grown to 11,787 votes, or roughly 1 percentage point.
The fresh numbers included tens of thousands of mail-in and provisional ballots counted in Clark and Washoe Counties, home to Las Vegas and Reno respectively. They come after a day of whiplash with both county and state officials initially promising new numbers only to later advise that they would appear on Thursday.
Democratic stronghold Clark County has drawn particular attention; Hillary Clinton won the county by 10.7 percentage points in 2016, and won the state by 2.4 percentage points.
Trump's campaign announced a lawsuit alleging voter fraud at the Clark County Election Department shortly before latest results were announced. The lawsuit will claim that thousands of people cast ballots in the election who no longer live in the state. It follows other Trump campaign lawsuits in Michigan, Pennsylvania and Georgia.
The state has not released official data on how much of the vote has been counted so far. No matter what, the numbers will not be final until the state's final canvass on Nov. 16. Mail-in ballots postmarked on Election Day are accepted by clerks until Nov. 10, while rejected ballots can be cured by voters until Nov. 12. -- Laura Bliss
Trump Lawsuits Are 'Political Theater,' Biden Camp Says (11:42 a.m.)
Legal challenges being filed in several states by Trump's campaign "are meritless" and should be seen as "part of a broader misinformation campaign that involves some political theater," says Bob Bauer, a top Biden adviser and former Obama White House counsel.
On a call with reporters, Bauer said the lawsuits are "intended to create a large cloud" over the election results, but "it's not a very thick cloud," he added.
The Trump campaign has filed election-related lawsuits in Michigan, Pennsylvania and Georgia and says it intends to do so in Nevada. -- Jennifer Epstein and Tyler Pager
Georgia Ballots Centered in Democratic Counties (11:35 a.m.)
Many of the yet-to-be-counted ballots in Georgia are coming from the counties containing Savannah and most of Atlanta, according to new data from the state. Of six counties with significant ballots uncounted, four voted for Democrat Hillary Clinton in 2016 and two voted for Trump.
Of the four Democratic-leaning counties, Chatham County, home to Savannah, has the most to count, with 17,157 remaining, Gabriel Sterling, the state's voting system implementation manager, said Thursday morning. And Fulton County, which includes most of Atlanta, has more than 11,000.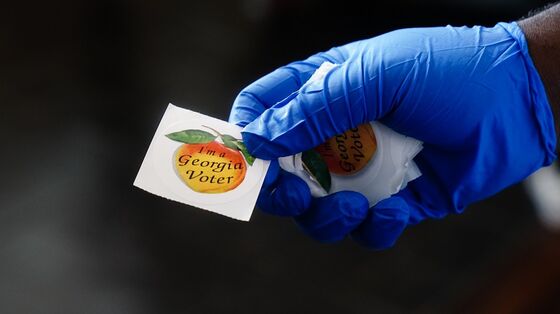 Then comes Clayton, a primarily African American county just south of Atlanta, with about 7,400. Gwinnett, Georgia's second largest county, has about 7,300 ballots outstanding. Those figures could be a boon to Biden who would need to make up an 18,000 vote deficit to win the state.
The two counties that supported Trump in 2016 are Forsyth, north of Atlanta, with around 4,700 untabulated ballots, and Bryan, a rural county near Savannah that has 3,000 outstanding. "I am prayerful that we will get to a resolution by the end of today," Sterling said. -- Michael Sasso and Margaret Newkirk
More Protests Planned in New York City (10:59 a.m.)
At least three protests are planned Thursday evening in New York City, including a march near an area that saw a confrontation between police and demonstrators on Wednesday night that resulted in more than two dozen arrests.
That march will begin at 5 p.m. at the Stonewall Inn in Greenwich Village, the site of a landmark uprising by the gay community more than 50 years ago and a common site for civil-rights demonstrations.
The New York City Police Department made 25 arrests and issued 32 summonses on Wednesday after peaceful gatherings calling for all votes to be counted escalated into confrontations between police and protesters in the West Village. There were scuffles that resulted in arrests as police in riot gear attempted to keep demonstrators out of the street. Police threw some demonstrators to the ground to make arrests, while protesters screamed and taunted officers.
An NYPD news release didn't go into detail on circumstances leading to the arrests, which included a crowd containment technique called "kettling," in which officers use bicycles or metal barriers to pen in groups of demonstrators.
Among those arrested was a woman videotaped spitting in the face of a sergeant during a street confrontation and people accused of punching officers, breaking windows and possessing a stun gun, police said.
"We appreciate and value the importance of freedom of speech," the NYPD said in a tweet. "Our top priority is and always will be safety." -- Fola Akinnibi, Henry Goldman and Mark Abramson
Biden Gaining in Philadelphia 'Collar Counties' (10:21 a.m.)
Pennsylvania is making progress counting its mail-in ballots, and Biden is winning a bigger share of the vote so far in the Democratic "collar counties" around Philadelphia than Hillary Clinton did in 2016.
Trump's lead in Pennsylvania, whose 20 Electoral College votes could settle the race, has shrunk to fewer than 165,000 votes from as many as 675,000 on Wednesday as the outstanding ballots, which favor Democrats, are counted. Biden is winning 77% of the mail-in votes for president so far, Department of State data show.
Almost 71% of the 2.6 million mail-in ballots statewide have been tallied, with about 763,000 remaining, according to the Department of State's dashboard. Democratic-dominated Philadelphia, the most-populous county, reported that 233,583 of its more than 350,000 mail-in and absentee ballots had been counted as of 9 a.m. local time.
Allegheny County, Pennsylvania's second-most populous and a Democratic stronghold, said it finished counting its outstanding ballots late Wednesday night, with Biden winning almost 59% of the total based on the strength of his vote from mail ballots.
Biden is also carrying Philadelphia's collar counties of Bucks, Chester, Delaware and Montgomery by a greater margin so far than Clinton did in 2016, beating Trump by a combined 63,000 votes more than Clinton did when Trump won the commonwealth by 44,292 votes, unofficial results reported by the counties show. -- Mark Niquette
In Georgia, 61,000 Ballots Still to Count (10:16 a.m.)
With counting continuing in numerous counties throughout Georgia, Secretary of State Brad Raffensperger said that as of 9:15 a.m. there were approximately 61,000 ballots outstanding.
He said election officials had planned to keep counting through this morning and are "on pace to accomplish that responsibly."
"We're well aware that with a close presidential election and the possibility of runoffs in some elections that the eyes of the state and the nation are upon Georgia at this time," Raffensperger said. "We're as anxious as anyone to see the final results and to start work on certification and planning for our runoff elections. As the work goes on, I want to assure Georgia voters that every legal vote was cast and accurately counted."
Georgia will have at least one runoff for a Senate seat in January. -- Margaret Newkirk
Trump Campaign Plans to File Nevada Lawsuit (9:07 a.m.)
Trump's campaign is planning a Thursday morning press conference in Las Vegas to announce the filing of a lawsuit alleging that at least 10,000 people voted illegally in Nevada, Fox News reported.
The lawsuit will claim that the ballots were cast in Nevada by people who no longer live there, Fox said.
Former acting Director of National Intelligence Ric Grenell, Former Nevada Attorney General Adam Laxalt, American Conservative Union Chairman Matt Schlapp and Nevada GOP Chair Michael McDonald will attend the event, planned for 11:30 a.m. New York time.
The Trump campaign has already filed campaign-related lawsuits in Michigan, Pennsylvania and Georgia. -- Kathleen Hunter
Arizona Has Fewer Than 450,000 Ballots Yet To Count (8:52 a.m.)
Arizona Secretary of State Katie Hobbs said her state has just under 450,000 ballots left to count, with about 300,000 of those coming from the state's most populous area, Maricopa County.
Hobbs, in an interview on NBC, said she did not yet have an estimate about how long it would take to count the remaining votes but hopes to have an update later on Thursday.
In a separate interview on ABC, she said she doesn't expect the result to be so close as to merit a recount. Under the state's rules, a recount is triggered if the margin between candidates is less than or equal to 0.1% of the votes cast.
The Associated Press and Fox News have both called the race for Biden, although other television networks haven't.
Maricopa County counted more than 100,000 ballots on Wednesday, which could be an indication of the pace of the counting for the remaining votes, Hobbs said. If the county were to continue at the rate, it could take up to three days to finish tabulating all the outstanding ballots.
The remaining ballots are mostly early ballots that were dropped off at polling places on Election Day, so signatures have to be verified before those votes can be tabulated, Hobbs said. -- Laura Davison