Biden's Schools Bid Pits CDC Science Against Union Clout
(Bloomberg) -- President Joe Biden's push to reopen U.S. schools is running headlong into his pledge to support teachers, who are demanding more coronavirus testing, vaccinations and other safety measures before returning to classrooms.
The president has pledged to follow the science as he nudges schools toward welcoming more students back to class, while also enjoying broad support from teachers and their unions. First Lady Jill Biden, a teacher herself, welcomed the heads of the two top teachers unions to the White House on the administration's first full day in office.
"Joe is going to be a champion for you," she told them.
Yet that loyalty may be tested as soon as this week, when the U.S. Centers for Disease Control and Prevention is expected to release new, detailed guidance for schools seeking to reopen. School administrators around the country have sought to put teachers back in classrooms before they are all vaccinated, citing scientific studies -- including work by the CDC -- that shows the risk of transmission on campuses is low.
The administration has pledged to reopen 50% of U.S. classrooms at least one day a week within its first 100 days -- a goal that may have already been met. Advancing much beyond that target, however, could be thwarted by delays in Congress on a new pandemic aid package, the continued emergence of new, more contagious strains of the coronavirus or resistance from teachers' unions that Biden has guaranteed a seat at the table.
"The need to open schools is desperate," said Arne Duncan, who served as education secretary in the Obama administration. Biden "is not doing this for any political benefit. In fact, he may take some political hit for this. He's doing this because it is the right thing to do."
The fight over reopening schools has simmered for months, often pitting administrators and parents, worried their children are falling behind academically in remote learning, against teachers concerned for their personal health. While Democrats' plans for a sweeping new aid package is poised to unleash a wave of funding aimed at schools, many states are poised to reopen well before the money begins to arrive.
"We say to teachers: We want you to be able to go back to school and to go back to school safely," White House Press Secretary Jen Psaki said Wednesday.
She said the president "wants to not just open schools, he wants them to stay reopen, he wants kids to be back in school learning, five days a week. He wants everybody, parents to feel safe, teachers to feel safe."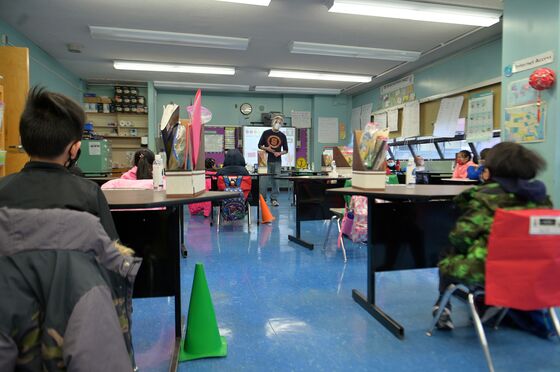 In Chicago, the local teachers' union voted early Wednesday to approve a "tentative agreement" on returning to in-person instruction, though 32% of voters rejected the deal after a bitter dispute between teachers and Mayor Lori Lightfoot.
A core issue was vaccines; the deal promises a small number of doses for teachers, who have so far been given priority in only about half the states, according to data compiled by the publication EdWeek. The deal also includes guarantees on testing, ventilation and allocation of masks and gloves.
In Los Angeles, teachers are in a dispute with politicians and health officials over plans to reopen with the virus spreading unchecked in the community.
"When Governor Gavin Newsom says schools are safe to reopen without vaccines, he should also tell us what he believes a safe number of deaths associated with that would be," United Teachers Los Angeles President Cecily Myart-Cruz said last week.
In Philadelphia, teachers took to the streets in protest this week and have balked at orders to return to schools they say are unsafe. A third-party mediator is involved.
Teachers in Fairfax County, Virginia, recently endured criticism after their union suggested in a since-deleted tweet that they wouldn't return to classrooms until they and their students were vaccinated. No coronavirus vaccine has been approved in the U.S. for children under 16.
Biden has occasionally sought to smooth over tensions.
"I believe we should make school classrooms safe and secure for the students, for the teachers, and for the help that's in those schools maintaining the facilities," he said last month when asked about the dispute in Chicago. "It's not so much about the idea that teachers aren't going to work. The teachers I know, they want to work. They just want to work in a safe environment and as safe as we can rationally make it. And we can do that."
But one misstep came last week, when CDC Director Rochelle Walensky said during an official White House briefing that vaccines were "not a prerequisite for safe reopening of schools."
The White House swiftly sought to backpedal, out of apparent concern that the comment could trap them between CDC scientists and teachers unions. Psaki said Walensky was speaking only in her personal capacity, which was not the case.
Walensky's remark emboldened Republicans, who have long demanded schools reopen as soon as possible and have accused teachers of dragging their heels.
If the new CDC guidance "says anything other than what Dr. Walensky has previously stated, on record, it raises significant questions about the Biden administration using political interference to sideline scientists they disagree with," Representative Steve Scalise of Louisiana, the second-ranking House Republican, said in a letter to Democrats this week.
One White House official who asked not to be identified because of the sensitivity of the matter said Biden's team is fully aligned with the CDC on the science on school reopening.
It's not clear how many schools already meet Biden's modest goal of in-person classes at least once per week. Federal data is so far incomplete, though Psaki said Wednesday that the country had not yet met the reopening goal, but didn't provide data. Schools have only partly reopened in some cases to allow for social distancing by students.
Adding to the complication is uncertainty over how many students will actually return to in-person learning, and how many will remain at home -- forcing school boards to maintain a mix of distance and in-person instruction.
A poll of teachers published Tuesday by the National Education Association, a major labor group, found that 82% of teachers are not yet vaccinated and that 85% believe they should be prioritized. Already, 64% are working in school buildings at least part of the time.
"I think it's time for schools to reopen safely -- safely," Biden told CBS News in an interview broadcast on Sunday. "You have to have fewer people in the classroom. You have to have ventilation systems that have been reworked."
Teachers have requested a range of measures before returning to class, including vastly expanded testing for the virus, better ventilation and air conditioning and vaccine priority, though their national unions have stopped short of calling the demands prerequisites.
"The president has the backs of children and educators in America, because this is not a binary choice, it's about opening schools safely," said Randi Weingarten, president of the American Federation of Teachers, the country's other major teachers labor group. She said Biden had inherited a fraught landscape that was sowed by his predecessor's misinformation about the pandemic.
"What's happening is there are no good choices," she said. "We are in the middle of a pandemic with a former president and secretary of education and head of the CDC who handled it terribly."
The NEA -- of which Jill Biden remains a member -- has also stopped short of making vaccination a red-line condition for reopening.
"Whether they are currently working in person or will be returning to school buildings, educators should be assured they are prioritized, and they will have access to Covid-19 vaccines," the group said in a statement.
Jill Biden invited Weingarten and NEA President Becky Pringle to hold a virtual event for educators on Jan. 21, the day after Biden's inauguration. The three praised each other, with Weingarten calling Biden "Dr. B" and Pringle saying her group's members were "three million of your closest friends."
That friendship with the Bidens is poised to be tested, should teachers continue to balk at a return to classrooms even if Biden's coronavirus relief proposal passes Congress. The bill would provide about $130 billion to help schools reopen, including by repairing ventilation systems, reducing class sizes, buying protective equipment and hiring extra staff, Democrats say.