Biden's Pre-Super Tuesday Boost May Fall Short
Suddenly, everything's coming up Biden.
Joe Biden heads into Super Tuesday's 14 state primaries after a banner 24 hours that saw the Democratic Party establishment coalesce around him in the presidential nominating race. But, as Justin Sink writes, it might not be enough to thwart Bernie Sanders.
Sanders, the self-described democratic socialist who party moderates fear couldn't stop President Donald Trump returning to the White House in November, holds the advantage in delegate-rich states like Texas and California.

The key question for Biden and his supporters is whether the exit of Pete Buttigieg and Amy Klobuchar — who've now thrown their support behind the former vice president  — proves to be too little, too late.
Sanders, who defied but didn't silence doubters with a strong win in Nevada 10 days ago, is positioned to emerge with the most delegates, with Biden leading polls in only North Carolina.
Biden's challenge is to harness the power of his recent endorsements to replicate his decisive win Saturday in South Carolina's primary across a group of Southern states with significant African-American populations and more moderate Democratic voters likely to eye Sanders with skepticism.
Further complicating Biden's efforts is former New York Mayor Michael Bloomberg. His unconventional strategy faces its first electoral test today on whether he has outsmarted the traditional primary process or if more than a half-billion dollars in campaign advertising has been for naught.
And Elizabeth Warren, who has trailed in early contests, faces a key hurdle in her home state of Massachusetts, where a loss to Sanders could prove fatal to her campaign.
(Bloomberg is the founder and majority owner of Bloomberg LP, the parent company of Bloomberg News.)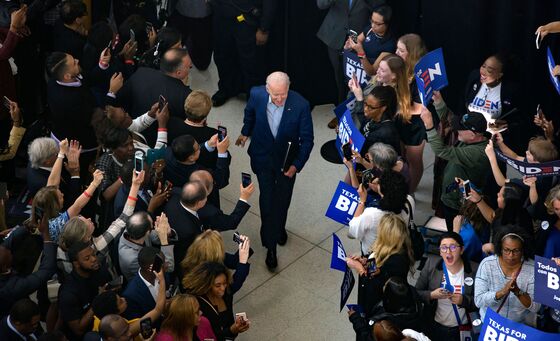 Watch this space | While the focus has been on the Turkey-Greece border amid President Recep Tayyip Erdogan's threats to send floods of Syrian migrants into Europe, the real place to watch is the Syria-Turkey frontier. The risk is the battle for the last rebel holdout in Syria unlocks a wave of new refugees who pass through Turkey and onward, turning Erdogan's warnings into reality.
Slim margin | Prime Minister Benjamin Netanyahu appears poised to form Israel's next government, after plunging his country into a yearlong political crisis while he maneuvered to stay in power and postpone his corruption trial. His control of parliament looks like it will be shaky, though, setting the stage for a potentially rocky term where he'd have to navigate his legal woes, confrontations with Iran and its proxies, and the Trump administration's proposal for Middle East peace.
Virus vigor | Group of Seven finance chiefs, including U.S. Treasury Secretary Steven Mnuchin and Federal Reserve Chairman Jerome Powell, will hold a rare conference call today under pressure from investors to take action to shield the world economy from the coronavirus. Governments from Japan to the U.K. are preparing emergency measures or economic packages to fight the spread.
Trump sought to show his personal engagement to combat the disease by meeting with heads of drug companies to elicit promises of new medicines and announcing he'll visit federal health agencies later this week.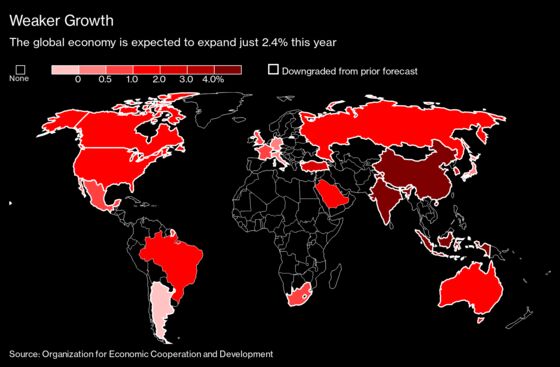 Hitting back | The Trump administration ordered four Chinese state-owned news outlets to slash staff working in the U.S., a response to Beijing's restrictions on American journalists, including its expulsion of three Wall Street Journal reporters last month. The move risks further tit-for-tat measures as the world's biggest economies battle for influence, even after reaching a phase-one trade deal earlier this year.
Falling support | Unchecked violence in Mexico is starting to dent President Andres Manuel Lopez Obrador's approval ratings, with opinion polls showing his support is slipping. AMLO, as the president is known, is beginning to feel the impact from a record number of homicides and a stagnant economy.
The U.S. is suing to gain control of cryptocurrency accounts North Korea allegedly used to steal more than $250 million from Bitcoin and Ether exchanges in 2018.
South Africa's economy slumped into a second recession since President Cyril Ramaphosa came to power two years ago.
Sri Lankan President Gotabaya Rajapaksa has called for early parliamentary elections in a bid to consolidate power and push his economic agenda. The snap poll is expected on April 25.
Tell us how we're doing or what we're missing at balancepower@bloomberg.net.
And finally ... It reads like the plot from a spy novel, with illicit recordings from a bugged timepiece, an encrypted disk full of secrets and the ouster of one of Europe's longest-serving leaders. The 2013 events took place in Luxembourg, with revelations of an out-of-control secret service triggering the end of Jean-Claude Juncker's career as prime minister. Seven years later, Juncker, who just finished his term as European Commission president, must relive the scandal as three former spies stand trial in hearings starting today.