Biden Rules Out Term Limits for Supreme Court Justices
(Bloomberg) -- Democratic presidential nominee Joe Biden on Monday ruled out considering term limits for Supreme Court justices, an idea suggested by some who want to see changes to the high court.
"It's a lifetime appointment. I'm not going to attempt to change that at all," Biden told reporters in Chester, Pennsylvania.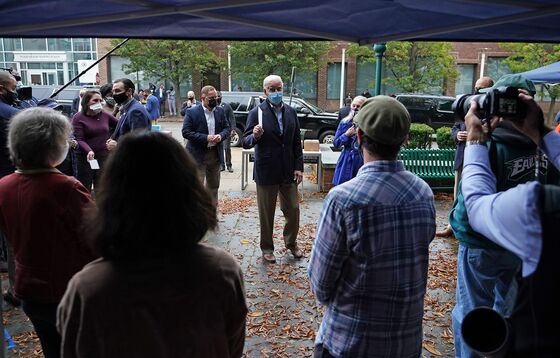 Biden said last week that, if elected, he would launch a 180-day study of potential changes to the court. But his comments Monday appeared to cross one option off the list. Progressives have been aggressively urging Biden to agree to add more justices to the court and some scholars on the right and left have also floated term limits.
The former vice president also suggested he was open to considering rotating judges through the Supreme Court. "There's some literature among constitutional scholars about the possibility of going from one court to another court. Not just always staying the whole time in the Supreme Court," he said.
Ultimately, though, he's open to suggestions from the potential advisory committee. "I have made no judgment," he said.