Biden Retreats from Buttigieg Attack, Vows to Fight Past Tuesday
(Bloomberg) -- Joe Biden retreated from his attacks on Pete Buttigieg on Sunday after questioning the surging candidate's qualifications to take the White House.
The former vice president, flagging in the polls, returned to more comfortable territory on the trail by offering subtle contrasts with his Democratic opponents and vowing to stay in the race even if he doesn't have a good showing in the New Hampshire primary.

"We can talk a lot about the differences between Bernie and Pete and me and Amy and everybody else," he told voters at a town hall in Hampton, New Hampshire, referring to Bernie Sanders, Buttigieg and Amy Klobuchar. "There's a lot of differences we have. But not on the fundamental issue: how we restore America's character. We go about it differently but, folks, we've got to get it done."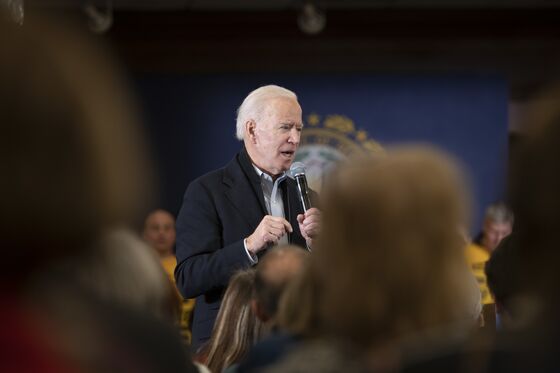 Biden is uncomfortable attacking his Democratic opponents or even defending himself from what they've said about him. He said Saturday that he was speaking out against Buttigieg because "I respond when people misrepresent my record" as he believed Buttigieg had done when talking about the achievements of the Obama administration.
Biden spent much of Saturday questioning whether Buttigieg, the 38-year-old former mayor of South Bend, Indiana, had the right kind of experience to be in the Oval Office.
"I do not believe we are a party at risk if we nominate me. And I do believe we are a party at risk if we nominate someone who's never held a higher office than the mayor of South Bend, Indiana. Yeah, I do," he said at one stop.
Biden insisted he's not conceding the race to his opponents even after coming in fourth place in Iowa and amid expectations he will perform poorly on Tuesday in New Hampshire.
"I am more determined than I was before the Iowa caucus for a few of the things that I believe have to be done," he said. "And no matter what happens in this state, I'm going to feel the same way, I'm just going to keep moving. And we'll see."
Asked what happened to his support in Iowa, Biden pinned blame on his field staff in the state, but also minimized the importance of the first-in-the-country nominating contest.
"I congratulate Pete, I congratulate Bernie. They did a great job. And they were really well organized, better organized than we were in Iowa," he said. But he also repeated his campaign's refrains that Iowa is not racially representative of the rest of the country. His campaign insists that winning in left-leaning Democratic caucus there says little about whether a candidate could win the general election in Florida, Michigan and Pennsylvania, where Biden has polled strongly in matchups against President Donald Trump.