Biden Presses Putin in First Call Over Cyberattack, Ukraine
(Bloomberg) -- President Joe Biden held his first phone call with Russian President Vladimir Putin on Tuesday, pressing him on issues from the poisoning of opposition leader Alexey Navalny to the massive hack of U.S. computer systems that's been linked to Moscow.
The Kremlin confirmed that the call took place Tuesday, describing the conversation as "businesslike and frank." The leaders also talked about both countries' willingness to extend the New START nuclear arms agreement for five years, according to a White House statement.
The call took place before Biden has spoken with leaders of several allied nations, underscoring the importance that he attaches to confronting the challenge from Russia. Although the Trump administration issued a raft of sanctions against Russia, former President Donald Trump rarely criticized Putin and backed his claim -- rejected by the U.S. intelligence community -- that Moscow didn't interfere in the 2016 election in an effort to help Trump win.
"President Biden reaffirmed the United States' firm support for Ukraine's sovereignty," the White House said in its statement. "He also raised other matters of concern, including the SolarWinds hack, reports of Russia placing bounties on United States soldiers in Afghanistan, interference in the 2020 United States election and the poisoning" of Navalny.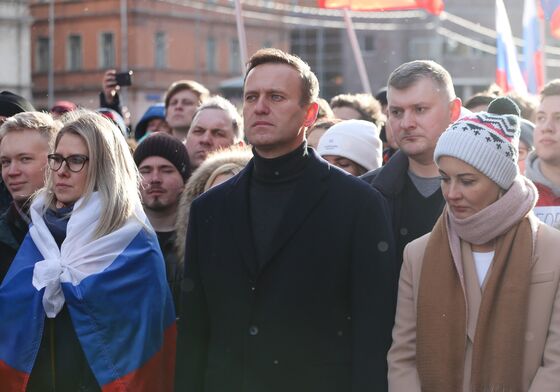 In another signal aimed at showing U.S. unity with its allies against Russia, Biden also spoke Tuesday with NATO Secretary General Jens Stoltenberg. The two discussed "dealing with a more assertive Russia," the North Atlantic Treaty Organization said in a statement.
U.S. intelligence agencies and the FBI have said that Russia was the likely culprit in a hacking campaign that breached the computer systems of major companies and U.S. government agencies, in part through a compromised version of widely used software from Austin, Texas-based SolarWinds Corp.
Biden's mention of the Navalny case adds pressure to free the imprisoned opposition leader after Russia saw the biggest unauthorized nationwide protests of Putin's 21-year rule on Saturday. The Kremlin readout of the call made no mention of the two presidents discussing Navalny.
"It is extraordinary how frightened Vladimir Putin seems to be of one man," Secretary of State Antony Blinken, who won Senate confirmation on Tuesday, told the Senate Foreign Relations Committee last week. "The challenge posed by Russia across a whole series of fronts is also one that is urgent."
The foreign ministers of the Group of Seven nations issued a statement Tuesday condemning Navalny's arrest and demanding his release. The foreign ministers also said any use of chemical weapons is "unacceptable," a reference to Navalny's poisoning before he was hospitalized in Germany.
Putin has been eager to extend the New START nuclear treaty that was due to expire next month. The Biden administration agreed on the extension, after Trump's advisers had demanded that it be renewed only if it was extended to cover a broader range of nuclear weapons. The Biden White House said in its statement that teams from both countries will "work urgently to complete the extension by Feb. 5."