Biden Prepares Nationwide Victory Lap to Promote His Rescue Plan
(Bloomberg) -- President Joe Biden got his giant coronavirus stimulus bill. Now, he wants to make sure he gets credit.
The president will hold a ceremony on Thursday to sign his $1.9 trillion American Rescue Plan into law, kicking off a victory lap that aides and allies describe as a campaign to persuade the nation that he and fellow Democrats are responsible for preventing millions of Americans from enduring poverty and illness.
Biden, Vice President Kamala Harris and their spouses plan to fan out across the country and highlight Americans receiving stimulus checks and coronavirus vaccines, as well as businesses that have been able to stay afloat with government loans. That includes presidential travel Tuesday to suburban Philadelphia, where Biden is expected to tout the benefits of his bill.
At the same time, the White House is mobilizing a bipartisan coalition of state and local leaders, business groups, economists and unions to urge their constituents to take advantage of the new federal aid. Cabinet members will also join the effort, targeting local media to call attention to the benefits for schools, vaccine distribution and food assistance, a White House official said.
And the administration is planning a series of theme days drawing attention to each of the 10 ways the bill will help Americans, from providing direct checks to Americans to providing support for small businesses and to reopen schools, White House deputy chief of staff Jen O'Malley Dillon said in a senior staff memo sent Wednesday and obtained by Bloomberg News.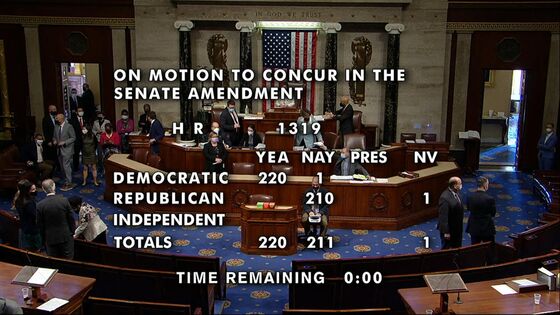 Thursday's celebration and subsequent marketing campaign underscore what's at stake for Biden and Democrats, who need to show Americans that they're helping the nation recover from the public health and economic devastation that they blamed largely on the Trump administration.
Biden is acutely aware of the risk of under-selling the rescue package. When his former boss, President Barack Obama, signed an $800 billion stimulus package in 2009 to get the U.S. out of a recession following the financial crisis, he opted not to invest time and energy in celebrating the bill and the tangible benefits it brought for Americans. Some Democrats believed that decision set the stage for their losses in the 2010 midterm elections.
"Barack was so modest, he didn't want to take, as he said, a 'victory lap,'" Biden said of Obama last week. "I kept saying, 'Tell people what we did.' He said, 'We don't have time. I'm not going to take a victory lap.' And we paid a price for it, ironically, for that humility."
White House Press Secretary Jen Psaki, who also worked on Obama's communications team, said Biden administration officials are aware they "need to do some work and use our best voices" to communicate the benefits of the package, from stimulus checks to school reopenings.
"We didn't do enough to explain to the American people what the benefits were of the rescue plan." Psaki said. "We didn't do enough to do it in terms that people would be talking about it at their dinner tables."
Liz Allen, an aide to Biden during his time in the Obama White House and during the 2020 presidential campaign, said the administration needs to show how the aid is helping Americans more broadly.
"This is not only getting your checks, but this is why your favorite small businesses on Main Street are able to stay afloat, or these tax credits are why this mother can stay home with her kids," Allen said.
Biden has already started promoting the plan. At the White House last week, he hosted a Maryland transit worker and a Washington man facing housing instability to illustrate the benefits of relief checks. On Tuesday, he visited a Washington hardware store that benefited from the Paycheck Protection Program.
On Thursday night, Biden will have an opportunity to publicize the rescue plan as he gives his first prime-time address to mark the anniversary of Covid-19 shutdowns.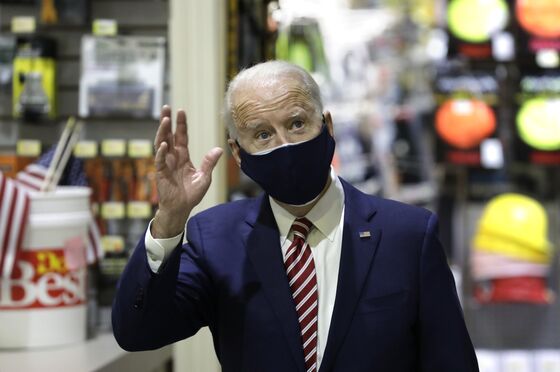 Biden has passed on some branding opportunities. The White House announced earlier this week that Biden's signature wouldn't appear on the checks that millions of Americans will receive as part of the rescue plan. Trump had his signature added to the stimulus checks last year.
To keep focus on the rescue package, the Biden team deliberately pushed back a joint address to Congress in which he's planning to unveil his next big legislative target: a bill that's expected to cost trillions of dollars and include infrastructure and climate.
Delaying other parts of his agenda "is a better strategy, if it works," said John Podesta, another former Obama official and founder of the liberal Center for American Progress think tank. "The risk is you sort of delay, and the momentum of a new presidency begins to slow down."
Aides in the West Wing are quick to cite polls showing the plan enjoys significant support, even among Republicans. White House officials are confident they'll be able to generate local news coverage, just as they did to win congressional votes.
Psaki this week appeared on local stations in Philadelphia and Cleveland, and the White House has done more than previous administrations to highlight the work of cabinet heads and senior officials -- frequently asking them to appear at daily press briefings or at events across the country -- in an effort to raise their profiles.
Doing so, they hope, will allow a president whose travel has been constrained by the pandemic to dispatch surrogates across the country with a tailored message of how the legislation is working.
"The data shows that most Americans are still watching their five and six o'clock news and reading the local paper," Allen said. "So you'll see a ton of local media, and I think that's true of the principals, and also the cabinet, senior White House officials, surrogates and Congress. They're going to want to get into people's living rooms."
Biden allies also hope that their efforts now can help them down the road as they look to rally support for the larger infrastructure package, and eventually as Democrats seek to defend their majorities in the 2022 midterm elections.
Ultimately, Biden will be judged on how quickly the nation rebounds. Aides were encouraged by unexpected gains in February's jobs report, and believe that the pace of vaccinations could hasten an economic recovery.
"We expect the resources here to really fuel a very strong economic recovery," Treasury Secretary Janet Yellen said Monday during an appearance on MSNBC. "I'm anticipating, if all goes well, that our economy will be back to full employment where we were before the pandemic next year."