Biden Pitches Himself as the Candidate Who Can Beat Trump and Sanders
(Bloomberg) -- Joe Biden is arming his presidential campaign with a populist message aimed squarely at voters who can help him defeat both Senator Bernie Sanders and President Donald Trump.
In a speech Monday at a union hall in Pittsburgh, the former vice president said he's making his third run at the presidency to rebuild the American middle class, which he called "the backbone of this nation."
He called for a $15-an-hour minimum wage, letting people buy into a public Medicare option for health insurance and repealing "Trump's tax cut for the very wealthy and corporations."
The address set the tone for his Tuesday trip to Iowa, where the Democratic presidential field will face its first test next February. The last time Biden competed in the state's caucuses, in 2008, Iowa voters ended his presidential aspirations. This time, Biden is attempting to run between the progressive populism of Sanders, his chief competitor for the Democratic nomination, and Trump's brand of nativist populism.
Biden has surged into the lead in a crowded field of Democratic contenders, according to three polls released Tuesday. A CNN poll found he got an 11-point bounce, with 39 percent of voters who are Democrats or Democratic-leaning independents saying he is their top choice for the nomination, putting him 20 points ahead of Sanders. Biden more than doubled his advantage over Sanders, from 6 to 14 points, among likely Democratic primary voters according to a Morning Consult poll. Among likely New Hampshire Democratic primary voters, a Suffolk University/Boston Globe showed Biden leading with support from 20 percent followed by Sanders' 12 percent.
Biden's proposals hew more to the political center than some of the other 19 Democrats running for president, such as Sanders and Senator Elizabeth Warren. His campaign is betting that will make him more palatable to Republicans and Republican-leaning independents while still attracting some of the voters who might be gravitating toward Sanders.
"Let me shoot straight with you and this may not be popular in parts of the Democratic Party," International Association of Fire Fighters President Harold Schaitberger said before Biden spoke Monday in Pittsburgh, but the Democrats "can't have a nominee that is too far left."
Without naming Sanders, Schaitberger referred to a candidate who "has high-minded ideals, maybe honorable ideas, but little chance of winning." He said Biden could thread the needle. "There's no question that the candidate who can win, the candidate who can and will be our next president, is Joe Biden," he said.
Ray Linsenmayer, who ran in the Democratic primary for the U.S. House seat in Pennsylvania that Conor Lamb ultimately won last year, said the strategy was in tune with the mood of Democratic voters.
"I think people are very concerned about not winning and so they'll pick a candidate based on someone they're comfortable with and someone they think can beat Donald Trump," said Linsenmayer, founder of the Western Pennsylvania Democratic Volunteer Corps.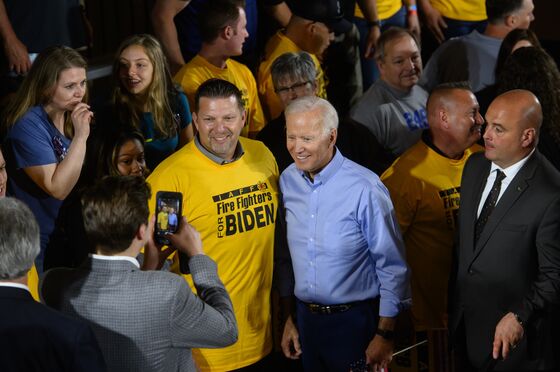 Biden will meet voters Tuesday in an Iowa county that gave him just 0.5 percent of the vote in 2008. There's almost nowhere for Biden to go but up in Iowa, where he finished fifth with less than 1 percent of the statewide vote and was out of the race.
Biden held his kickoff rally on Monday in Pittsburgh to underscore his ties to Rust Belt workers who helped Trump squeeze out victories in Pennsylvania and the upper Midwest, and to highlight what his team sees as an edge he'd have over other Democrats in a match-up against the president.
Biden focused on a central element of his bid for the Democratic presidential nomination and the White House: rebuilding and expanding the U.S. middle class. It was a shift in tone from his launch video last week, in which he focused on Trump, warning that re-election would "forever and fundamentally alter the character of this nation."
"Donald Trump is the only president who decided not to represent the whole country," Biden said at Monday's rally. "We need a president who works for all Americans."
He also appeared to buck Sanders' Medicare for All proposal, which has been backed by several other party contenders. Instead of making Medicare-like coverage universal, Biden said he'd favor Americans having "the choice to buy in to a public option for Medicare."
Biden said it's "well past time" to raise the federal minimum wage to $15 an hour. He called for ending some tax breaks for multimillionaires to fund higher education, and he said employers shouldn't be allowed to classify low-wage workers as managers to avoid paying them overtime.
State and national polls have generally shown Biden, 76, leading, with Vermont Senator Sanders, 77, in second and the rest of the field far behind.
Still, many Democrats aren't yet ready to commit to them or any other candidate.
An ABC News/Washington Post poll, released Sunday and conducted mostly before Biden announced, found that a third of Democrats and Democratic-leaning independents were undecided on the party's nominee. Of those who named a candidate 13 percent said they support Biden. Another 9 percent said they back Sanders, 5 percent favor South Bend, Indiana, Mayor Pete Buttigieg, and 4 percent each named Senators Kamala Harris and Elizabeth Warren in the open-ended poll.
In a Morning Call/Muhlenberg College poll of Pennsylvania Democrats conducted in early April, Biden led the field with 28 percent, followed by Sanders at 16 percent, Harris and Warren at 8 percent and the rest of the field behind them.
In an interview with ABC's "Good Morning America" set to air Tuesday, Biden said he was best positioned to win back working-class Trump supporters who aren't "getting their fair share."
"What I'd say is, did you get any benefits from the tax cut?" Biden said. "Have your wages really gone up to what you think you deserve? Do your employers treat you with any more respect and dignity than they did before?"