Biden Picks Ex-UN Ambassador Samantha Power to Head U.S. Aid Agency
(Bloomberg) -- President-elect Joe Biden has named Ambassador Samantha Power to head the U.S. Agency for International Development.
Biden also announced he would make the post part of the National Security Council, a signal his administration will emphasize the role of development in maintaining security around the world.
In addition to Power, Biden added three other people to the NSC. He restored some roles and established a new position of deputy national security adviser for cyber and emerging technology, which will be filled by Anne Neuberger. She currently leads National Security Agency's cybersecurity mission.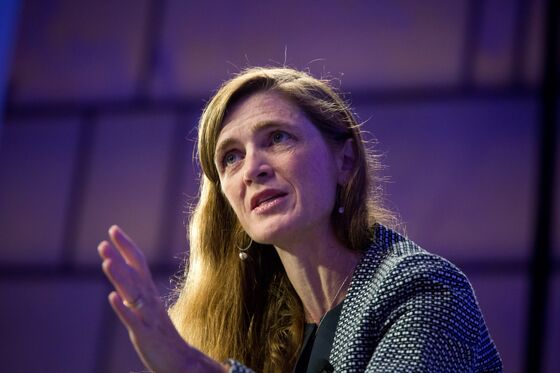 In her tenure as U.S. ambassador to the United Nations during the Obama administration, Power marshaled efforts to fight an Ebola epidemic and mitigate climate change.
"I know firsthand the unparalleled knowledge and tireless commitment to principled American engagement she brings to the table, and her expertise and perspective will be essential as our country reasserts its role as a leader on the world stage," Biden said in a statement.
Power is an immigrant from Ireland who began her career as a journalist reporting from Bosnia and other war-torn countries.
The Biden transition also announced that Elizabeth D. Sherwood-Randall will be homeland security adviser and deputy national security adviser. She previously served as deputy secretary at the U.S. Department of Energy.
In addition, Biden named Russ Travers as deputy homeland security adviser. He is the acting director of the National Counterterrorism Center.