Biden Orders Response to Court 'Assault' on Abortion Rights
(Bloomberg) -- President Joe Biden said the Supreme Court perpetrated an "assault" on women's rights in a ruling late Wednesday that allowed new Texas abortion restrictions to take effect, and ordered his administration to try to counter the state law. 
"The Supreme Court's ruling overnight is an unprecedented assault on a woman's constitutional rights under Roe v. Wade, which has been the law of the land for almost fifty years," Biden said in a Thursday statement.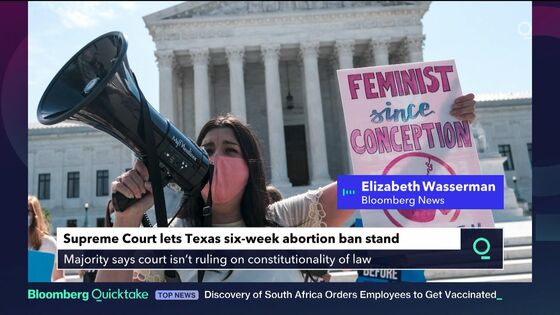 He harshly criticized the Texas law, which creates a novel legal mechanism allowing private parties to sue anyone who helps a woman obtain an abortion more than about six weeks after conception. In his statement, he said he had ordered government agencies, including the Department of Health and Human Services and Department of Justice, to ensure women in Texas retain access to abortion services.
The law "unleashes unconstitutional chaos and empowers self-anointed enforcers to have devastating impacts. Complete strangers will now be empowered to inject themselves in the most private and personal health decisions faced by women," Biden said.
"Rather than use its supreme authority to ensure justice could be fairly sought, the highest Court of our land will allow millions of women in Texas in need of critical reproductive care to suffer while courts sift through procedural complexities," he added, in one of the strongest critiques of the majority-conservative court in his presidency.
A statement Biden issued Wednesday after the Texas law took effect was much milder in tone and did not mention the high court.
On a 5-4 vote late Wednesday, the justices rejected abortion providers' requests to bar the law from taking effect as a legal challenge moves forward. Chief Justice John Roberts and the court's three justices appointed by Democratic presidents dissented, which Biden said "all demonstrate the error of the court's action here powerfully."
Biden's statement Wednesday disappointed some liberals, outraged by the Texas law and the Supreme Court's inaction. His Thursday statement may also disappoint them, as he did not join liberals in calling for the Senate to change filibuster rules so that it can pass a law protecting abortion rights with a simple majority.
Some in Biden's party have also called for Congress to increase the size of the Supreme Court, in order to dilute the power of conservative justices including the three appointed by former President Donald Trump. Biden has not backed that strategy, which would also require changing filibuster rules so that 60 votes are no longer required to end debate on legislation.
The Supreme Court's move on Wednesday is at odds with decades of its own precedents, beginning with the landmark 1973 Roe v. Wade ruling, which permitted abortions much later than the sixth week of pregnancy. Democrats regard the court's refusal to block the Texas law as a signal that the conservative justices are poised to overturn Roe or otherwise curb the nationwide right to abortion.
During the nine-month term that starts in October, the court will hear a Mississippi appeal that seeks to overturn Roe and the 1992 Planned Parenthood v. Casey ruling that said a woman's constitutional right is protected until the fetus becomes viable, sometime after the 20th week of pregnancy.
The Texas clinics and doctors challenging the new law say it would bar abortions for at least 85% of women seeking the procedure in Texas. 
The Texas law outlaws abortion after a fetal heartbeat can be detected and puts clinics at risk of being shut down if they are found to be in violation. The law's enforcement mechanism is at the center of the legal challenge. It allows private parties to sue anyone who helps a woman get an abortion and collect a minimum of $10,000 in damages per procedure but doesn't authorize government officials to sue alleged violators.
Critics of the law say Texas legislators who wrote it created the private enforcement mechanism in part to make the measure complicated and difficult to challenge in court.
Abortion-rights advocates say the law will unleash a flood of frivolous lawsuits that will make abortions all but impossible to perform in Texas. Biden noted in his statement that the Texas law makes no provision for women who become pregnant as a result of rape or incest.
He said that his administration would consider "what steps the federal government can take to ensure that women in Texas have access to safe and legal abortions as protected by Roe, and what legal tools we have to insulate women and providers from the impact of Texas' bizarre scheme of outsourced enforcement to private parties."