Biden Says Families of Florida Missing 'Realistic' About Rescue
(Bloomberg) -- President Joe Biden said families of those who died in the collapse of a condominium tower in Surfside, Florida, know the possibility of finding anyone alive in the wreckage is diminishing.
"They're realistic," Biden said Thursday afternoon after meeting with family members and first responders in South Florida. "It's bad enough to lose somebody. But the hard part, the really hard part, is to not know."
Biden pledged help from his administration. "Our message today is we are here for you as one nation," he said.
Biden said there's not yet any definitive conclusion about what caused the 12-story building in Surfside to crumble last week, leaving at least 18 people dead and 145 missing. Search and rescue teams from across the country have combed the wreckage for survivors but thus far, none have been found since the immediate aftermath of the collapse.
Biden said federal and local officials were working well together on the search and rescue efforts. He said the federal government would pay all of the rescue costs for the first 30 days.
"I think there's more that we can do," Biden said during a meeting with Florida Governor Ron DeSantis, Miami-Dade County Mayor Daniella Levine Cava and other public officials.
The president praised first responders searching for survivors in the rubble of the collapsed building. Search and rescue efforts were paused Thursday morning over concerns about the stability of the remaining structure, highlighting the dangers facing the responders.
"I just wanted to come down and say thanks," Biden told a group of about 50 uniformed personnel. "What you're doing now is hard as hell."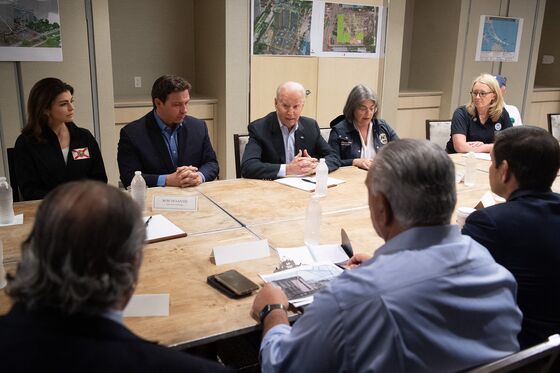 Biden met privately for more than two-and-a-half hours with the families of people who died or went missing. After giving brief remarks, the president spoke individually with relatives, as did first lady Jill Biden.
"They're going through hell," the president said later in the day. "The Whole nation is mourning with these families."
He said his meeting with families ran late because he thought it was important to speak with "every single person who wanted to speak to me."
"I sat with one woman who had just lost her husband and little baby boy, didn't know what to do," Biden said. "They had basic heart-wrenching questions."
For years, Biden has used his own story of personal grief to empathize with those suffering tragedies. The president invoked the death of his first wife and daughter in a 1972 car crash and the loss of his son Beau, to brain cancer in 2015 during his private meeting with the families, according to video of his remarks posted by one of the attendees on Instagram.
DeSantis, a Republican who is said to be considering a presidential run in 2024, thanked Biden for the federal response to the disaster, saying "you recognized the severity of this tragedy from day one."
Biden touted the bipartisan cooperation involved in the response efforts. "You know what's good about this? The way you're cooperating," he said, touching DeSantis's hand. "We're letting the nation know we can cooperate."
The president urged Florida officials to ask the federal government for whatever assistance they need in the weeks and months ahead.
"There's going to be a lot of pain and anxiety and suffering and even the need for psychological help in the days and months that follow," Biden said. "So, we're not going anywhere."
Six more bodies were found in the ruins Wednesday, according to local officials. Among the dead were two children ages 4 and 10.
U.S. assistance provided so far includes 60 Federal Emergency Management Agency staff and 400 additional personnel spread across five urban search and rescue teams to assist with the efforts at the request of local officials, according to White House Deputy Press Secretary Karine Jean-Pierre.
While speaking with the first responders, Biden recalled how firefighters used a hydraulic spreader tool called the "jaws of life" to save his two sons from the auto wreck and also how he was rushed to the hospital in 1988 with a life-threatening brain aneurysm.
"You saved my life," Biden told the group.