Biden, Moon Vow Unity on North Korea as U.S. Names New Envoy
(Bloomberg) -- President Joe Biden said he would appoint a special envoy to address issues regarding North Korea and vowed to coordinate policy toward Pyongyang closely with South Korea's government.
Following meetings with South Korean President Moon Jae-in in Washington on Friday, Biden said he's appointing Ambassador Sung Kim to be the special envoy and that the U.S. and South Korea are willing to take "pragmatic steps" to reduce tensions on the Korean Peninsula.
"We are both deeply concerned about the situation" on the peninsula, Biden said at the start of a press conference on Friday, adding that "total denuclearization is our objective."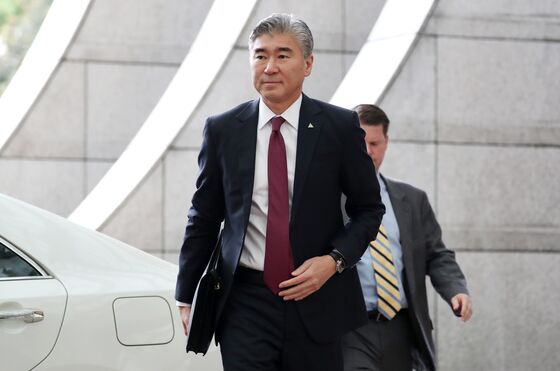 Moon praised the appointment of Sung Kim, a career diplomat, and said he hoped for a positive response from North Korea's government over the shared commitment to diplomatic outreach. Sung Kim has been serving as American ambassador to Indonesia after previously serving as chief American envoy to the Philippines and South Korea.
Moon added that he doesn't see any differences in how his government and the U.S. view the North Korea situation, a point Biden quickly seconded in saying that their shared goal remains the complete denuclearization of the Korean peninsula.
Moon has been eager during the final year of his presidency to revive peace negotiations with North Korea, his signature diplomatic effort. Yet that effort largely stalled after a series of failed summits between former President Donald Trump and North Korean leader Kim Jong Un.
Early in Trump's term, he had said he'd be willing to meet the North Korean leader, and did so several times. Biden has shown no inclination for a meeting.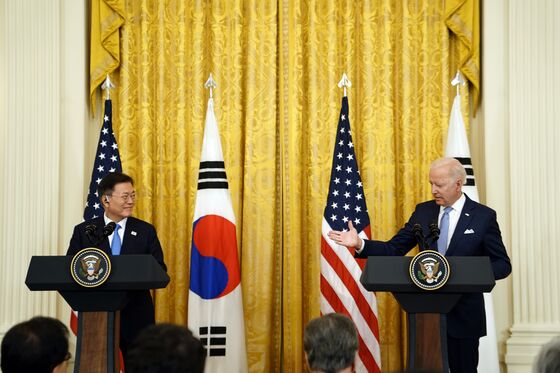 During Friday's talks at the White House, Biden said that the U.S. would provide full coronavirus vaccinations for 550,000 South Korean service members who work in close contact with American forces. South Korea has been eager to secure supplies of vaccines that the U.S. has recently allowed to be exported.
Biden said he and Moon had discussed the possibility of a U.S. vaccine producer partnering with South Korea, which "with the help of that particular company will be able to make significant numbers of vaccines for themselves."
Biden and Moon also agreed to work together on easing a shortage of semiconductors that has hampered production of automobiles and electronics. Earlier Friday, U.S. Commerce Secretary Gina Raimondo and Moon announced an agreement to deepen cooperation in a range of industries including electric-vehicle batteries.
The U.S. and South Korea also agreed to terminate the bilateral missile guidelines that have long restricted Seoul's development of missiles to under the range of 800 kilometers (497 miles.) The end of the guideline puts major Chinese cities under South Korea's missile range.
On the nuclear issue, prospects for a breakthrough deal have faded, with North Korea largely cutting off contact with the U.S. and Moon. At the same time, Kim has continued with his nuclear and ballistic missile programs and fired short-range weapons in violation of United Nations resolutions.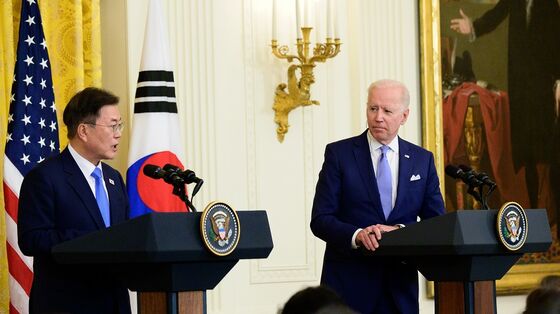 Biden drew a distinction with Trump over the issue of meeting with Kim, saying that there has to be a commitment to discuss the North Korean leader's nuclear arsenal. And he criticized what he said was Trump's decision to confer legitimacy on Kim without getting much in return.
The Biden administration sees North Korea's nuclear program as a serious threat to the U.S. and the world. But Biden -- in contrast to Trump -- has focused his efforts on smaller steps designed to bolster regional security. He has indicated he will not make a priority of direct talks with his North Korean counterpart.
In late March, Biden warned North Korea against continued missile tests, saying "there will be responses if they choose to escalate. We will respond accordingly."