Biden Highlights Sanders Mixed Record on Guns, Party Loyalty
(Bloomberg) -- Democratic presidential candidate Joe Biden took the chance to highlight Bernie Sanders' history of votes in favor of the gun industry Thursday, an issue that's one of Sanders' biggest vulnerabilities with progressive voters.
Asked if the Vermont senator's public change of heart on the issue was genuine, Biden said he believed it was, but then offered a reminder of some of the votes Sanders has taken that aligned him with the National Rifle Association.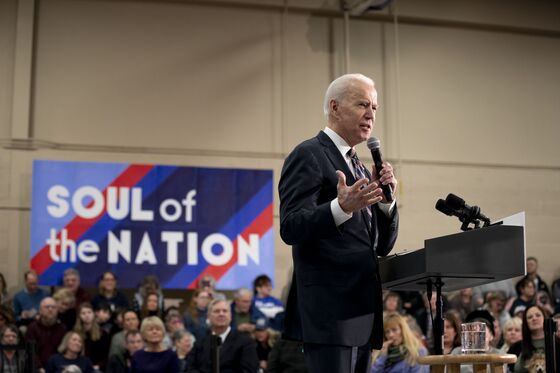 "I think Bernie has made his verbal amends for his record on guns," Biden told reporters during a brief stop at a Dairy Queen in Pella, Iowa, where he ordered a swirl cone.
"I think, you know, the fact he gave the gun manufacturers an exemption that no other industry in the world -- in the United States has, I think he regrets having done that," Biden said. "It was in a campaign in Vermont, in a tough race for the Senate although, anyway," stopping himself before digging deeper into the dynamics of decades-old state politics.
Sanders has a mixed record on gun laws, sometimes siding with most Democrats in supporting tighter restrictions but at times voting with Republicans. The National Rifle Association has over the years given him grades as high as C- and as low as F, according to Politifact.
He voted against five versions of what ultimately became the 1993 Brady Bill, which created the U.S. gun-buying background check system and a waiting period for gun purchases. In 2005, he voted in favor of granting gun manufacturers immunity in lawsuits involving violent crimes committed with guns. But Sanders has also cast several votes in favor of the assault weapons ban and other gun laws.
Biden also brought up Sanders' voting record on the Brady Bill, but added "I think he's regretted that, I think he's changed his mind. So I take him at his word.
Sanders' campaign was quick to respond.
"Last-minute cheap barbs of desperation aren't a good look for a candidate who proclaims his desire to unite the party," said campaign manager Faiz Shakir.
Biden's decision to call a truce on Sanders's gun record could come back to haunt him. It was one of Hillary Clinton's key lines of attack against Sanders during the 2016 Democratic primary and remains an issue on which he's at times struggled to explain his record.
Biden was not so generous when it came to Sanders' party affiliation. Pressed on his differences with the senator, he brought up Sanders' refusal to fully embrace the Democratic Party. "I'm a Democrat," he said. "He's not a registered Democrat to the best of my knowledge."
Biden has largely shied away from combat with his opponents but is lagging in polls ahead of the Iowa caucus on Monday.
(Disclaimer: Michael Bloomberg is seeking the Democratic presidential nomination. He is the founder and majority owner of Bloomberg LP, the parent company of Bloomberg News.)