Biden HHS Pick Faces Senate Fight as GOP Hits His Experience
(Bloomberg) -- President-elect Joe Biden's pick of California Attorney General Xavier Becerra to lead the Health and Human Services department gives him a fierce defender of Democratic causes but one without hands-on experience leading a massive federal agency in the middle of an unprecedented public health crisis.
Biden satisfied calls for him to name the first Latino to head HHS in keeping with his promise for the most diverse cabinet ever. Unions and Democrats applauded his choice of Becerra, who led challenges to many of President Donald Trump's efforts to loosen environmental and other regulations and limit immigration and access to health care.
But that may not be enough direct experience to satisfy the GOP-led Senate, which must confirm his nomination.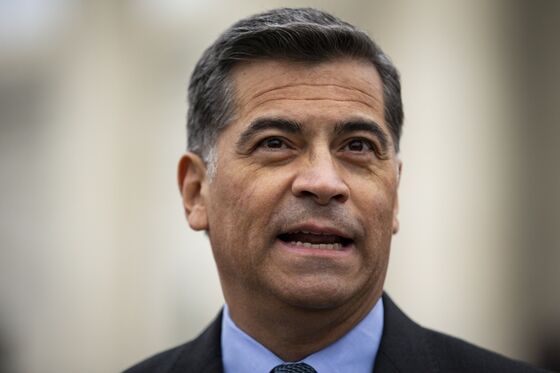 "I'm not sure what his Health and Human Services credentials are," said Senator John Cornyn of Texas. "It's not like Alex Azar who used to work for pharma and have a health-care background," he said referring to the current HHS secretary.
Senator Tom Cotton of Arkansas called Becerra a "disaster" who was unqualified to lead the agency, but focused his complaints on Becerra's support for abortion rights.
While he may not have worked in the health industry, Biden found in Becerra someone who does have experience in his other key health-care ambition -- to expand the Affordable Care Act. Becerra is an ardent backer of it, having helped write the law and then defended it in court, despite his personal preference for the Medicare for All plan that Biden rejected as a candidate.
Biden plans to introduce his health team on Tuesday. On Monday, he announced he had picked Becerra, along with Vivek Murthy as surgeon general, Jeff Zients to coordinate the Covid-19 response from the White House, Rochelle Walensky to head the U.S. Centers for Disease Control and Prevention, Marcella Nunez-Smith as the Covid Equity Task Force chair and Anthony Fauci as chief medical adviser while keeping his job as the government's top infectious disease expert.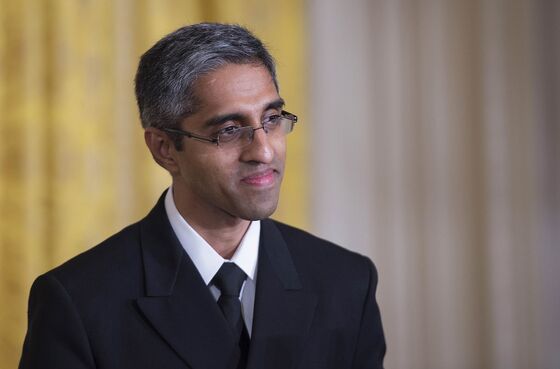 The president-elect did not announce his choices to run the Food and Drug Administration or the Center for Medicare and Medicaid Services, two agencies that fall under HHS.
As HHS secretary, Becerra will direct the Biden administration's response to the Covid crisis, and his efforts to build on Obamacare. Becerra led a multi-state court challenge to Republican efforts to weaken the act, while joining with attorneys general from both parties to increase access to Remdesivir, a drug used in treatment of Covid-19.

Becerra "will be ready to lead our nation out of the Covid-19 crisis on Day One," said Senator Debbie Stabenow, a Michigan Democrat, adding that Becerra helped to get the Affordable Care Act passed and "led the defense of the law in the Supreme Court."

Becerra is well known on Capitol Hill after serving in the House from 1993 to 2017, where he served on the Ways and Means committee that helped craft the Affordable Care Act, commonly known as Obamacare.
"Becerra is certainly a lightning rod for the right," said Jonathan Turley, a constitutional law professor at George Washington University, who has worked for congressional Republicans to challenge the ACA.
Some Republicans said choosing Becerra made them question Biden's commitment to lower the temperature politically and nominate people who will unify the parties. His choice to head the White House budget office, longtime Democratic policy adviser Neera Tanden, has also drawn sharp Republican criticism.
"Nominating California Attorney General Xavier Becerra certainly shows Joe Biden's priorities: Massive bureaucracy, reduced religious liberty, increased regulatory burdens, and partisan efforts that will hurt American families," said Representative James Comer of Kentucky, the top Republican on the House Committee on Oversight and Reform.
His first two major cabinet picks, Antony Blinken for secretary of state and Janet Yellen to be Treasury secretary met minimal opposition.
Becerra differs from Biden in his support for Medicare for All, a fully government-run health-care proposal that Biden's opposes. As a congressman, Becerra signed on as an early co-sponsor of Medicare-For-All legislation, and in 2017 told Fox News that he'd supported Medicare for All for his entire 24 years in Congress.
The person familiar with Biden's thinking said Becerra was prepared to protect Obamacare and add a public option, as Biden wants.
Republicans are also pointing to Becerra's political donations from the health-care industry, which could put him at odds with Biden's hopes to expand the ACA and make health care more affordable.
Health-care interests, including doctors, hospitals, pharmaceutical firms and HMOs, were among Becerra's biggest sources of financial support during his 12-term congressional career, giving him a total of $2.4 million, or about or 18% of the $13.4 million he raised from 1993 to 2017, according to the Center for Responsive Politics. Medical professionals, including physicians, psychiatrists and pharmacists, accounted for just over half that amount.
Congressional Democrats said he was committed to fixing health care in poor communities and for people of color, who have been hit disproportionately by the pandemic.
"He has fought against discrimination and the structural racism that led to a higher prevalence of chronic health conditions, including heart disease, asthma, and diabetes in communities of color," said California Congresswoman Lucille Roybal-Allard. "He has taken on the drug companies responsible for fueling the opioid epidemic. He's sued e-cigarette manufacturers for preying on young people and endangering their health."
A person familiar with Biden's decision-making pointed to Becerra's record on health-related issues — from lawsuits over vaping to joining with Louisiana's Republican attorney general in August on the Remdesivir fight. That effort, and others, the person said, have shown that Becerra is willing to find common ground with Republicans.
His record in Congress, where he represented part of downtown Los Angeles, was reliably liberal and highly visible. Besides a perch on Ways and Means, he landed a seat on the presidential Simpson-Bowles deficit reduction panel in 2010, thanks to his then-mentor, Speaker Nancy Pelosi, a fellow Californian.
With Pelosi's help, Becerra rose through the ranks of party leadership, serving as chair of the Congressional Hispanic Caucus before being named chairman of the Democratic Caucus in 2012. He became an oft-speculated potential successor to Pelosi as House speaker or Democratic leader.

Though he never said so publicly, other lawmakers suggested that Becerra was frustrated over the logjam for upward mobility in House leadership created by Pelosi and other longtime House Democrats. Barack Obama offered him the post of U.S. Trade Representative in 2008, but he turned it down.

Becerra and Pelosi sometimes differed - such as when he reportedly suggested to some colleagues that she had too quickly abandoned the "public option" in order to get the Affordable Care Act passed.

Pelosi praised his selection in a statement Monday. "Attorney General Becerra is a towering champion of health care, whose strategic leadership, keen intellect and outstanding policy expertise were essential in the defense of the Affordable Care Act in the Courts," she said.