Biden Fights to Convince Democrats He's Not a Relic of the Past
(Bloomberg) -- Eager not to falter again, Joe Biden abandoned his pledge never to speak ill of a fellow Democrat, fiercely battling charges in the second debate that he's a relic of the past.
Through the evening Wednesday, it was clear Biden was the front-runner as rivals like Kamala Harris, Cory Booker and Julian Castro lobbed punches, seeking to diminish his support. He had clearly studied his rivals' weaknesses and wasn't shy about challenging them. Despite a few verbal stumbles, nobody quite knocked him off his game. And he played his strongest hand on the most diverse debate stage by evoking the popular ex-president who picked him as his second-in-command.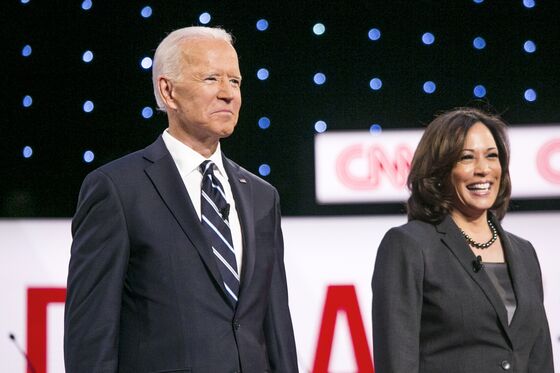 "Everybody's talking about how terrible I am on these issues. Barack Obama knew exactly who I was," Biden said midway through a debate in which he repeatedly touted the successes of the last Democratic administration.
The attacks on the 76-year-old Biden came early, and they kept coming.
Harris charged that Biden's health care plan "does not cover everyone in America," to which he responded that her plan would get rid of Obamacare and eliminate employer-based insurance. Castro said Biden hasn't "learned the lessons of the past" on Obama's immigration record, to which Biden said the former HUD secretary wasn't complaining at the time they shared the Cabinet Room. Booker ripped into his support for the 1994 crime bill, and Biden responded by attacking his criminal justice record as Newark mayor.
The targeting of Biden may have backfired on rivals by assuring that he got plenty of extra talk time. Under the rules of debate sponsor CNN, candidates could respond whenever they were invoked. That afforded Biden the chance for a crucial course correction as another faltering performance by the former vice president risked entrenching fears that he wasn't up to the job.
Biden raised eyebrows even before the debate began when he greeted Harris on stage. He shook her hand and said, "Go easy on me, kid," managing to seem enfeebled while belittling the California senator's standing. As the debate ended, the comment seemed more cunning than it first appeared.
The first debate and its aftermath demonstrated the difficulty of undercutting Biden's support, which is fueled by strong name recognition over a 44-year career and a perception that he's the safest bet to defeat President Donald Trump. After his poor performance in June, fueled by Harris's attack on his record on race and segregation, Biden dropped in the polls. But he's since rebounded.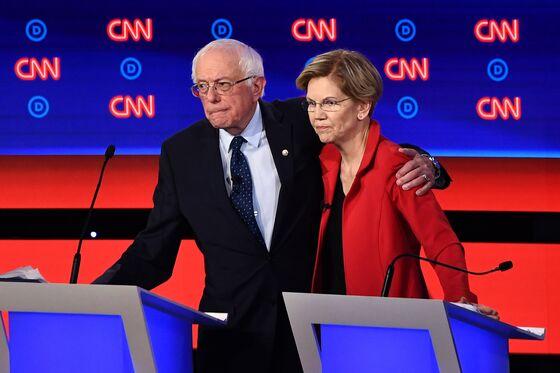 Harris saw a major spike after the first debate, but lost a large share of it in the second half of July. Of the 10 candidates on stage Wednesday, only Biden and Harris are polling in double digits, along with Bernie Sanders and Elizabeth Warren, who debated the previous night. Booker and Castro make the top 10, while others are struggling to hold more than 1%.
It was Booker who scored perhaps the most points against Biden. He drew laughter and applause for accusing the former vice president of "dipping into the Kool-Aid when you don't even know the flavor" in talking about Booker's record as Newark mayor. Booker handled Biden's slip-of-the-tongue calling him a "future president" by joking: "I'm grateful that he endorsed my presidency already."
He told Biden, "You invoke President Obama more than anybody in this campaign. You can't do it when it's convenient and then dodge it when it's not."
The health care debate between Biden and Harris was a clash between a Medicare-like "public option" and the California senator's new plan to put everyone in the Medicare system, with the option of private coverage, over a decade.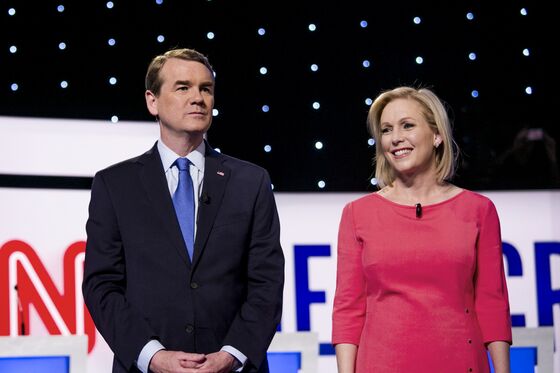 Harris's proposal, unveiled this week, abandoned her prior support for ending private insurance after she waffled on the idea. Biden accused her of "double talk," to which she said she changed her position because she was listening to Americans. Michael Bennet also attacked her plan for ultimately stripping away employer-based coverage, which she dismissed as a Republican talking point.
Biden was ready to respond.
"This is not a Republican talking point. Republicans are trying to kill Obamacare," he said. "This idea is a bunch of malarkey."
Biden deputy campaign manager Kate Bedingfield told reporters after the debate that rivals are always ready to attack his record. "As you saw tonight, he has absolutely no problem defending it."
While Harris sought to keep her focus on Biden, lower-polling rivals had other ideas. In addition to Bennet's criticism of Harris's health care plan, Tulsi Gabbard launched an assault on her record as a California prosecutor, arguing her exercise of power harmed vulnerable people.
Bill de Blasio knocked Biden for voting for NAFTA in the 1990s and urged him to make sure labor has a seat at the table in future trade deals, the former vice president replied with a simple, "Yes."
When de Blasio called that a victory, Biden smiled: "I love your affection for me."