Biden Demands Voting-Rights Action as Allies Rip 'Empty Gesture'
(Bloomberg) -- President Joe Biden called on the U.S. Senate to change its rules to allow a simple majority to pass voting rights legislation, saying in Atlanta that GOP-backed state laws threaten democracy.
"The threat to our democracy so grave, we must find a way to pass these voting rights bill, debate them, vote," Biden said Tuesday at Morehouse College, after visiting the crypt of Martin Luther King Jr. and the church where he was a pastor, Ebenezer Baptist. "Let the majority prevail."
His visit came amid a growing backlash from voting-rights advocates who accused the president of leaving the issue on the back burner until now to focus on his economic agenda. Some activists released an open letter dismissing his appearance as "an empty gesture, without concrete action," while the Democratic Georgia gubernatorial candidate Stacey Abrams skipped events Tuesday with Biden and Vice President Kamala Harris.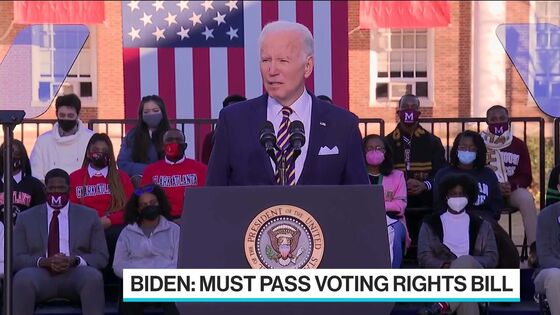 Abrams, who led get-out-the-vote efforts that swung the state to Biden and sent two Democrats to the U.S. Senate, had a scheduling conflict, according to spokesperson Seth Bringman. Biden, the first Democratic presidential candidate to win the state since 1992, had a "warm conversation" with Abrams earlier Tuesday and they remain united on the issue, said White House Press Secretary Jen Psaki.
More than a half-dozen members of Georgia's congressional delegation attended events with Biden, including Raphael Warnock, one of the Georgia senators elected last year who also serves as a pastor of Ebenezer Baptist. Local and civil rights leaders also took part.
Georgia has become one of the country's most-watched political battlegrounds after being a Republican stronghold for two decades. The state's growing population of minority and young voters helped deliver the Democratic victories, a demographic boost that will be put to the test this year, as Abrams runs for governor and one of the two new senators, Warnock, defends his seat.
Biden faces an uphill battle for passage of the voting legislation, which is opposed by Republicans and has languished in the Senate. Biden blamed former President Donald Trump's false claims of widespread fraud in the 2020 election for GOP-controlled legislatures passing laws limiting voting access. 
"The goal of the former president and his allies is to disenfranchise anyone who votes against them," Biden said, referring to the measures as "Jim Crow 2.0."
Biden is seeking to pressure reluctant Senate Democrats -- including West Virgina's Joe Manchin and Arizona's Kyrsten Sinema -- for a controversial one-time change in Senate filibuster rules that would clear the way for action on voting rights.
Senate Majority Leader Chuck Schumer is planning a vote on changing the rules later this week, a tally that comes as voting rights legislation is stymied in a chamber split 50-50 between Democrats and Republicans.
Manchin reiterated Tuesday that he opposes both getting rid of the filibuster entirely and changing Senate rules via a simple majority vote, the so-called nuclear option. He said any changes to the chamber's rules should be made with support from at least two-thirds of the Senate.
Biden dismissed objections to changing the rules, saying Tuesday that the filibuster has been "weaponized and abused" by Republicans.
"We must find a way to pass these voting rights bill debate them vote," Biden said. "Let the majority prevail. And if that bare minimum is blocked, we have no option but to change the Senate rules including getting rid of the filibuster for this."
Biden sought to respond to criticism from members of his base who contend he hasn't done enough to prod lawmakers to support passage of voting rights legislation, saying that he's had "quiet" conversations with members.
His pivot toward voting rights comes weeks after Manchin dealt Biden's domestic agenda a crippling blow, saying he would withhold a decisive vote for the nearly $1.8 trillion package of social programs, environmental spending and new taxes.
Congressional inaction would allow a raft of restrictive new state-level voting laws to go into effect for November's midterm elections. At least 19 states passed 34 laws restricting voter access to ballots between Jan. 1 and Dec. 7, 2021, according to the Brennan Center for Justice at the New York University School of Law.
Senate Republicans, led by Minority Leader Mitch McConnell, have defended the actions of GOP-led legislatures and have said Democrats exaggerate their impact on minority voters. McConnell has vowed to keep Republicans united against the Democrat-drafted voting rights legislation.