Biden-Buttigieg Dream of Congress Unity Runs Into D.C. Skeptics
(Bloomberg) -- Joe Biden and Pete Buttigieg are selling voters on their ability to unite Democrats and Republicans around their agenda. But current and former members of Congress have a message for them: Dream on.
Biden frequently tells voters that if President Donald Trump is defeated, Republicans will have an "epiphany" and work with Democrats. Buttigieg, in a 30-second spot appearing in South Carolina, vows to "unify the American people" around pocketbook issues, gun violence and immigration.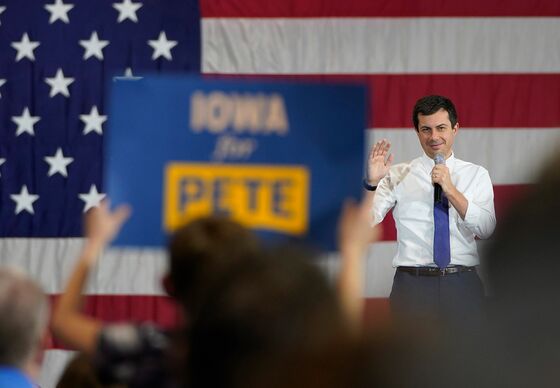 But the two moderate Democrats may be walking into the same trap that stymied President Barack Obama: A belief that they can overcome intense tribalism and get Republicans to work with them.
Biden and Buttigieg are campaigning on ideas that mirror Obama's second-term agenda, from raising the minimum wage to regulating gun ownership to bolstering the Affordable Care Act. All have broad national support but have been blocked by Republicans.
"For Republicans specifically, most of these proposals are dead in the water," said David Jolly, a Republican congressman who represented a Florida district from 2014 to 2017 and has since left the party. He said the prospect of cross-party cooperation around such goals is "unrealistic where today's politics lie," even if it's visionary in a way that speaks to voters' aspirations.
Jolly said that even if Democrats win big in 2020, the way congressional districts are drawn would hinder cooperation because each party is predominantly responsive to its core base.
"Between gerrymandering, closed primaries and big money going through leadership, you create hyper-partisan behavior," he said.
Buttigieg and Biden are aiming their view of bipartisanship beyond the primaries to attract independents and Republicans to their moderate ideas.
At the same time, Senators Bernie Sanders and Elizabeth Warren aren't banking on unity and bipartisanship. Their pitch is to ignite grassroots masses and give Democrats enough power to push through their agenda without Republican votes. But that, too, is a tall order: Democrats are unlikely to have anywhere near 60 Senate votes to defeat a filibuster, and Warren's call to end the 60-vote rule is certain to face resistance from centrist Democrats.
At the November debate, Biden and Buttigieg struggled to explain why they could succeed where Obama struggled to break what he called "the fever" of Republican intransigence.
Buttigieg says he believes that he can get results because "we are now in a different reality than we were even 12 years ago." But Congress is more polarized than it was when Obama took office — liberal Republicans have mostly disappeared.
Biden, asked how he intends to get Republicans in Congress to work with him when they're pushing to investigate his son based on unsubstantiated claims, dodged the question and said Trump's behavior indicates fear of facing him in an election.
"The degree of impossibility of cooperation got worse with Trump," said Barney Frank, a former Democratic congressman from Massachusetts who retired in 2013 after 40 years. "It's not a mistake for Democrats to be open to cooperation — it's a mistake to assume it's going to come."
"I think Obama was too naive about that," he said. "He said he was going to govern in a post-partisan manner. I said he gave me post-partisan depression when he said that."
Frank said he sees "very little" hope that Republicans would cooperate on even the more modest proposals that have been advanced in the Democratic race — unless they face a landslide defeat that causes them to change. He recalled Senate Republican Leader Mitch McConnell's pledge in 2010 that his "single most important" priority was to block Obama's re-election.
Senator Marsha Blackburn, a Tennessee Republican, said Biden and Buttigieg's agenda was inconsistent with bipartisanship, and suggested their rhetoric of unity was hollow.
"I think they've realized the American people are not ready for the leftward tilt of the Democratic Party so now they're trying to reinvent themselves," she said.
Texas Republican Senator Ted Cruz, the runner-up to Trump for his party's 2016 nomination, blamed Democrats for the partisan polarization and voiced little hope of that changing.
"We are today in a deeply polarized and divided environment. There is an anger, there is a rage that's not healthy for our nation, it's not healthy for our democracy," he said. "Unfortunately, fear and loathing of Donald Trump continues to drive the Democratic field further and further left."
Dan Pfeiffer, a former senior adviser to Obama, said there is "a contradiction between what may be the most appealing general election message and what is the best governing strategy."
"A lot of voters want to believe that the country can be less divided than it is now and are interested in a candidate that will at least try," Pfeiffer said. "The danger of that message is that if you win, your success will be graded on whether you can get Mitch McConnell to cooperate with you, which will not happen under any circumstances."
John Kerry, the former senator, secretary of State and 2004 Democratic candidate who recently endorsed Biden, talked up the former vice president's skills as a legislator and the connections he built on Capitol Hill during his three-dozen years in the Senate. Asked Sunday in New Hampshire how Biden could succeed where Obama failed at unifying Congress around his agenda, Kerry said, "He has stronger relationships."
The Obama experience has led many Democrats to opt for a more pugnacious approach as reflected in the candidacies of Warren and Sanders, who are among the top three candidates, along with Biden. They say politics is corrupted by money and that the rules must change to reorder the economic system for workers.
In a 30-second ad in Iowa this week, Warren promises "bold action" to tackle the "climate crisis" with a Green New Deal, saying she's "not afraid to fight to get this done." Sanders, the runner-up for the 2016 Democratic nomination, has become a heroic figure on the left as he calls for a "revolution."
The two approaches — unite or fight — represent a sharp contrast in tactics and vision, giving Democrats a choice that will shape their party for years to come.
An October NBC/Wall Street Journal poll found that 37% of Democrats said they'd rather vote for a candidate who'll build on Obama's legacy, while 55% said they'd prefer one who would take a new and different approach.
Remembrance of Different Pasts
Julia Azari, a political scientist at Marquette University, said many progressives, burned by the obstruction Obama faced, don't believe the country can be unified around goals like universal health care and confronting climate change.
"The jig is up in terms of pretending that's a serious possibility," Azari said. "The idea that you're going to build a super-majority for mainline, highly salient policy items on the economy or health care is really — it's a tough sell."
The division is partly generational. A new Economist/YouGov poll taken this week found Biden dominating among Democrats 65 and older, with Buttigieg in second place. Sanders led among voters ages 18 to 29, with Warren in second place.
Many Democrats who lived through the 1970s and 1980s, when the parties were less ideologically sorted and bipartisanship was the norm, yearn for a revival of that environment. But millennials and Gen Z voters, whose early political memories are of Bill Clinton getting impeached or McConnell thwarting Obama, have no such recollection.
"For people born in the '90s and after — they have no sense of a unified polity whatsoever," Azari said.
(Michael Bloomberg is also seeking the Democratic nomination. Bloomberg is the founder and majority owner of Bloomberg LP, the parent company of Bloomberg News)