Biden Makes Tricky Adaptation to the Coronavirus Campaign Trail
(Bloomberg) -- Joe Biden's campaign rushed to build a sophisticated television studio in his home to better communicate to the American people how he believes a president should deal with the coronavirus epidemic. But when he made his first live appearance there Monday, none of the major cable channels took it live.
The moment illustrated the challenges the Democratic presidential front-runner faces during a crisis that has changed American life. While he's beginning to prepare for the general-election campaign against President Donald Trump, Biden still hasn't yet secured the Democratic nomination.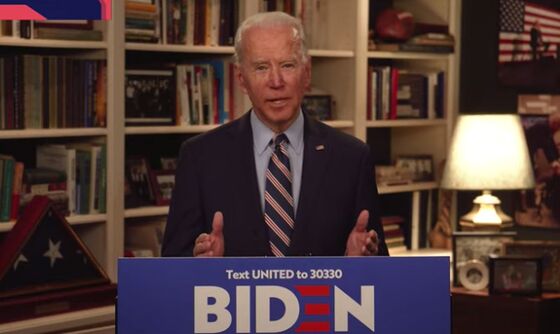 And unlike senators debating legislation or governors working to protect their constituents, the former vice president is now a private citizen. There's no action he can directly take or information that is only his to deliver.
Biden's efforts to calibrate his message and improve his technological capabilities kept him out of the public eye for most of last week. Meanwhile, Trump dominated television and computer screens with his daily coronavirus briefings from the White House.
Democrats Looking for Leader
Democrats were hungry for someone to take the lead in answering what they saw as the president's erroneous statements, while pushing for greater urgency in the federal government's response to the epidemic.
But instead of Biden, who will likely become the party's standard-bearer this summer, it was New York Governor Andrew Cuomo who emerged to lead the response by holding his own daily briefings from Albany -- including one on Monday that aired live on cable TV while Biden spoke via livestream. The governor's interventions were widely praised, including by Biden, who called them "a lesson in leadership."
In the livestream on Monday, which the campaign said was watched by 230,000 people, Biden criticized the Trump administration's response to containing the outbreak while being careful not to seem too overtly political in his approach.
"Donald Trump is not to blame for the coronavirus. But he does bear responsibility for our response," Biden said. "This isn't about politics. This is simply too much at stake. Too many lives."
Stressing that his assessment of the government response to coronavirus isn't purely partisan, Biden praised a handful of Republican governors by name along with some Democrats -- albeit with one slip up, referring to Massachusetts Governor Charlie Baker, a Republican, by the name of the late jazz saxophonist Charlie Parker.
Biden Offers His Own Plan
Biden said Trump has been too slow to act and repeated a call he's made for weeks, that Trump invoke the Defense Production Act to expedite the manufacture and distribution of medical supplies. He also called for immediate action to expand testing capabilities and investment in research for the development of a vaccine.
Without a vote in the Senate or a state bureaucracy to oversee, Biden has little power to mobilize resources to deal with the outbreak. As a result, his message has rarely strayed from the plan he put out last week in which he outlined the steps he would take if he were already in the White House. Biden has urged Trump to adopt the plan and has been in contact with Democratic leaders across the country.
Biden's Monday statement was just the first of what he has assured supporters will be a regular flow of interviews, videos and discussions coming from his campaign as it aims to hit the right note during a public health and economic crisis as his supporters have made clear they want more from him.
"We see Donald Trump every day with this crisis now giving his press reports and I would just love to see you more. Like, how do we get more of you and less of him on our airwaves?" a donor in Atlanta asked Biden during a Sunday fund-raiser that was conducted by conference call.

"I can't tell you how to get less of him but you're going to get more of me," Biden responded, explaining that a high-speed internet line was connected to his house last week and that his recreation room has been modified to serve as a TV studio. "You're going to be seeing a lot more of me on television and on teleconferencing as well as online."
Virtual Ropelines, Cooking Shows
His team is considering mounting virtual rope lines, where voters would get to briefly interact with Biden by video chat, as well as longer video conversations between the candidate and his supporters, a campaign official said. It's also exploring podcasts and other long-form media. In a fundraising email over the weekend, Biden's team ran through some suggestions it had gotten from supporters, including a cooking show featuring the candidate and his wife Jill Biden.
"We are absolutely looking into and experimenting with any way of replicating a traditional campaign experience virtually and capitalizing on his biggest strength, which is connecting with voters," spokesman TJ Ducklo said.
Biden will test out his new setup again on Tuesday with a live appearance on ABC's "The View."
Biden's initial efforts to reach voters and the media virtually as the virus sent millions of Americans into their homes two weeks ago were a bit rocky, which some criticized as evidence that Biden's technology infrastructure was weak.
His first attempt at a video town hall was filled with static and hard to understand. His primary-night victory speech after primaries in Arizona, Florida and Illinois last Tuesday, aired live on cable news, and drew jabs from TV commentators that the candidate needed to update the technology at his Delaware home.
Trump, Sanders Built Digital Operations Early
The others in the presidential race, Trump and Bernie Sanders, Biden's sole remaining Democratic opponent, have played to their existing strengths and not stretched the candidates -- or their technology operations -- in the same way Biden has.
Trump has the bully pulpit of the White House press briefing room and his Twitter account, which are further amplified by the extensive text-message, email and social media networks that his campaign has built over the past five years, as well as the support of the Republican National Committee and virtually every other GOP group.
Sanders's campaign prioritized building a robust digital content operation and online engagement with its existing supporters and has live streamed nearly every one of his events throughout his campaign, allowing his supporters to watch his rallies around the country.
Now, the campaign is using that technology to host virtual "rallies" and discussions that have generally featured Sanders sitting in a chair in his home. Some have included musical guests and prominent surrogates.
On Sunday, Sanders was joined by Representatives Alexandria Ocasio-Cortez, Rashida Tlaib and Ilhan Omar, the so-called "squad" of freshmen congresswomen, to discuss the pandemic. But with Sanders all but out of the Democratic campaign and his appeal to voters much less reliant than Biden's on seeming "presidential," he hasn't been expected to stand at a lectern and offer the same kind of serious speech that Biden gave on Monday.
While Biden's team has now raised the quality of what's transmitted from the candidate's home, it's still developing ways for Biden to better reach voters. Aides have contacted tech companies for ideas on developing a digital approach that will allow Biden to be at ease and use his retail skills, said Shomik Dutta, co-founder of Higher Ground Labs, a venture capital firm that invests in political tech start-ups and that the Biden campaign contacted.
"They're searching for those tools and platforms that allow Biden to play to his strengths," Dutta said.