Biden Makes Final Push for Economic Deal Before European Summits
(Bloomberg) -- The White House is stepping up pressure on congressional Democrats to finalize a framework on its economic agenda before President Joe Biden leaves Thursday for summits in Europe, but persistent division within the party threaten an easy resolution.
Despite weeks of assurances from Democratic leaders that they were reaching a consensus on tax and spending provisions, progressives and moderates on Wednesday continued to hash out differences on the plan, worth as much as $2 trillion, with little concrete signs of progress. 
House Ways and Means Chairman Richard Neal and Senate Finance Chairman Ron Wyden feuded publicly over how to pay for the measure. And Speaker Nancy Pelosi raised more questions than she answered about the plan's legislative prospects in a letter Wednesday afternoon intended to spell out next steps to her caucus. 
Senate Budget Chairman Bernie Sanders, a Vermont independent who has sharply criticized moderates for rejecting revenue proposals, became the latest lawmaker summoned to the White House Wednesday afternoon, said two sources familiar with the meeting. 
"Almost every sensible progressive revenue option that the president wants, that the American people want, that I want, seems to be sabotaged," Sanders, who had pushed for a larger spending package, said hours before the meeting. 
Earlier Wednesday, senior White House officials met on Capitol Hill with key moderates Joe Manchin of West Virginia and Kyrsten Sinema of Arizona, following up on the senators' session with Biden on Tuesday night. The president needs the support of all Democrats in the evenly divided Senate to squeak his social-spending and tax plans through that chamber. 
"We're doing great, we're making progress," Sinema said after the meeting with White House counselor Steve Ricchetti, National Economic Council Director Brian Deese, and legislative liaison Louisa Terrell. 
Manchin deflected, saying, "It's really up to the rest of the caucus." 
"There's 50 of us and everyone has to participate," he added.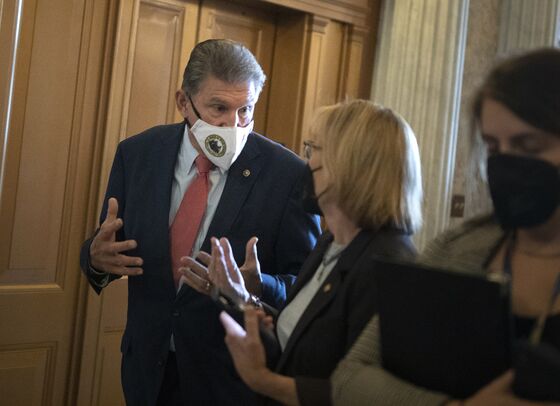 Biden is also keeping the door open to a meeting with Democrats on Capitol Hill to discuss his agenda, a White House official said. 
The president hopes to have the contours of a deal worth as much as $2 trillion in new spending for social and climate programs, before a climate-change summit begins in Glasgow next week.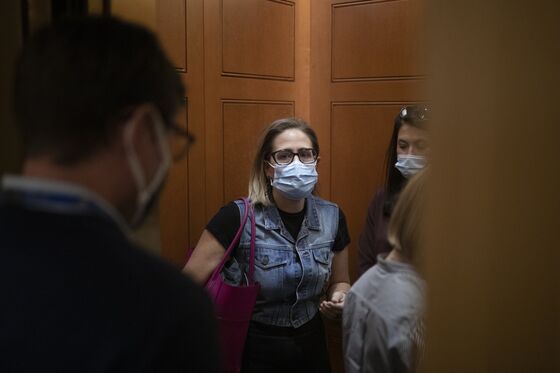 Pelosi later sent a letter to House Democrats, laying out the next steps regarding the tax and spending bill and the $550 billion infrastructure package that has already been approved by the Senate. She also said that the Rules Committee would hold a Thursday hearing on Biden's agenda. The panel governs floor debate, but it wasn't clear what the hearing would entail since there is no legislation to consider. 
Rules Committee Chairman James McGovern said he would convene his panel only if there is at least draft text. He acknowledged that Pelosi's announcement of a hearing was designed to put pressure on the Senate to strike a deal. 
"The deal is people have to start making decisions and we have to get this done," McGovern said. 
House progressives have held up a vote on the infrastructure bill as leverage on negotiations on the larger tax and spending package. Pelosi acknowledged at the meeting that the House must have confidence in the social-spending legislation before voting on the roads and bridges measure, the person familiar said.
Progressive Caucus Chair Pramila Jayapal said Wednesday afternoon her caucus would continue to refuse a vote on the infrastructure bill until there is a vote on the broader economic agenda. 
"It's confusion. Everyone's coming up to me and saying, 'What's the deal?'" the Washington State Democrat said. "Rules members are coming up to me and saying, 'What is it that we're going to be marking up?' I said, 'I don't know.'"
There are discussions among House leaders to keep members in Washington possibly into Saturday to pass the infrastructure bill, said a lawmaker familiar with ongoing discussions.  
"I think a framework deal is likely in the next 24 to 36 hours," said House Democratic Chair Hakeem Jeffries of New York, Wednesday afternoon.
The lawmakers said it appears Pelosi hopes to announce an agreement on a framework for the economic agenda, even if that comes with some blanks regarding precise revenue streams.
But it is unlikely that House progressives would accept an unfinalized framework and allow for a vote on the infrastructure bill.
"I think we should just go home and let them keep working on it," said Representative Peter Welch of Vermont, pointing to various unresolved issues.
Democrats, who for weeks have said they are closing in on an accord, have scurried in recent days to find revenue streams the entire caucus can support. 
Neal, the chairman of the tax-writing Ways and Means panel, said a proposal to tax the assets of billionaires had been dropped, while a surtax on millionaires is under discussion. Wyden, who drafted the billionaire tax, quickly dismissed Neal's comments. 
"Last time I looked, the United States Senate has a say, too. And so we are continuing to work with members," Wyden said. 
The House is also discussing with the Senate the inclusion of a 3% surtax, on top of the top income rate, for those earning more than $10 million, Nealsaid Wednesday.
Tax increases to pay for the plan has emerged as one of the toughest problems to solve with Manchin expressing opposition to a billionaires tax even as Sinema opposes income tax rate increases. 
Also undecided are many of the new and expanded social programs, including paid parental leave and Medicare drug pricing. 
Senator Kirsten Gillibrand, a New York Democrat, said Wednesday she's working with Manchin on a more narrow parental leave provision he can support. 
"I'm working on the best, strongest, most robust plan I can with Joe Manchin, and, hopefully, he will accept my proposal," she said. 
The compromise proposal would allow 12 weeks of leave but just for childcare, not illnesses said Senator Jeanne Shaheen of New Hampshire.