Ocasio-Cortez Criticizes SALT Cap Repeal Effort: Stimulus Update
(Bloomberg) -- Representative Alexandria Ocasio-Cortez criticized calls by a group of House members to repeal the $10,000 cap on deductions for state and local taxes, saying it would be a "giveaway to the rich." Senate Finance Committee Chairman Ron Wyden separately said it's "unreasonable" for Republicans to demand that corporations should not pay for roads, bridges and port upgrades.
Meantime, a group of Republican senators said they'll prepare a counteroffer to President Joe Biden's $2.25 trillion infrastructure-and-tax plan, without indicating its size or how they'd pay for it. Senator Chris Coons, a key Biden ally, said he's talking with GOP counterparts about potentially splitting off a bipartisan package of measures from the giant program the White House has pitched.
House Speaker Nancy Pelosi has targeted passage of Biden's plan in her chamber by July 4. Biden is expected to unveil another, social program-focused initiative in coming weeks. The president will deliver his first address to a joint session of Congress on April 28, right before his 100th day in office, in which he's likely to again tout his push for a ramp up in long-term federal spending.
Ocasio-Cortez Criticizes SALT Cap Repeal Effort (4:00 p.m.)
Progressive Democrat Alexandria Ocasio-Cortez said Biden's infrastructure-and-spending plan shouldn't be held hostage to demands to repeal the cap on deductions for state and local taxes that are being made by some of her fellow New Yorkers and other representatives from high-tax states.
She called abolishing the $10,000 limit on SALT deductions "a giveaway to the rich." The New York representative said that while there could be "a conversation" about adjusting the cap to help taxpayers who are deeply affected -- mostly in Democratic-run states like New York, New Jersey, California and Illinois -- a full repeal is going too far.
"I don't think that we should be holding the infrastructure package captive for a 100% full repeal of SALT," she said. "We can have a conversation on the policy, but it's a bit of an extreme position, to be frank."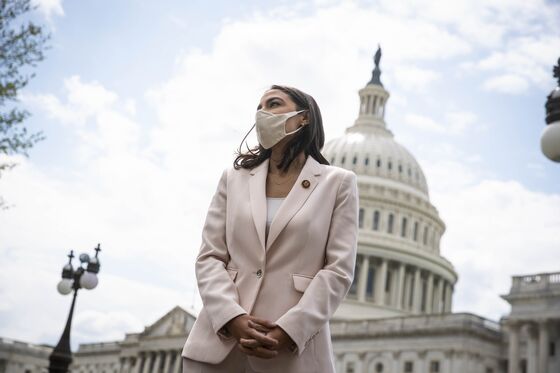 Ocasio-Cortez's remarks came shortly after a group of Democratic and Republican House members announced they were forming a caucus to push to lift the limit and threatening to vote against Biden's plan to use the tax code to fund his proposal unless the repeal is included. That caucus numbered 32 by late Thursday afternoon. -- Billy House
Senate Finance Chief Insists on Corporate Tax Hike (3:50 p.m.)
Senate Finance Committee Chairman Ron Wyden insisted that a corporate tax hike, as has been proposed by Biden to pay for his infrastructure-focused economic program, be included in the bill, countering Republican demands for that to be stripped from a bipartisan package.
It is "not acceptable" and "unreasonable" for Republicans to demand that corporations should not pay for roads, bridges and port upgrades, Wyden said in a statement Thursday. "Corporations have never contributed less to federal revenues than they do now," Wyden said.
Revenue from companies is down almost 40% percent from the average since the start of the century since the 2017 tax-cut act, Wyden said, citing figures from the non-partisan Congressional Budget Office. -- Laura Davison
Senate GOP Prepares Infrastructure Counteroffer (1:27 p.m.)
Senate Republicans said Thursday they are working on a "conceptual" counteroffer to President Joe Biden's $2.25 trillion infrastructure-focused economic plan, saying it will focus on "core" infrastructure and doesn't raise corporate taxes.
West Virginia Senator Shelley Moore Capito said Republicans agree that roads, bridges, transit, waterways and broadband need to be upgraded, but will never go along with repealing President Donald Trump's 2017 tax cuts.
"That is the sweet spot of where we can join together," Capito told reporters, adding that Republicans "expect" the policy paper will start a bipartisan negotiation where both sides "meet in the middle."
She did not give a timeframe when the GOP would make its presentation, or a ballpark figure for it. Capito herself has talked about a $600 billion to $800 billion bill.
Maine Republican Susan Collins said the GOP can get behind a smaller infrastructure bill that is fully paid for.
"We can pay for it without raising taxes," agreed Montana Senator Steve Daines, without revealing how that can be done.
Republicans said they would include provisions to make it easier for infrastructure projects to clear environmental and other reviews. The GOP conference effort is separate from bipartisan talks among moderate senators on a possible compromise infrastructure plan.
"We could do an infrastructure package," said Senator Roger Wicker, the top Republican on the Commerce Committee, who was in a bipartisan group that met with Biden at the White House earlier this week. "I am optimistic."
"We are willing to talk about a much larger package than we are used to," Wicker said. -- Erik Wasson
Democrat Speaking with GOP on Splitting off Bipartisan Bill (9:48 a.m.)
Senator Chris Coons, a key ally of President Joe Biden, said Thursday he's talking with Republican senators about breaking up the president's infrastructure-led economic package into two bills, and passing a bipartisan bill first.
"That could end up being an $800 billion to $1 trillion bipartisan bill," the Delaware Democrat said. Coons said that would include such items as roads, bridges, airports, water projects and rural broadband that have support from both sides of the aisle. "If there is a pathway towards a robust infrastructure package with Republicans, I will support and urge that the Biden administration embrace splitting this into two bills."
He suggested Democrats should then pass a larger, follow-on package with Biden's many other priorities that aren't backed by the GOP, via a reconciliation package, which would only need a simple majority of votes in the Senate.
Coons said he spoke Wednesday with West Virginia Republican Shelley Moore Capito, who floated a $600 billion to $800 billion bipartisan package shorn of many of Biden's spending and tax proposals that Republicans either oppose or don't think should be included in an infrastructure bill.
Many other Republicans have said they are open to a pared-down infrastructure program, but without undoing some of the the 2017 tax cuts, as Biden wants.
Senators including Capito, Mitt Romney and Bill Cassidy have discussed proposing either a bipartisan package or a Republican alternative, but have acknowledged they are still in the early stages of discussions.
Even if senators do agree on a spending package, deciding on how to pay for it -- with more debt, new taxes or something else -- would remain a major hurdle. -- Steven T. Dennis