Biden Steps Up Aid Defense, Seeks Return of Job-Hunt Requirement
(Bloomberg) -- President Joe Biden on Monday stepped up defense of his $1.9 trillion pandemic-relief bill after Republicans blamed the shockingly weak gain in April employment on federal benefit payments persuading those out of work to hold off on getting a job.
"The people who claim Americans won't work even if they find a good and fair opportunity underestimate the American people," Biden said at the White House. At the same time, he warned people against attempting to game the jobless-benefit system, which currently offers an extra $300 a week through September thanks to the Covid-19 aid bill.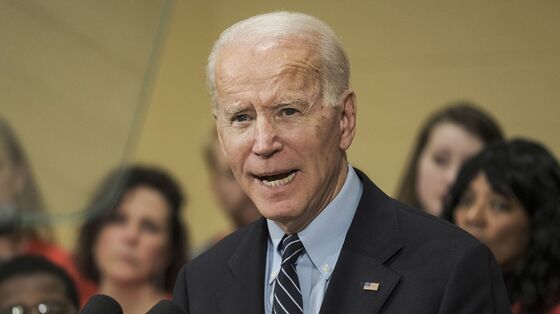 Anyone offered a suitable role "must take the job or lose their unemployment benefits," Biden said Monday. There are some exceptions for Covid-19, "but otherwise that's the law," he said.
Some states still have suspended work-search requirements, dating from earlier in the pandemic. But Biden is now directing his Labor Department to work with them to reinstate those, "if health and safety conditions allow," a White House fact sheet showed.
Meantime, the president urged employers to boost wages and help workers get vaccinated to aid in the jobs rebound. And he listed a raft of measures the government is taking to bolster the recovery, including distributing money for childcare.
Republicans doubled down on their criticism Monday.
"Policy matters, incentives matter," Senate GOP leader Mitch McConnell said on the Senate floor. "We should not still be taxing the Americans who are working to continue funding the expanded benefits for those staying at home," he said.
Republican Senator Ben Sasse of Nebraska said of Biden: "He's denying the reality that his policies are making the situation worse so he's trying to make struggling businesses the boogeymen." Sasse said in a statement he'll introduce this week a bill to redirect supplemental jobless benefit money into a two-month bonus "for anyone who gets a job."
Biden's Monday remarks expanded upon an initial televised rebuttal on Friday of criticism that Biden's American Rescue Plan, enacted in March, is proving counterproductive. The debate has erupted amid the administration's new push for $4 trillion of spending and tax credits for long-term economic programs.
The April payrolls gain came in at 266,000, less than half the weakest estimate in a Bloomberg survey. Republicans swiftly blamed Biden's extension of $300 a week supplemental unemployment insurance to early September for effectively paying some Americans to stay at home.
Biden said the April payroll data were based on a survey taken during a period when the pandemic was hitting harder than it is now. He flagged that 35% of working-age adults are now fully vaccinated, against 18% then.
He also highlighted several measures that should help stimulate job growth going forward. Among them:
The launch of distributions to states and municipalities of $350 billion in aid under the March bill, enabling those governments to boost hiring
The first relief checks going out from today to 16,000 "hard-hit restaurants"
Notice to employers that they can hire back their laid-off workers part time without the individuals having to give up all their unemployment benefits
The release of guidance to states to help distribute funds for child care. The goal is to aid working parents to get back to work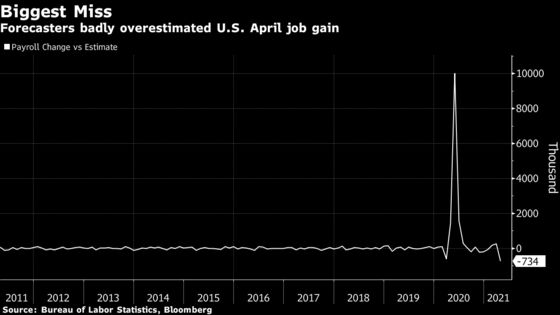 The president on Friday said that enhanced jobless benefits didn't have a "measurable" effect on the April numbers, and pointed out that there was an increase in job seekers last month. Anecdotal evidence has shown the extra payments have had an impact, however. And it's not just Republicans who have argued that the assistance is holding back the jobs recovery.
"Respectfully, I think it is close to self-evident that the fact that people are being paid more to stay at home than they would be to work -- in millions of cases -- is reducing the available supply of labor," former Obama administration economic director Lawrence Summers said in a Bloomberg TV interview Friday. Summers is a paid contributor to Bloomberg.
Biden also put the onus Monday on employers to aid in stepping up hiring.
"We also need to recognize people will come back to work if they're paid a decent wage," he said.
He spoke hours after the latest evidence that some businesses are indeed moving to raise pay to address their employment needs.
Chipotle Mexican Grill Inc. is raising its average wage to $15 an hour as it moves to hire 20,000 workers across the U.S., joining a growing number of companies reconsidering worker pay amid widespread labor shortages.
Moody's Analytics chief economist Mark Zandi said the April payroll report hasn't caused him to change his expectation for a steady recovery in coming months.
"My forecasts for unemployment a year from now are still closing in on 4%," against 6.1% for April, Zandi said. Even so, he agreed that the extended unemployment insurance benefit is probably having an impact. "September is a little late for the supplemental UI to come off."