Biden Ad-Libs Praise for Wall Street But Urges Tax Hikes on Rich
(Bloomberg) -- President Joe Biden spontaneously tempered his criticism of Wall Street during his address to Congress on Wednesday, even as he called for massive tax increases on corporations and the richest Americans.
"Good guys and women on Wall Street," Biden said. The phrase didn't appear in a White House transcript of his prepared remarks. He then returned to his script, saying: "But Wall Street didn't build this country."
Later in the speech, Biden again departed from his script to soften his criticism of the wealthy: "Sometimes I have arguments with my friends in the Democratic Party. I think you should be able to become a billionaire or a millionaire but pay your fair share."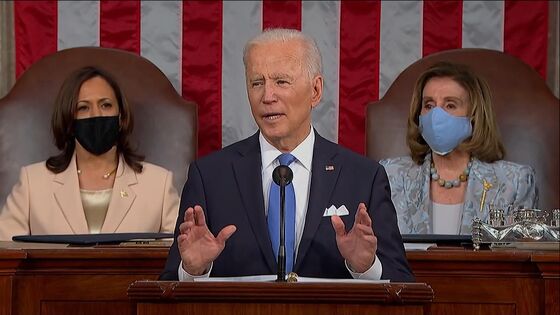 Biden has long avoided the forceful criticism of Wall Street and the wealthy that the most progressive Democrats -- such as Senators Elizabeth Warren and Bernie Sanders -- have made central pillars of their agendas. But the president has clearly taken aim at the richest Americans to pay more in taxes as he seeks to raise revenue for his proposal to expand social spending by as much as $1.8 trillion.
One of his proposals would abolish the preferential treatment given to a key method of compensation for private equity managers. He's also proposed limiting a tax break used by the real-estate industry to defer taxes on some property-investment gains.