Better Than Nothing: Balance of Power G-20 Special
It was, as one weary negotiator observed, better than nothing.
After a week of wrangling over wording by their "sherpas," the Group of 20 leaders meeting in Argentina issued a statement saying the system of rules underpinning global trade since World War II is flawed and needs changing. For the first time, they didn't mention the risk of protectionism – even as, arguably, such behavior is on the rise. And they agreed to "reform" the World Trade Organization.
The priorities of U.S. President Donald Trump were felt throughout the document, and indeed senior White House officials were quick to praise it. But in rushing to avoid a repeat of other recent summits, which saw communiques either ripped up or not accepted at all, countries may have only served to weaken the G-20 as a whole.
Tricky issues (Ukraine, the murder of Saudi critic Jamal Khashoggi) were left out entirely. On climate change, signatories to the Paris climate accord reaffirmed it as irreversible. On the very next line, the U.S. inserted language explaining Trump's decision to withdraw from the pact.
While the document staved off an immediate disaster, the risk is that future summits will value settling on a statement over addressing key challenges such as unilateralism, trade wars and a warming planet.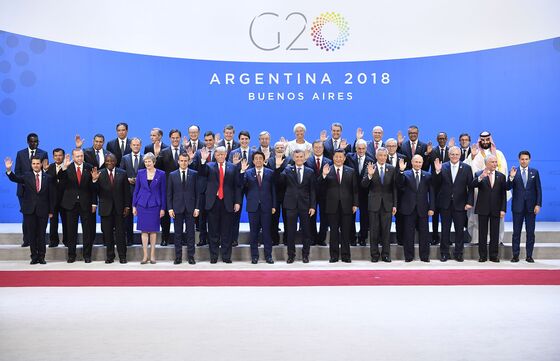 A deal over dinner | A two-hour dinner meeting in Argentina has eased the U.S.-China trade war – for now. Trump and President Xi Jinping agreed to keep tariffs at 10 percent from Jan. 1 (and talk about removing existing ones). China vowed to increase imports, and both sides pledged to boost market access. The leaders used their personal rapport to hash out the cease-fire after Trump slapped levies on billions of dollars in Chinese imports, raising fears of a new cold war that would hurt global growth. But there's a catch: If they don't make progress in talks about structural reforms in 90 days, U.S. duties will spike to 25 percent.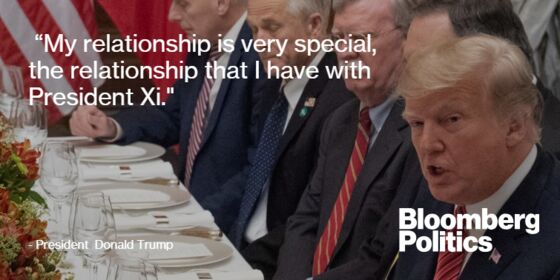 An uncomfortable spotlight | Crown Prince Mohammed bin Salman was the center of attention amid a furor over Khashoggi's murder at the Saudi consulate in Istanbul. He was affectionately greeted by Russian President Vladimir Putin and had affable chats with the leaders of China and India. But he received a lecture from French President Emmanuel Macron, and British Prime Minister Theresa May looked stern and disapproving during their meeting. Plus, Trump ended up not holding a formal sit-down with the young royal.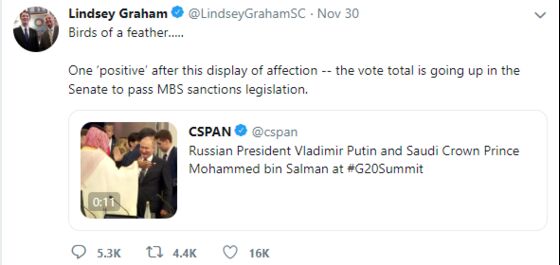 Concern over Ukraine | Macron, German Chancellor Angela Merkel and Canada's Justin Trudeau all spoke with Putin about his renewed provocations of Ukraine. Putin annexed Crimea in 2014 and tensions have simmered since. Some leaders called on Putin to release Ukraine sailors held after a recent navy skirmish. Trump cited Ukraine in nixing a formal meeting with Putin, though they chatted on Friday. "I answered his questions," Putin said yesterday. "He has his position on these issues and problems. I have mine."
Home troubles | Macron and May's domestic woes followed them to the G-20. May spent her time explaining her deal to take the U.K. out of the European Union ahead of a crucial parliamentary vote Dec. 11. She didn't meet with Trump after he suggested her Brexit deal might make it hard to strike a bilateral trade pact. For Macron, footage of violence in Paris shown repeatedly on Argentinian TV was an embarrassment. The French leader said the protests were not "legitimate anger" and pledged to deal with them on his return.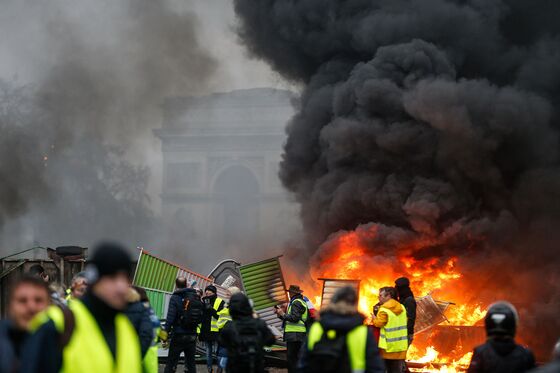 Lighter moments | It wasn't all drama at the G-20. May joked with Australia's Scott Morrison that she should have worn a cricket scarf, and gave host Mauricio Macri – a fan of the band Queen – a rare book on the group. Xi was greeted by excitable Chinese residents wearing identical red polo shirts; India's Narendra Modi also had a cheer squad at his hotel. Mexico's Enrique Pena Nieto almost missed the "family photo," running in late to a round of applause. Canada's Foreign Minister had her outdoor briefing interrupted by two fighting dogs. At dinner on Friday, leaders enjoyed Argentina's famed steak - after a music show that brought Macri to tears.
And finally… Trump canceled plans for a press conference in Argentina, after news of the death at 94 of George H.W. Bush, the president who fashioned a restrained response to the Soviet Union's collapse and assembled the multinational coalition that liberated Kuwait from an Iraqi invasion, hoping it'd be a model for "a new world order." Former president George W. Bush praised him as "the best dad a son or daughter could ask for."