Bernie Sanders Shows Strong Lead in Latest California Poll
(Bloomberg) -- Bernie Sanders has expanded his lead over his rivals in next Tuesday's California Democratic presidential primary, fueled by overwhelming support from Latino and young voters.

Sanders was the choice of 34% of likely Democratic voters in the poll by the Berkeley Institute of Governmental Studies. Next closest was Elizabeth Warren with 17%, followed by Michael Bloomberg with 12%, Pete Buttigieg at 11%, Joe Biden at 8% and Amy Klobuchar at 6%.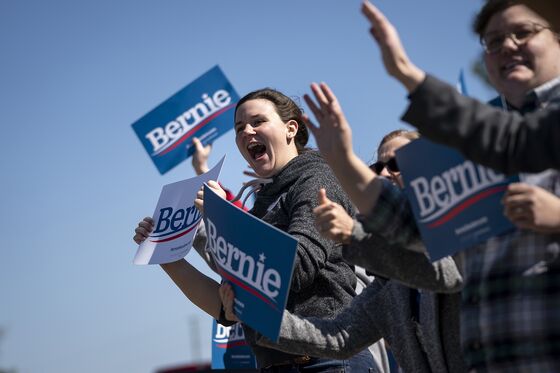 The poll was conducted online Feb. 20 to Feb. 25. Pollsters questioned 6,688 registered voters, including 3,002 likely to vote in the March 3 Democratic primary. It has a margin of error of 2 percentage points.
Sanders's 34% support cemented him as the front-runner in California, after winning the New Hampshire and Nevada primaries and coming in the top two in Iowa.
Sanders was the choice of 51% of Latinos in California, up 13 points from the Berkeley Institute's January survey. Sanders also held a big lead among voters younger than 40, with 61% support among those aged 18-29 and 53% of voters aged 30-39. The poll estimates that these two groups will comprise about 30% of the overall Democratic electorate.
California is among 14 states and territories that vote on Super Tuesday, March 3. It's the biggest prize on that day, when the state will award 10% of the delegates needed to secure the Democratic presidential nomination.
Super Tuesday is also the first time voters will see Bloomberg's name on the ballot. Bloomberg is the founder and majority owner of Bloomberg LP, the parent company of Bloomberg News.
A poll released Feb. 18 by the Public Policy Institute of California, a nonpartisan think tank, showed Sanders in the lead at 32% and the next four contenders bunched within the poll's margin of error with Biden at 14%, Warren at 13%, and Bloomberg and Buttigieg each with 12%.
Early voting in California began Feb. 3