U.S. Tech Stocks Sink on Trade Angst: Markets Wrap
(Bloomberg) -- U.S. stocks fell, with the S&P 500 flirting with a correction as technology shares tumbled after a report the Trump administration was set to press its trade war with China. The dollar rallied.
The S&P 500 fell as much as 11 percent from its all-time high before paring the drop in the final 15 minutes of trading. The Dow Jones Industrial Average slid more than 500 points at its worst, dipping into a correction before closing down 1 percent. The Nasdaq 100 Index tumbled to the lowest level since May. The S&P 500 and Nasdaq indexes are on track for the steepest monthly declines of the record-long bull market.
Selling intensified after Bloomberg reported the U.S. is preparing to announce by early December tariffs on all remaining Chinese imports if talks next month between presidents Donald Trump and Xi Jinping fail to ease the trade war. That stoked anxiety in markets already under pressure by concerns from peak earnings growth to the end of easy money and rising rates. More than $8 trillion has been wiped off of global equities during a rout that's now a month old. Bulls remain on the back foot, with early gains Monday fueled by speculation stocks had gotten cheap during the sell-off wiped out in afternoon trading.
"There's this pessimism that has been hanging on this market the whole month," Chris Zaccarelli, chief investment officer at the Independent Advisor Alliance, said by phone . "
A trade war with China was one of the bigger overhangs. Any reminders of that just leads to more pessimism. Out of all the fears out there, that's the one sticking most in peoples' minds in terms of a reluctance to believe the economy is going to continue to be strong."
American investors will now turn to earnings this week from tech giants Facebook Inc. and Apple Inc., along with the October jobs report on Friday. Earnings have not been able to save other megacap tech names. Amazon plunged 6 percent Monday, Netflix lost 5 percent and Microsoft gave up 2.9 percent. Boeing led declines in the Dow, with a plunge of almost 6.6 percent. IBM fell 4.1 percent after agreeing to buy Red Hat.
"There's a not-so-faint scent of desperation," said Christopher Harvey, head of equity strategy at Wells Fargo. "No catalysts left, Fed action will doom the market, trade will only get worse."
Elsewhere, there were a host of developments hitting specific markets. Brazilian assets rose after Jair Bolsonaro swept to power. The euro fell as Germany's Angela Merkel said she will quit as head of her party after nearly two decades, though she intends to see out her term as chancellor. Mexico's peso was under pressure after the incoming president canceled airport construction. The pound fell as U.K. Chancellor of the Exchequer Philip Hammond delivered the country's budget.
Inside the Tempest: Bloomberg Reporters Talk Markets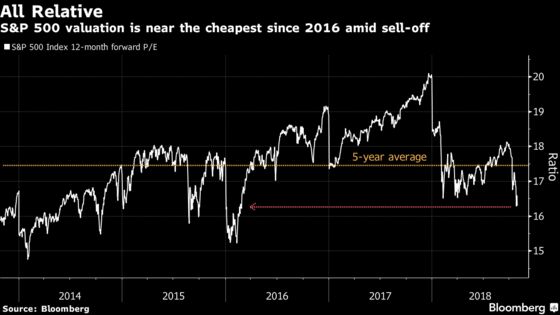 Here are some key events coming up this week:
Highlights from earnings season will include: Facebook, Komatsu, Ping An Insurance, PetroChina, Macquarie, Apple, Alibaba, China Telecom, Fanuc, GE, Airbus, Credit Suisse, Exxon Mobil, Shell and BP.
Monetary policy decisions are due in Japan and the U.K.
On Friday, the final U.S. jobs report before the November midterm elections may show hiring improved as payrolls rose about 190,000, and the unemployment rate held at a 48-year low of 3.7 percent, analysts forecast.
And these are the main moves in markets:
The S&P 500 Index fell 0.7 percent at 4 p.m. New York time.
The Nasdaq 100 lost 2 percent and the Dow Jones Industrial Average sank 1 percent.
The Stoxx Europe 600 Index surged 1.3 percent to the highest in a week.
Brazil's Ibovespa Index rose 2.1 percent.
The MSCI Emerging Market Index climbed 0.5 percent, the first advance in a week.
The Bloomberg Dollar Spot Index increased 0.6 percent to the highest in about 17 months.
The euro was flat at $1.1392.
The Japanese yen fell 0.4 percent to 112.34 per dollar, the biggest dip in almost two weeks.
The yield on 10-year Treasuries added one basis point to 3.08 percent.
Germany's 10-year yield increased two basis points to 0.38 percent.
The spread of Italy's 10-year bonds over Germany's declined 18 basis points to 2.912 percentage points to the smallest premium in more than three weeks.
West Texas Intermediate crude decreased 0.2 percent to $67.47 a barrel.
Gold fell 0.1 percent to $1,231.51 an ounce, the biggest fall in a week.