Race to Replace Merkel Heats Up With Bavarian Outsider Surging
(Bloomberg) -- Markus Soeder, Bavaria's state premier, expanded his unlikely lead in the race to follow Angela Merkel as German chancellor, the latest public opinion poll showed.
Nearly two-thirds of voters consider Soeder suitable for the country's top job, more than twice what he garnered in March, according to broadcaster ZDF's Politbarometer survey. Finance Minister Olaf Scholz is seen as fit for the post by 48%, followed by Merkel-nemesis Friedrich Merz with 31% and Green leader Robert Habeck with 29%.
"Soeder is in poll heaven," Bild, the country's largest newspaper, wrote on Friday.
Europe's biggest economy will hold general elections next year, and Merkel has repeatedly said she doesn't intend to seek a fifth term. Annegret Kramp-Karrenbauer was the heir apparent, but a series of gaffes and flagging popularity prompted her to step down as leader of the Christian Democratic party earlier this year, throwing open the race.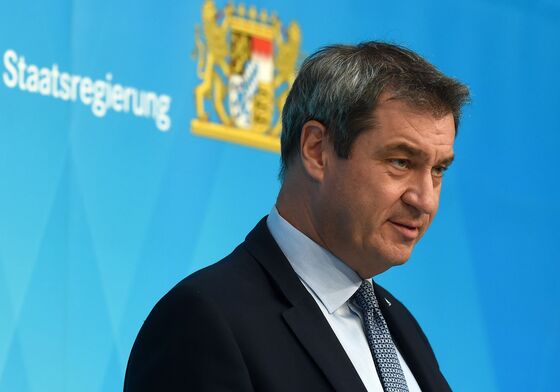 Soeder -- one of the protagonists of Germany's largely successful fight against the coronavirus -- has been coy about his ambitions, but last weekend he gave the strongest indication yet that he's positioning himself for a run at the chancellery.
Any potential candidate for Germany's conservatives would have to have proven himself in combating the pandemic, he told the Berlin-based Tagesspiegel newspaper. While he continued to insist his place is in Bavaria, the statement was seen as self-promotion and a stab at his main rivals.
Armin Laschet, the premier of North Rhine-Westphalia, is under pressure after a hot spot flared up in a meat-packing plant in his state. Only 19% of those polled in Politbarometer think Laschet is suited to lead the country. Meanwhile, Merz doesn't currently hold political office.
Soeder's path though is complicated, because he hails from the Christian Social Union, the Bavarian sister party to Merkel's CDU. A new head of the larger conservative group will be chosen at a convention in December, then the two parties will discuss a campaign strategy. Except for rare exceptions, the bloc's chancellor candidate has traditionally come from the CDU.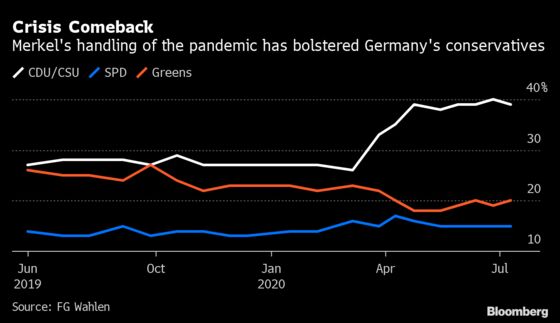 The coronavirus has been a boon for the conservative bloc, thanks to Merkel's steady hand in navigating Germany through the crisis. That's distracted voters from environmental concerns, which a year ago had put the Greens neck and neck with the country's strongest political force. The Greens would now garner 20%, or roughly half of the CDU/CSU bloc, in a nationwide election, the poll showed.
The Social Democratic party, Merkel's coalition partner, continues to languish in third, with support of 15% of the voters.
Politibarometer was carried out by Forschungsgruppe Wahlen, which surveyed 1,126 people between July 7 and July 9. It has a margin of error of as much as three percentage points.