Battle Over Courts Emerges as Pivotal Issue in Senate Races
(Bloomberg) -- The bitter confirmation fight over Brett Kavanaugh has thrust the issue of approving President Donald Trump's judicial picks to the center of the race for control of the Senate, with the November election likely to set the direction of U.S. courts on social and economic issues for generations.
In the final weeks before the election, Republicans are counting on a polarizing Supreme Court confirmation battle to keep their voters mobilized and help them win races in several conservative states that will determine whether they keep their majority when the next Congress convenes in January.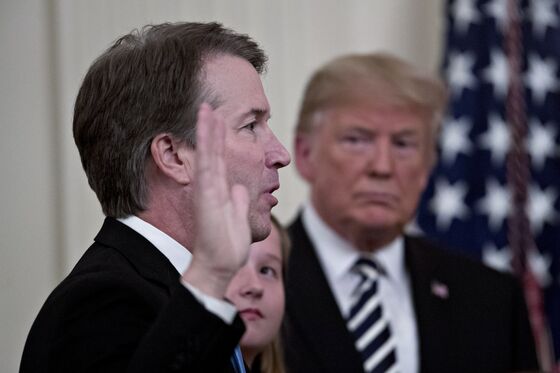 GOP Senate candidates Kevin Cramer in North Dakota, Marsha Blackburn in Tennessee and Ted Cruz in Texas saw their poll numbers rise amid the clash over Kavanaugh's confirmation. If they win on Nov. 6, the already slim chances of Democrats seizing a majority in the chamber will all but evaporate.
The challenge for Republican Party leaders is to sustain that voter energy in a handful of GOP-leaning states through Election Day.
"We'd like for it to last," Senate Majority Leader Mitch McConnell said in an interview Tuesday with Bloomberg News. "We know the Democrats are fired up — the polls have indicated that all year. The only issue was: just how enthusiastic would our people be? And this has been like an adrenaline shot. And pretty close to the election, I think it's helpful."
Americans are as divided on the court as they are on Trump and most other issues at play in the election. A Washington Post/ABC national poll released Oct. 12 found that Americans disapprove of Kavanaugh's confirmation by a margin of 51 percent to 41 percent, roughly matching Trump's approval rating.
Thirty-three percent of those polled said the Kavanaugh debate makes them likelier to vote for Democrats, compared with 27 percent who said it makes them likelier to vote for Republicans. Those numbers may help Democrats in close House races in swing districts, but most of the pivotal Senate contests are in states with low population density and high concentrations of Trump voters.
Reshaping the courts is a driving force for many Republicans and a long-term goal for McConnell. A Democratic takeover of the Senate would severely crimp Trump's ability to add more conservatives to the judiciary — including the Supreme Court.
No high court retirements are imminently expected, but the ages of two liberal-leaning justices Ruth Bader Ginsburg, 85, and Stephen Breyer, 80, have piqued speculation about how long they will remain on the court. The next oldest justices are conservatives Clarence Thomas, 70, and Samuel Alito, 68.
If Democrats win the Senate, the presumptive new majority leader, New York's Chuck Schumer, would face heavy pressure from his party's left wing to refuse to fill a Supreme Court opening, with the party base still enraged over McConnell preventing a vote on President Barack Obama's nomination of Merrick Garland.
"If the Democrats take back the Senate, they absolutely should impose a McConnell-style blockade against any future Trump picks for the Supreme Court," said Brian Fallon, a former communications director for Schumer who now leads the progressive judicial group Demand Justice. "That should be a no-brainer."
"They couldn't. They just couldn't" send another Trump pick to the Supreme Court, said Adam Jentleson, a former deputy chief of staff to Harry Reid when he was Senate majority leader.
For now, Schumer is declining to comment on how he'd approach judicial nominations.
"First I have to be majority leader before we discuss that," he said recently.
Republican Senate candidates are highlighting the Kavanaugh nomination struggle and court stakes in their campaigns. Blackburn accused the Democrats of playing "dirty politics" with the nomination in a recent debate. Nevada's Dean Heller, the most vulnerable Republican senator on the ballot, sent a fundraising plea Sunday that cited the Kavanaugh fight.
A recent fundraising letter from No. 3 GOP Senator John Thune painted a dire picture for conservatives regarding what a loss of majority control of the chamber would mean. It began: "Want to put Chuck Schumer in charge of judicial nominations?"
At the same time, red-state Democratic senators such as Indiana's Joe Donnelly and North Dakota's Heidi Heitkamp, both of who voted against Kavanaugh, are de-emphasizing the court battle as their opponents use it as a rallying point. West Virginia's Joe Manchin was the only Democrat to vote for Kavanaugh, and he's maintained a significant lead in polls of the state, where Trump won by 42 percentage points.
The court is being touted as a major issue by Democrats trying to fire up their voters as well, even those in safe seats. Massachusetts Senator Elizabeth Warren reminded her supporters of the battle over Kavanaugh in a fundraising email earlier this month. "Remember your anger and your pain in November. If we don't like being powerless, then we need to win power," she told donors.
"Voters who are concerned about some of the most conservative justices of our lifetime should ask themselves whether they want to put at risk the very real possibility of a locked-in six-justice conservative majority that would last for decades," said Senator Chris Coons, a Delaware Democrat who sits on the Judiciary Committee.
Even if there's no Supreme Court vacancy in the next two years, there'll be open seats on federal circuit and district courts that have the last word on a vast majority of cases affecting issues from government regulation of business to civil rights to health care policy.
"We're sort of in the wild wild West here. It's post-Garland," Jentleson said. "It's pretty much up to the leader to determine the rules by which they'll consider Trump nominees."
A batch of 15 judges was confirmed Thursday by the Senate before it adjourned. That brought the total number of federal judges confirmed under Trump to 84 -- 53 on U.S. district courts, 29 on appeals courts and two on the Supreme Court.
The bulk of them are in their 40s or 50s, poised to shape American law for years. They were chosen with input from the Federalist Society, a group of conservative advocates who want to restrict federal power to what is explicitly enumerated in the Constitution; liberals say that means eroding health-care access and civil rights protections.
McConnell promised more judicial confirmations in the lame duck session after the election.
"It's the single most important thing we've done," McConnell said of the GOP's reshaping the courts. "I hope we'll have another couple of years to do more of this."