Barr Vows He'd Let Mueller 'Complete His Work' on Russia Probe
(Bloomberg) -- William Barr, President Donald Trump's choice for attorney general, says he'd let Special Counsel Robert Mueller "complete his work" and that he'd provide Congress and the public as much of the findings in the Russia probe as possible.
"The country needs a credible resolution of these issues," Barr said in opening remarks prepared for his confirmation hearing before the Senate Judiciary Committee on Tuesday. "If confirmed, I will not permit partisan politics, personal interests, or any other improper consideration to interfere with this or any other investigation."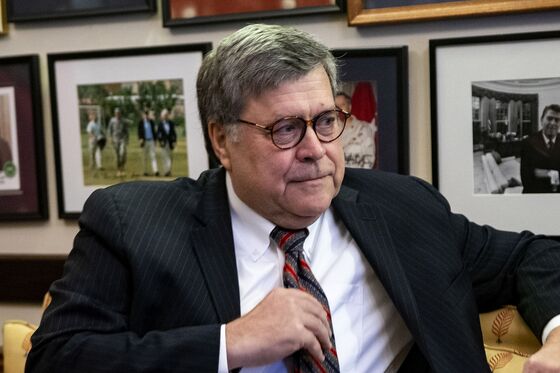 Barr stopped short, however, of guaranteeing that all of Mueller's findings will be given to Congress and the public.
"My goal will be to provide as much transparency as I can consistent with the law," he said. "I can assure you that, where judgments are to be made by me, I will make those judgments based solely on the law."
The 68-year-old Barr, who served as attorney general in the 1990s, said "President Trump has sought no assurances, promises, or commitments from me of any kind, either express or implied, and I have not given him any, other than that I would run the department with professionalism and integrity."
But Barr's comments are unlikely to satisfy Democratic demands for what Dick Durbin of Illinois, the Senate's No. 2 Democrat, on Sunday called "ironclad, rock-bottom assurances" that Barr wouldn't interfere with Mueller's work.
"Notable that AG Barr is indicating his support for the Special Counsel's investigation, but serious questions remain," Senator Amy Klobuchar of Minnesota, a Democratic member of the Judiciary panel, said in a tweet on Monday. "I will be questioning him tomorrow about his views on executive power and the proper role of the Attorney General."
Republican Committee Chairman Lindsey Graham said Sunday that he's "very comfortable'' with answers Barr gave him in a private meeting on Mueller's job security. GOP support makes Barr's confirmation likely. With the party's 53 seats in the Senate, four Republicans would have to join all Democrats to block him.
The way Barr will handle Mueller and his work is expected to dominate the two-day confirmation hearing. Mueller is investigating Russia's interference in the 2016 election, whether Trump or any of his associates conspired in the effort and whether Trump has obstructed justice.
Mueller may submit his findings to the Justice Department as early as February, according to one U.S. official. But the attorney general, not the special counsel, will decide whether all or some of the report will be shared with Congress and the public. If Barr is confirmed by then, he'll have the final say, unless a conflict of interest required him to recuse himself from being in charge of Mueller.
Until a new attorney general is confirmed, the department is led by Acting Attorney General Matthew Whitaker.
Key Democrats have said they're especially skeptical about Barr because he sent an unsolicited letter to the Justice Department in June indicating a broad interpretation of presidential powers and asserting that Mueller's inquiry into whether Trump obstructed justice is "fatally misconceived."
Barr says multiple times in the prepared testimony that Mueller will be allowed "to complete his work" but doesn't say how long he might give him to do so. His careful phrasing doesn't clearly commit him to a hands-off approach.
Nor does Barr address what he'd do if Trump and White House lawyers try to withhold key parts of Mueller's final report by claiming executive privilege.
Barr -- who refers to Mueller as "Bob" and describes their longtime friendship -- can expect a host of questions from Democrats who have said they will press him under oath to commit to not shrinking Mueller's budget, limiting his authority or impairing his ability to seek subpoenas or bring charges.
In outlining his other priorities in leading the Justice Department, Barr echoes Trump's hard-line stance on illegal immigration, saying that "we must secure our Nation's borders, and we must ensure that our laws allow us to process, hold, and remove those who unlawfully enter."
But he also offered comments that may appeal to Democrats. He said his priorities will include election security against foreign interference, an issue he discussed last week with Klobuchar, who has taken a leading role in pursuing legislation on election integrity.
He also pledged "zero tolerance" for hate crimes, saying "we can only survive and thrive as nation if we are mutually tolerant of each other's differences – whether they be differences based on race, ethnicity, religion, sexual orientation, or political thinking."