Barr Says Russia Likely to Blame in Hacking, Breaking With Trump
(Bloomberg) -- Attorney General William Barr said a massive cyber-attack on the U.S. government was likely carried out by Russia after President Donald Trump suggested China may have been responsible.
Barr on Monday joined other administration officials, including Secretary of State Michael Pompeo, in pointing to Russia.
"From the information I have, I agree with Secretary Pompeo's assessment," Barr, whose last day in office is Wednesday, said at the Justice Department. "It certainly appears to be the Russians but I'm not going to discuss it beyond that."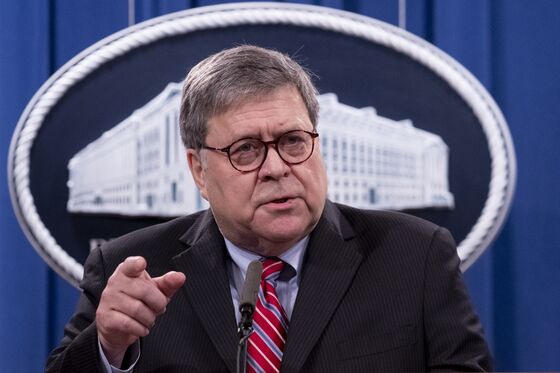 A wide range of government agencies and large corporations have been impacted by the hack, which installed what is known as a backdoor in widely used software from Texas-based SolarWinds Corp. that allowed hackers access to computer networks.
Trump tweeted on Dec. 19: "I have been fully briefed and everything is well under control. Russia, Russia, Russia is the priority chant when anything happens because Lamestream is, for mostly financial reasons, petrified of discussing the possibility that it may be China (it may!)"
Trump's tweet, his first public comments on the hack initially reported on Dec. 13, said the incident was "far greater in the Fake News Media than in actuality."
Trump went on to suggest without evidence that there may also have been a "hit" on the nation's voting machines, in his latest bid to cast doubt on his loss in November's presidential election.
U.S. government agencies known to have been targeted in the hack included the State, Treasury, Homeland Security, Energy and Commerce departments. Microsoft Corp. said it had identified more than 40 customers targeted by the hackers.
Bloomberg News reported Saturday that at least 200 organizations, including government agencies and companies around the world, have been hacked as part of the suspected Russian cyber-attack.
Representative Mike Quigley, an Illinois Democrat who is a senior member on the House Intelligence Committee, said he's reviewed material on the hack and took issue with Trump's comments.
Quigley said Trump's claim that "everything is under control is not true, and he knows that." Quigley said it could take years for the U.S. to fully "extract" the extent of the breach.
On Sunday, Senator Mitt Romney said Russia "acted with impunity" in enacting the massive cyber breach and that Trump has a "blind spot" about it.
Speaking on NBC's "Meet the Press," the Utah Republican said the action attributed to Russia "demands a response, and the response you'd expect to occur would be a cyber response." It's unclear, though, if the U.S. has the capacity to do that in a way that would be of the same scale, he said.
Members of Congress have not received any all-members briefings from the intelligence community, though some staff members have.