Barr Says Probe Trump Sought of FBI May Yield Results in Summer
(Bloomberg) -- A criminal investigation into whether FBI officials acted improperly while probing Donald Trump's 2016 presidential campaign and his associates may produce some results by the end of summer, Attorney General William Barr said.
"The investigation is going to take the time that is necessary to do a thorough and good investigation but I'm still hopeful that sometime around the end of the summer we'll see some developments," Barr said during a new conference on Thursday in Little Rock, Arkansas.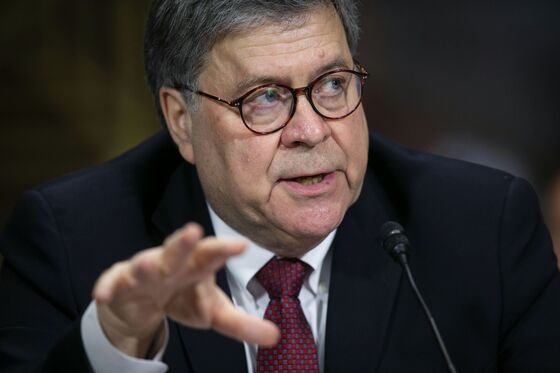 Barr didn't say if any findings would be made public. But President Trump has long said he believes FBI officials involved in investigating his campaign should face justice and he's gone as far to say he thinks former President Barack Obama committed treason, an unprecedented accusation against a predecessor.
Under Barr's timeline, the findings of a probe he ordered Connecticut U.S. Attorney John Durham to undertake would be delivered just as this year's presidential election moves into high gear, with the Republican convention scheduled for late August in Jacksonville, Florida. The focus of the investigation is the FBI's "Crossfire Hurricane" operation, under which bureau officials sought to determine if Trump or anyone associated with his previous presidential campaign conspired with Russia to interfere in the election.
The president and his allies have been counting on the investigation to demonstrate that Trump was a victim of a conspiracy to undermine his presidency -- a "witch hunt," as the president frequently calls it.
Barr has previously said he believes FBI officials didn't have an adequate justification to launch Crossfire Hurricane. To that end, Barr ordered the Justice Department in May to drop its prosecution of Trump's first national security adviser, Michael Flynn, who pleaded guilty to lying to FBI agents about his contacts with Russia's ambassador to the U.S.
However, Barr also has said he doesn't expect the Justice Department to open a criminal investigation into Obama or Biden, despite prodding to do so by Trump.