Barr Says He Rejects `This Lock-Her-Up Stuff': Hearing Update
(Bloomberg) -- William Barr, President Donald Trump's choice to serve as attorney general, worked to convince lawmakers that he won't interfere with Special Counsel Robert Mueller's Russia probe as the Senate Judiciary Committee held the first in two days of hearings on his nomination Tuesday.
Barr Rejects 'This Lock-Her-Up Stuff' (6:13 p.m.)
"I don't subscribe to 'this lock-her-up' stuff," Barr said, invoking a slogan that Trump's more fervent supporters chant at rallies when he accuses Democrat Hillary Clinton of illegal actions.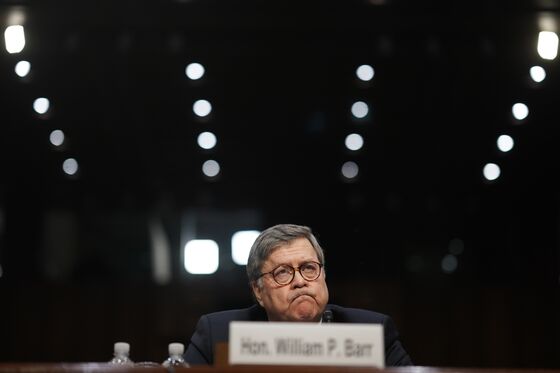 In a closing round of questions at the hearing, Barr stumbled initially, saying he couldn't recall details when Democratic Senator Richard Blumenthal asked about an email he sent to the New York Times in 2017.
Barr wrote then that "I have long believed that the predicate for investigating the uranium deal, as well as the foundation, is far stronger than any basis for investigating so-called collusion."
The references were to allegations by Trump and his supporters that Clinton, his 2016 campaign opponent, improperly helped a Russian-backed company buy U.S. uranium mines and that former President Bill Clinton misused their family foundation. The Clintons have denied wrongdoing.
Barr told Blumenthal he didn't believe in prosecutions of political opponents.
Barr Says Dangling Pardons Could Be a Crime (5:22 p.m.)
Barr said Trump has the power as president to issue pardons, including for his family members, but that doing so to obstruct justice could be a criminal offense. Barr also said a president could be held accountable politically for such pardons.
"Yes he does have the power to pardon a family member, but he would then have to face the fact that he could then be held accountable for using his power," said Barr, who as attorney general advocated for pardons for Reagan administration officials involved in the Iran-Contra scandal.
Barr said he also supports Justice Department policy prohibiting the indictment of a president while in office.
Barr Says Trump's 'Witch Hunt' Claim Makes Sense (5:08 p.m.)
Barr said it's understandable that Trump regularly denounces Mueller's investigation as a "witch hunt" because that's a natural reaction for someone who "felt they were falsely accused."
In a sign he may give Trump the benefit of the doubt when he says he has no knowledge that anyone around him conspired with Russia, Barr said, "The president is the one that has denied there is any collusion and has been steadfast in that. Presumably he knows the facts."
He added that "if someone tried to stop a bona fide lawful investigation to cover up wrongdoing, I would resign." Earlier, Barr testified that he didn't think the probe was a "witch hunt."
Barr Says Huawei, ZTE May Be Used in Spying (3:45 p.m.)
Barr said equipment built by Chinese telecommunications companies Huawei Technologies Co. and ZTE Corp. and used in foreign networks could enable espionage by China.
Under questioning from Republican Senator John Cornyn, the nominee said he supported an initiative started by former Attorney General Jeff Sessions to combat theft of trade secrets by the Chinese.
China, he said, is the U.S.'s "paramount economic and military rival" and has been stealing American technology.
Barr May Write Public Version of Mueller Report (1:56 p.m.)
Barr said he may write the version of Mueller's final report that would go to Congress and be made public, a twist on the debate over the special counsel's eventual findings.
The Justice Department's regulations on special counsels dictate that Mueller can give his report only to the attorney general, who decides what will become public. Barr said he interprets that as giving him the power to write his own version for public consumption.
"There are two different reports," he said. "Under the current regulations, the special counsel report is confidential. The report that goes public would be a report by the attorney general."
"I will commit to providing as much information as I can consistent with the regulations," Barr said, adding later that he also wants to consult with Deputy Attorney General Rod Rosenstein, who has been overseeing Mueller's probe from the start.
Barr Urges Bigger Role on Tech Competition, Privacy (1:47 p.m.)
Barr said he wants the Justice Department to become "more involved" in the continuing debate over enforcing competition and privacy in the technology industry.
Under questioning from Republican Senator Josh Hawley, Barr said large companies could use their dominance to discriminate against rivals. He said he supports "vigorous" enforcement of antitrust laws to preserve competition.
Barr Won't Give Up Power to Overrule Mueller (1:20 p.m.)
Barr said he's not going to give up the power he has under regulations governing special counsels to stop Mueller from taking certain actions if he determines they're unwarranted.
"I'm not surrendering that responsibility," Barr told Democratic Senator Chris Coons.
On the other hand, Barr said he wouldn't stop Mueller from obtaining a subpoena compelling Trump to testify in the Russia investigation if doing so was justified. Trump's advisers have said he may resist a subpoena, which could trigger a constitutional crisis.
"If there was a factual basis for doing it and I couldn't say it violated established polices, then I wouldn't interfere," Barr said.
Asked whether he would resign if Trump ordered him to fire Mueller, Barr said, "I would not carry out that instruction" unless there was "good cause."
Barr Says He'd Recuse From AT&T-Time Warner (1:06 p.m.)
Barr told Democratic Senator Amy Klobuchar that he would recuse himself from the Justice Department's continuing antitrust case against AT&T Inc.'s acquisition of Time Warner Inc. Barr served on Time Warner's board when the department sued to stop the merger in 2017. The department lost at trial, and the case is on appeal.
During the case, Barr said in a statement that he filed that "many would understandably question" whether the merger challenge was politically motivated given Trump's criticism of CNN.
Under questioning by Klobuchar, Barr said he was concerned the antitrust division wasn't considering the "merits" of the merger or "engaging with some of our arguments" when he met with officials before the lawsuit was filed.
Barr Cites Concern on Silicon Valley 'Behemoths' (11:43 a.m.)
Barr acknowledged criticism that U.S. technology giants have been able to escape antitrust scrutiny and grow to dominate many markets.
In response to a question from Republican Senator Mike Lee, Barr said being a big company isn't necessarily a problem. But he added that many people are wondering "how such huge behemoths in Silicon Valley" have taken shape "under the nose" of antitrust enforcers.
Barr would oversee the Justice Department's antitrust division at a time of growing calls for stepped-up scrutiny of technology companies including Google, Facebook Inc. and Amazon.com Inc.
Barr spoke before the committee took a break until about 12:15 p.m. Washington time.
Barr Says 'Won't Be Bullied' to Do Wrong (11:15 a.m.)
"I will not be bullied into doing anything I think is wrong -- by anybody, whether it be editorial boards or Congress or the president," Barr vowed.
He said he'd take the job of attorney general "because I love" the Justice Department and the FBI as representing the rule of law that's a the "heartbeat" of the nation.
It was a response to Dick Durbin, the Senate's No. 2 Democrat, who asked why he'd take the job "when you see the exit lanes glutted with those leaving the White House at every level."
Durbin said that Trump has "lashed out on a personal basis against federal judges who rule against his administration" and asked, "When is your Jim Mattis moment?" It was a reference to the defense secretary who resigned last month over Trump's abrupt decision to pull U.S. troops out of Syria.
Barr, 68, said such concerns "might give me pause if I was 45 or 50 years old, but it doesn't give me pause right now."
Barr Says Unsure If Trump Can Order Wall Built (11:03 a.m.)
Barr said he didn't know whether Trump could legally use his powers as commander-in-chief to unilaterally redirect Defense Department funding to build a wall along the U.S. border with Mexico.
Asked about the matter by Republican Judiciary Chairman Lindsey Graham, Barr said as attorney general he'd need to consult lawyers in the Justice Department's Office of Legal Counsel.
Barr Says Trump Quizzed Him About Mueller (10:50 a.m.)


Barr said Trump asked him about Mueller in 2017, when they briefly discussed whether Barr might serve as one of his lawyers handling the Russia probe.
"I said Bob is a straight shooter and should be dealt with as such," said Barr, who said he told Trump that he and Mueller were longtime friends.
The nominee said Trump asked if he was interested in joining his legal team but he said he wasn't. Trump asked for his phone number but didn't call back, Barr said.
He said "that's the only time I met him before I talked to him about the job of attorney general -- which obviously is not the same as representing him," Barr said.
Later, Barr said it was "ludicrous" when Democratic Senator Patrick Leahy suggested a memo he wrote read like a job application. The memo argued that Trump couldn't be accused of obstruction of justice for firing former FBI Director James Comey.
Leahy noted that Trump lawyer Rudy Giuliani has said that the president's legal team should be allowed to "correct" the Mueller report before it's delivered to Congress or the public.
Asked whether he would allow such a move, Barr responded, "That will not happen."
Barr Pledges to Probe Anti-Trump Views in FBI (10:19 a.m.)
Republican Graham opened questioning of Barr by ticking off examples of what he described as anti-Trump sentiment in the FBI and Justice Department.
Barr said he "was shocked" to learn of anti-Trump text messages exchanged by FBI officials Peter Strzok and Lisa Page during Trump's presidential campaign in 2016.
Trump and some Republicans say such exchanges show the Russia inquiry was tainted early on -- before Mueller was appointed.
Asked about Trump's most frequent phrase denouncing the Mueller probe, Barr said, "I don't believe Mr. Mueller would be involved in a witch hunt."
Barr also said he agreed with former Attorney General Sessions's decision to recuse himself from the Russia investigation.
Feinstein Says Barr Out to Undermine Mueller (9:55 a.m.)
Senator Dianne Feinstein, the Judiciary panel's top Democrat, said a memo Barr wrote last year "shows a large, sweeping view of presidential authority and a determined effort, I thought, to undermine Bob Mueller."
While Barr has said the unsolicited memo he sent to the Justice Department and showed to Trump's lawyers dealt only with a narrow question on obstruction of justice, Feinstein said it raises "questions about your willingness to reach conclusions before knowing the facts and whether you prejudge the Mueller investigation."
Feinstein said she'll ask Barr if he's prepared to "tell the president 'no' regardless of the consequences" and be "independent of the White House pressures you will undoubtedly face."
Graham Says Barr Will Know What's Required (9:50 a.m.)
Graham said Barr, who served as attorney general in the 1990s, "will understand from Day One what the job is all about."
He told Barr "you will be challenged, you should be challenged" but that he's appreciated for "stepping up." He predicted Barr will "right the ship" at the Justice Department if confirmed.
GOP's Kennedy Says Barr's Views Not a Problem (9:18 a.m.)
Republican Senator John Kennedy says the question shouldn't be whether Barr has expressed personal views about limits on Mueller's probe.
"I don't think anyone ought to be recused for having a point of view," Kennedy said on MSNBC on Tuesday morning. "The issue is not having a point of view, the issue is whether you can divorce yourself from that point of view."
Kennedy also said that Mueller's final report should be made public. "I don't want to see this report buried," he said.
The senator from Louisiana, who's known for his quips delivered in a country drawl, said, "I don't know Bill Barr. If he turns out to be a meathead, I'll vote against him."
Barr Anticipates His Critics by Vouching for Mueller (4 a.m.)
Barr sought to gain the upper hand on Monday by releasing a prepared opening statement promising that he'd let Mueller "complete his work."
"The country needs a credible resolution of these issues," Barr said in his statement. "If confirmed, I will not permit partisan politics, personal interests, or any other improper consideration to interfere with this or any other investigation."
But Senator Richard Blumenthal of Connecticut, a Democratic committee member, said Barr stopped short of what was needed: "an ironclad, specific commitment to protect the Mueller investigation against a potential order from the president to shut it down." Blumenthal told reporters Monday that Barr's past positions suggest he'd defer to Trump because he views a president as "the prosecutor-in-chief."
Democrats have made clear they will press Barr to promise he won't curtail some lines of investigation and that he will share all of Mueller's findings with Congress and the public even if Trump's lawyers claim executive privilege to keep some matters secret.
Barr also will be questioned about the unsolicited memo he sent last year arguing that Trump couldn't have obstructed justice by firing former FBI Director James Comey because such decisions are entirely in a president's purview. Barr disclosed Monday that he also sent a copy of the memo to lawyers for the White House and discussed its contents with some of Trump's personal lawyers, including Jay Sekulow.
He wrote in a letter to Chairman Graham that his memo concerned a narrow argument, was based entirely on public information, and that a president could in some circumstances be guilty of obstruction of justice.
"I believe the country needs a credible and thorough investigation into Russia's efforts to meddle in our democratic process, including the extent of any collusion by Americans, and thus feel strongly that that the special counsel must be permitted to finish his work," Barr wrote.
Still, Barr is likely to win confirmation so long as he doesn't lose Republican support. With the party's 53 seats in the Senate, four Republicans would have to join all Democrats to block him.
Here's What Happened So Far:


Graham has said he's "very comfortable'' with answers Barr gave him on Mueller's job security.
Barr, 68, served as attorney general once before, in the 1990s. He also spent 14 years as an in-house corporate lawyer and then served on company boards. His track record suggests he may take a soft stance in policing mergers and promote a more business-friendly approach to prosecutions.
Trump said he "never worked for Russia" after reports that the FBI grew so concerned by his actions that the bureau quietly began a counterintelligence investigation into whether he was working on its behalf.
Michael Cohen, Trump's former personal lawyer, has agreed to testify on Feb. 7 before the House Oversight Committee, potentially providing explosive public testimony on Trump's business, personal life and political campaign.
The Barr confirmation hearings began at 9:30 a.m. Washington time on Tuesday and will resume at that hour on Wednesday.