Three 2020 Contenders Turn Barr Hearing Into Stage for Race
(Bloomberg) -- Senator Kamala Harris wasted no time when her turn came to question Attorney General William Barr.
The 2020 presidential candidate and former attorney general of California zeroed in on whether President Donald Trump or anyone in the White House had suggested to Barr that he should investigate anyone in particular. Barr struggled to answer.
"I'm trying to grapple with the word 'suggest,'" Barr said.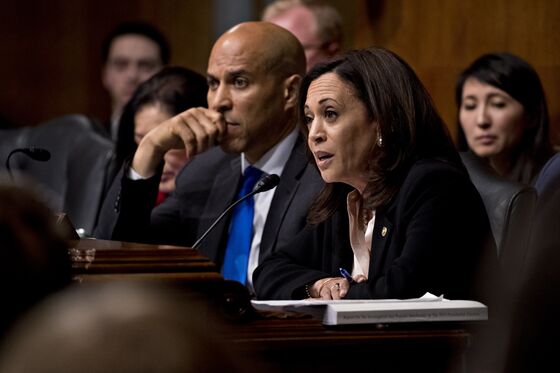 The high-profile hearing Wednesday into Barr's handling of Special Counsel Robert Mueller's probe of Russian links to Trump became a showcase for a trio of Democratic presidential competitors who sit on the Senate Judiciary Committee.
Along with Harris, Amy Klobuchar of Minnesota and Cory Booker of New Jersey took turns laying into Barr as a political hack who was serving the president's interests -- with varying degrees of effectiveness.
Harris is among a group of four Democratic candidates fighting to break out of the pack 20 contenders to challenge the front-runners in the race, former Vice President Joe Biden and Vermont Senator Bernie Sanders. Booker and Klobuchar have been struggling to get traction for their campaigns, and both have been stuck near the bottom in polls.
The hearing became a place for the three Judiciary panel senators to try to show off their tough-on-Trump credentials, as well as to produce sound bites for their campaigns, an opportunity they may get again if the panel calls other sessions on the topic. Harris and Booker issued fundraising appeals immediately after the hearing featuring their demands that Barr resign.
Harris posed some of the toughest questions. She pinned Barr down on whether he had actually reviewed all the evidence Mueller had assembled on obstruction of justice before making a decision to clear the president of crimes.
"No," Barr said, adding that he accepted the Mueller report as accurate.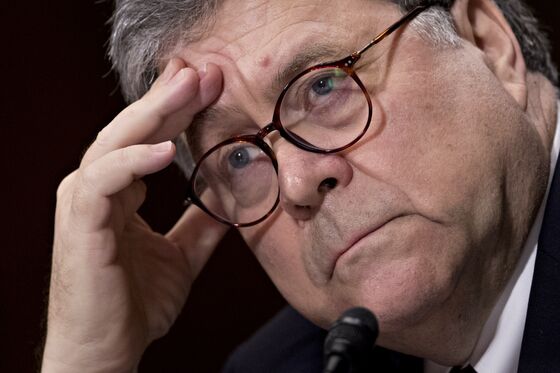 She later bore down on whether he would recuse himself from the more than a dozen other cases spawned from the Mueller probe.
"I think the American public has seen quite well that you are biased," she said. He said he wouldn't recuse himself, and noted that Deputy Attorney General Rod Rosenstein and career prosecutors also agreed with his decisions.
Afterward, Harris focused on Barr's admission that he didn't review all of the evidence.
"What was absolutely enlightening and should be deeply troubling to the entire American public is that he made a decision and didn't review the evidence," she said. "No prosecutor worth her salt would make a decision about whether the president of the United States was involved in an obstruction of justice without reviewing the evidence. This attorney general lacks all credibility and has, I think, compromised the American public's ability to believe he's a purveyor of justice."
Barr dismissed her criticisms, as he had all of the previous broadsides from Democrats who had accused him of acting as Trump's lawyer. He also denied lying to Congress weeks ago when he didn't disclose under questioning by lawmakers that Mueller wrote him a letter expressing his disapproval with Barr's initial statement on the report clearing Trump.
During her turn, Klobuchar sought to pin down Barr on the elements of obstruction of justice. But the attorney general kept to his mantra that he didn't think there was enough evidence to bring a case and that there was evidence Trump had non-corrupt reasons for his actions.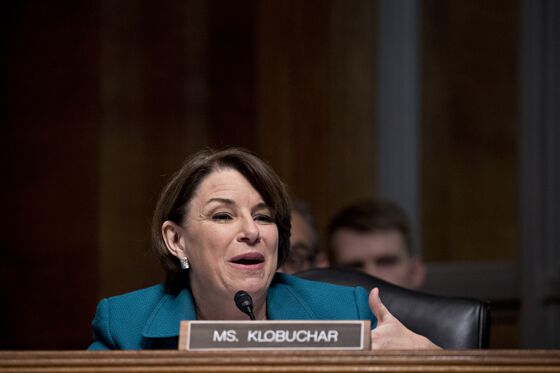 Barr suggested it wasn't corrupt, for example, if Trump wanted to urge witnesses not to "flip" and cooperate with prosecutors by lying to get a lighter sentence.
Barr later struggled to answer Klobuchar's questions on whether Trump's actions as detailed in Mueller's report were consistent with his oath of office and the Constitution, saying evidence in the report was conflicting.
Booker also tried to get Barr to comment on Trump's teams actions, including sharing polling data with Russians and making numerous contacts with Russians, but Barr largely evaded questions of Trump's conduct beyond his conclusions that the government couldn't make a criminal case against him.
Afterward, the senators tweeted out thoughts from the hearing to their followers.
"What I just saw from the Attorney General is unacceptable. Barr must resign now," Harris wrote.
"He lied to us and mishandled the Mueller Report. He needs to step down," Booker tweeted.
"Time to stop covering for the President and to start protecting our democracy," wrote Klobuchar.