Barr Defends Trump's Latest Effort to Overturn Obamacare in Court
(Bloomberg) -- Attorney General William Barr defended the Trump administration's renewed assault in the courts against Obamacare, scoffing at criticism from Democrats.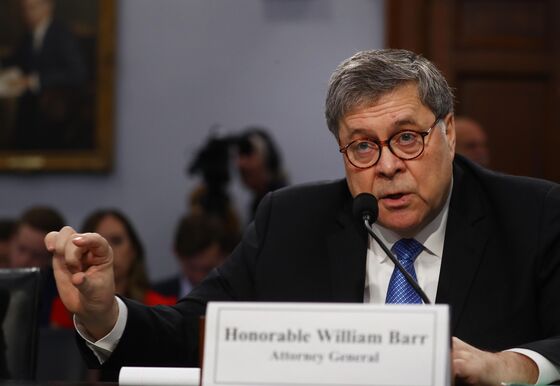 "If you think it's such an outrageous position, you have nothing to worry about," Barr told Representative Matt Cartwright during testimony Tuesday before a House Appropriations panel. "Let the courts do their job."
The Justice Department shifted its stance last month, siding with opponents of the Affordable Care Act who argue that it's unconstitutional and should be scrapped entirely after arguing last year that only parts of the 2010 law should be struck down.
"Millions of American who currently receive health insurance coverage under the law are at risk of losing that coverage," Cartwright of Pennsylvania told Barr.
President Donald Trump has promised that a Republican substitute for the health-care law he campaigned against in 2016 would be voted on if he wins re-election in 2020. Democrats won control of the House last November in large part on promises to protect and expand the legislation that was a signature accomplishment of former President Barack Obama.
Barr said he believes the Trump administration has "a legally defensible" position, adding at one point that "I'm a lawyer. I'm not in charge of health care."
"Once you do away with the mandate, the rest of the statute cannot stand," Barr said.
But Barr declined to say whether he told Trump or Mick Mulvaney, the acting White House chief of staff, that he disagrees with striking down Obamacare.
Asked if he was asserting executive privilege in refusing to comment on his discussions with the president, Barr said, "Call it what you want. I am not discussing it."
Cartwright asked Barr to consider seeking a stay if the Supreme Court strikes down the law until Congress can come up with a replacement plan so people don't lose their health insurance. Barr wouldn't commit to seeking a stay, but said he would expect the Supreme Court to deal with that issue and "provide some kind of period to wind it down."