No Deal Looms as U.K.-EU Talks Head for the Rocks: Brexit Update
(Bloomberg) -- The U.K. and the European Union are heading for a chaotic split without a new trade deal as talks between the two sides ran deeper into trouble.
During crisis meetings on Thursday, European officials demanded Prime Minister Boris Johnson scrap his plan to re-write the Brexit divorce accord he signed with the bloc -- but his government refused.
The EU warned Johnson must drop legislation changing parts of the withdrawal agreement within three weeks, threatening legal action if the U.K. fails to comply. Unless something changes to unblock the impasse, time will run out for reaching a new trade deal before Dec. 31, when the Brexit transition period ends.
EU's Barnier issues gloomy statement, saying U.K. has failed to engage flexibly
Frost says "challenging areas remain" but U.K. still wants a deal
Talks will continue with more meetings in Brussels next week, Frost says
The pound extended losses, falling by as much as 1.1% against the dollar
Former Tory leader criticizes plan as parliamentary opposition grows
Frost: U.K., EU Still Far Apart on Key Issues (7:01 p.m.)
David Frost, the U.K.'s chief Brexit negotiator, said Johnson's government still wanted a deal and will work to get one by mid-October, but he was downbeat on progress this week.
"These were useful exchanges. However, a number of challenging areas remain and the divergences on some are still significant," Frost said in an emailed statement. "We have agreed to meet again, as planned, in Brussels next week to continue discussions."
British officials said there was some progress on fisheries, after the U.K. put forward a plan to consolidate a list of stocks that would be covered by the deal. But Britain still believes the EU approach on state subsidies cuts across its national sovereignty.
Barnier Warning over State of Talks (6 p.m.)
The EU's chief Brexit negotiator, Michel Barnier, painted a bleak picture of the state of the talks, warning "significant differences" remain between the two sides.
"The U.K. has not engaged in a reciprocal way on fundamental EU principles and interests," Barnier said in a statement.
After eight rounds of negotiations, the areas of disagreement remain essentially the same, according to Barnier. The U.K is refusing to include guarantees of fair competition, and it hasn't engaged on issues such as fisheries, judicial cooperation and law enforcement, he said.
In a sign that the talks could break down, Barnier said the bloc is "intensifying its preparedness work to be ready for all scenarios."
There was no tangible progress on any area during the talks, an EU official said. Asked specifically about fisheries, where a British counterpart said earlier there had been substantial progress, the EU official denied it.
Rebellion Brewing? (6 p.m.)
Tom Newton Dunn tweets to say senior Tories are seeking to give parliament power to veto the government's plans.
Gove: U.K. Won't Withdraw Legislation (5:30 p.m.)
Cabinet Office Minister Michael Gove says he told European Commission Vice President Maros Sefcovic that "we would not be withdrawing this legislation."
"We have to make sure that the protocol is implemented in a way that respects the fact that Northern Ireland is an integral part" of the U.K., Gove said in a pooled TV interview.
U.K.: Parliament Sovereignty Trumps Treaties (4:45 p.m.)
The U.K. government published its legal position on its Brexit law-breaking plan, saying its Parliament is sovereign and can pass laws that breach the country's treaty obligations.
"Parliament would not be acting unconstitutionally in enacting such legislation," the government said in a statement. "Whether to enact or repeal legislation, and the content of that legislation, is for Parliament and Parliament alone."
But Mark Elliott, chair of the faculty of law at the University of Cambridge -- where Attorney General Suella Braverman studied law -- called the government's position "risible."
"The U.K. may have left the EU, but it has not left the community of nations or the rules-based international order," Elliott wrote on Twitter. "Treaty obligations are binding upon the U.K., and to suggest that they are not 'because Parliament is sovereign' is as embarrassing as it is dangerous."
French Foreign Minister Warns Raab (4:30 p.m.)
French Foreign Minister Jean-Yves Le Drian told his U.K. counterpart Dominic Raab it would be unacceptable for the U.K. to violate the arrangements in the EU withdrawal agreement.
Le Drian made the comments during a routine visit to London on Thursday, according to a statement from the French Foreign Ministry. The intervention shows the risk of the dispute over Brexit bleeding in to other areas of U.K. diplomacy.
Scots Explore Options to Block Bill (4:15 p.m.)
Scotland will take "all steps" necessary to stop Boris Johnson's proposed Internal Markets Bill, which the semi-autonomous government says is the biggest threat to devolution since the Edinburgh parliament was created more than 20 years ago.
"The U.K. government plans to sacrifice the future of the union by stealing powers from the devolved administrations," Mike Russell, Scotland's constitutional affairs minister and member of the pro-independence Scottish National Party, told lawmakers in the Holyrood parliament on Thursday. "It is an affront to the people of Scotland, Wales and Northern Ireland who have voted in favor of devolution on numerous occasions."
The Edinburgh-based government "will explore every option to stop the U.K. government enacting a law that presents a clear and present danger to the devolution settlement," it said.
EU Issues Legal Threat (3:40 p.m.)
The EU says, if adopted as proposed, the U.K.'s Internal Market Bill would constitute an "extremely serious violation" of the Withdrawal Agreement.
The bloc gave the U.K. until the end of the month to amend the legislation, and signaled it is prepared to seek financial and other penalties.
"The Withdrawal Agreement contains a number of mechanisms and legal remedies to address violations of the legal obligations contained in the text -- which the European Union will not be shy in using," the bloc said in a statement.
Gove Responds to Criticism (3 p.m.)
Michael Gove defends the government's planned law, telling lawmakers that it "makes sure Northern Ireland citizens and businesses have unfettered access to the rest of the U.K."
Johnson's Team Brace for Revolt in Parliament (2:10 p.m.)
U.K. Government officials expect a massive fight to get the Internal Market Bill through Parliament after ministers conceded it breaks international law.
Tory rebels in the House of Commons and wider opposition in the House of Lords are likely to make it tough to get the Bill passed as it stands, according to two officials.
Ministers are aiming to rush the Bill through the Commons in the next two weeks.
Former Tory Leader Slams Law-Breaking (1:30 p.m.)
Michael Howard, a former leader of the Conservative Party, slammed the government's plan to break international law, adding to to rebukes from former prime ministers Theresa May and John Major.
"How can we reproach Russia or China or Iran when their conduct falls below internationally accepted standards when we are showing such scant regard for our treaty obligations?" Howard asked in the House of Lords.
Richard Keen, replying for the government, said tensions occasionally arise between domestic and international obligations and that there was precedent for domestic law to prevail. "It will be for parliament to determine whether or not at the end of the day it decides to pass this legislation," Keen said.
U.K. Still Committed to Seeking Deal (1:04 p.m.)
Boris Johnson's spokesman, James Slack, told reporters the government is still committed to trying to secure a deal with the EU.
"We absolutely remain committed to the Withdrawal Agreement and the implementation of the Northern Ireland protocol," he said.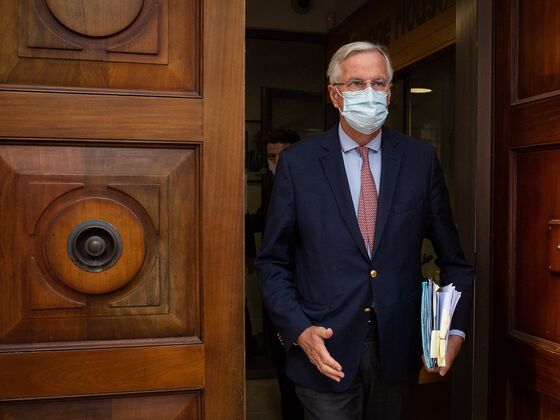 Barnier Warned of No Progress in Talks (12:50 p.m.)
The EU's chief Brexit negotiator, Michel Barnier, told EU ambassadors he'd seen no progress so far this week as he prepared for a critical meeting in London on Thursday.
Barnier gave a downbeat assessment of the state of play at a meeting with EU envoys on Wednesday evening, according to a European official who was briefed on their discussions.
Another person familiar with the process offered a more optimistic view on Thursday suggesting there were signs of movement on fishing quotas and morale was holding up among the negotiating teams.
Irish PM: Prepare for Hard Brexit Now (8:25 a.m.)
Irish Prime Minister Micheal Martin told RTE he's "not optimistic" about reaching trade deal with the U.K., warning that it would be "grossly irresponsible" for Britain to ignore its treaty obligations.