May Faces Revolt as Negotiations Stumble: Brexit Update
Talks on revising the Brexit deal aren't making much progress, and officials on both sides are downplaying the chances of an imminent breakthrough. If Theresa May has nothing new to show Parliament next week, she's likely to face a revolt that could force her to delay Brexit -- and take the threat of a no-deal exit off the table.
EU and U.K. say don't expect a breakthrough at Sharm El-Sheikh summit on Sunday
EU expects May to ask for a three-month delay to exit day, according to people familiar with the situation. Chief negotiator Barnier says delay is possible.
EU officials don't expect deal to be signed off until March 21 -- just a week before Britain is due to leave. That's their optimistic scenario.
A new vote on the deal itself is unlikely next week. Instead lawmakers will propose amendments in a general debate on Brexit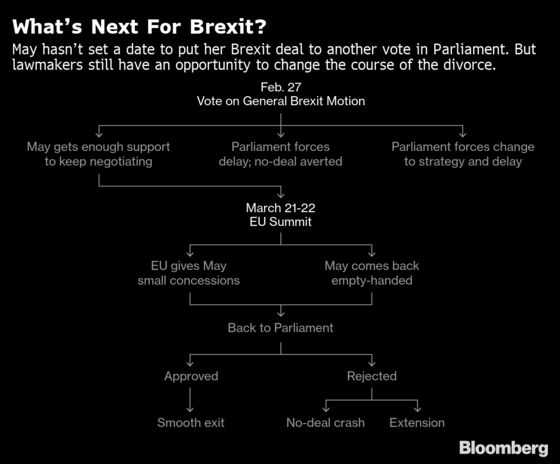 U.K. Warns Exporters About ex-EU Trade (5 p.m.)
The U.K. has just published some vague new advice to exporters who sell goods to third countries which have trade deals with the European Union. The lack of detail and specifics is likely to rile U.K. businesses, which have repeatedly complained that government advice on Brexit preparations is thin, and where there is some, it lacks sufficient detail.
"Prepare for changes to trading with non-EU countries that have a free trade agreement with the EU," the government added to a list of tasks that "your business needs to do know" about Brexit arrangements. "When the U.K. leaves the EU, the way you access existing preferential arrangements with these countries may change. Changes may be different for each country."
The update follows the revelation on Thursday that some trade deals that the U.K. benefits from through its EU membership won't be ready to be rolled over on Brexit day -- notably Japan and Turkey.
Labour Could Back Second Referendum, Standard Says (3:30 p.m.)
Shadow Chancellor John McDonnell signaled the party could back an amendment next week calling for May's deal to be put to a referendum, the Evening Standard reported.
"On the people's vote, we've kept it on the table and we're moving towards that," the Standard quoted McDonnell as saying.
He said the amendment, which would offer support for May's deal if she then offers voters the choice between her deal and remaining in the bloc, "could be a solution."
A word of caution, however: McDonnell often takes a different line on Brexit to that of party leader Jeremy Corbyn. The Labour Party has consistently pursued an ambiguous stance on the divorce, and a possible second plebiscite.
U.K. Plays Down Chances of Breakthrough (11:20 a.m.)

A U.K. government officials says a breakthrough in Sharm El-Sheikh isn't expected, and so it's unlikely May will be able to bring a revised deal back to Parliament for a so-called meaningful vote next week.
That means the government will propose a general Brexit motion which lawmakers will be able to amend to try to force May to change her exit plans.
No Deal in the Desert, EU Says (10:30 a.m.)


There will be no Brexit deal at a summit of EU and Arab League leaders in Sharm El-Sheikh, Egypt, on Sunday and Monday, an EU official said, speaking on condition of anonymity.
European Council President Donald Tusk and U.K. Prime Minister Theresa May will hold a bilateral meeting before the summit, the official said, but there will be no Brexit session.

Ireland Readies No-Deal Legislation (9:35 a.m.)
Ireland published emergency legislation to protect sectors ranging from financial services to healthcare if there is a no-deal Brexit.
The 15 part bill would allow businesses and government to operate as close as possible to the current status quo if the U.K. Leaves the EU without agreement -- and the government hopes the legislation will never have to be used, Foreign Minister Simon Coveney told reporters in Dublin on Friday.
A no deal Brexit would be a "lose lose" for the U.K. and EU, Coveney said. He added that the withdrawal agreement is "closed" and, while Ireland is open to replacements to the backstop, the government is yet to see a feasible alternative.
Another MP Quits Labour Party (9:00 a.m.)
Ian Austin, a former Labour minister, quit the party over anti-Semitism and its shift to the left under leader Jeremy Corbyn.
Austin, who has disobeyed party instructions and voted in favor of Brexit in Parliament, said he has not spoken to the new Independent Grouping of MPs, which includes eight Labour lawmakers and three Tories who resigned from their parties earlier this week.
"I am appalled at the offense and distress Jeremy Corbyn and the Labour Party have caused to Jewish people," Austin told the Wolverhampton Express and Star. "The hard left is now in charge of the party, they're going to get rid of lots of decent mainstream MPs and I just can't see how it can return to the mainstream party that won elections and changed the country for the better."
ERG Risking No Brexit, Tory Warns (8:15 a.m.)
The hardline European Research Group of MPs is risking there being no Brexit at all as a result of its unwillingness to compromise, according to David Percy, who leads a group of 100 Tory lawmakers who wrote to Theresa May warning they are willing to vote against the government to prevent a no-deal divorce.
"Some of my colleagues have got to recognize the game they've thus far been playing is not going to end well for them and could potentially end with the delaying or perhaps even no Brexit which many of us have spent our parliamentary careers campaigning for," David Percy told BBC Radio 4.
Percy said that the Brexit Delivery Group, a "loosely aligned" caucus of MPs from both sides of the Brexit divide, has become increasingly frustrated at the "intransigence" of the ERG and will act to stop a no-deal split.
The ERG "are in total denial about the Parliamentary arithmetic," Percy said. "The majority of MPs want to deliver on Brexit, but a majority of them want to do it in a way that brings the country together."

Barnier Says a Delay is Possible (7:30 a.m.)
Michel Barnier, the European Union's chief Brexit negotiator, said he doesn't rule-out a delay to the date Britain leaves the bloc, though the decision would require unanimity among European heads of government who "will ask what for and for how long."
Asked on Europe1 radio about the chances of a so-called Hard Brexit, Barnier said "today I am more worried than before, but I think there is still a chance to save this accord."
"Theresa May has to get a majority to approve this accord," he said. "That's the condition to go further."
That chimes with private comments from European officials, who have indicated that they want to be sure there's a majority in Parliament for any revisions to the deal before they gather leaders together again to sign it off. A summit is scheduled for March 21-22, just days before Brexit day.