Bannon Slams 'Horrific' Timing of Haley's Resignation Announcement
(Bloomberg) -- Donald Trump's former chief strategist slammed Nikki Haley's decision to announce her resignation as U.S. ambassador to the UN on Tuesday as "suspect" and "horrific," saying it overshadowed positive news the president needs to help rally support ahead of next month's midterm elections.
"The timing was exquisite from a bad point of view," Steve Bannon said in an interview Wednesday with Bloomberg News Editor-in-Chief John Micklethwait at the Bloomberg Invest London forum. "Everything she said yesterday and everything she said about stepping down could have been done on the evening of November 6. The timing could not have been worse."
Bannon said Haley's announcement, which took top White House officials by surprise, distracted attention from Brett Kavanaugh's first day as a justice on the Supreme Court and last week's news about the lowest U.S. unemployment rate in five decades. Her move undermines Trump's message to voters with the Republican majority in the House of Representatives at stake, Bannon said.
In the Oval Office on Tuesday, Trump said Haley told him six months ago she wanted a break after spending two years in the post. She'll continue in her role until year-end. Haley said Tuesday that she was ready for a break after two terms as South Carolina's governor and two years at the United Nations.
The president on Wednesday defended the timing of the announcement. Trump said "there's no good time" for Haley to have announced her resignation, and that if she had waited until after the midterms there would have been speculation that the election results influenced her decision.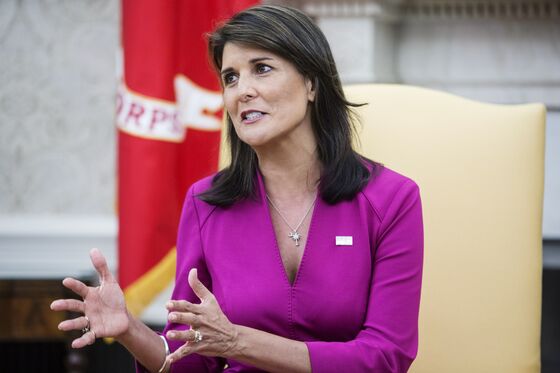 Trump also said again on Wednesday that he's considering Goldman Sachs Group Inc. partner Dina Powell to replace Haley. Powell is a former White House adviser to Trump who left the administration in January.
"We are certainly looking at Dina," Trump said, but added that there are other candidates he didn't name, including people currently within the administration. "Many people want that job," he said.
Bannon, who left the White House in August 2017, said he took Haley at her word that she won't run for political office -- possibly against Trump -- in 2020. Haley said she looked forward to campaigning on Trump's behalf in two years.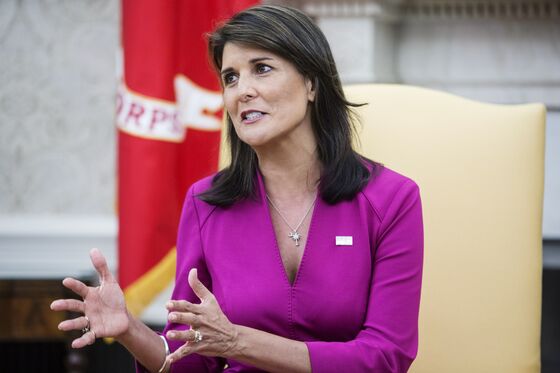 The former chief strategist also paid homage to Haley's political instincts -- calling her "ambitious" and "very talented," but did so with a backhanded compliment.
"I think she is incredibly politically ambitious," Bannon added. "Ambitious as Lucifer but that is probably...I am probably taking Milton out of context."