Bannon Says His 'Movement' Has Already Secured Funds for EU Elections
(Bloomberg) -- Former White House strategist Steve Bannon says he has already raised money from high net worth individuals in Europe to help support 'The Movement,' his advisory group which will advise populist parties in the region ahead of European Union elections next year.
Bannon wants to create an umbrella group of political parties that share a similar outlook to Donald Trump's supporter base and helped propel him to the U.S. Presidency. He sees Marie Le Pen's Rassemblement National eventually becoming part of a group of populists that includes the premiers of Hungary and Italy and is meeting the French party soon.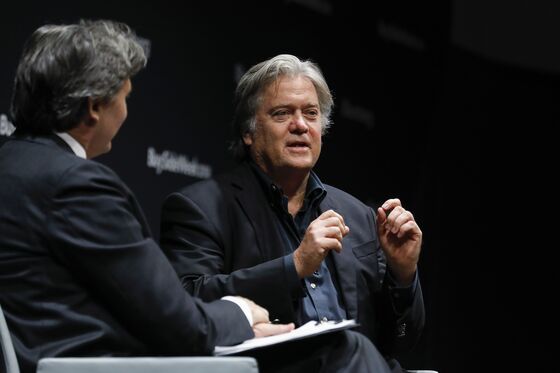 Bannon is also supporting The Movement with his own money, he said at the Bloomberg Invest Summit in London on Wednesday. In a wide ranging interview, he compared millennials to 19th Century serfs in Russia, said Donald Trump will be impeached if Republicans lose the House of Representatives and that U.K. politicians should proceed with Brexit. He also said another financial crisis is on the horizon.