Bannon Pleads Not Guilty in Criminal Contempt of Congress Case
(Bloomberg) -- Longtime Donald Trump adviser Steve Bannon entered a plea of not guilty over his failure to cooperate with the congressional probe into the Jan. 6 Capitol riot.
U.S. District Judge Carl Nichols in Washington accepted Bannon's plea in the criminal contempt case on Thursday after granting his request to skip an arraignment. Bannon, 67, appeared by video at the brief hearing but didn't speak.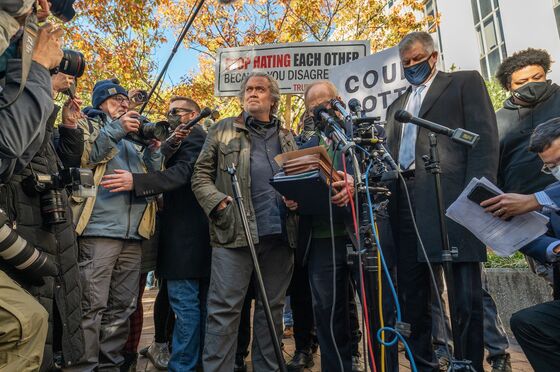 "In our view, this is a very straightforward case about whether the defendant showed up, so we don't see any reason to delay setting a trial date in this matter," Assistant U.S. Attorney Amanda Vaughn said. Vaughn said the government is ready to share its evidence with Bannon, which she described as fewer than 200 documents consisting mostly of his correspondence with the House committee or lawyers for Trump.
Bannon's lawyer Evan Corcoran told the judge the government's view of the evidence was an "oversimplification" and that there were "complex constitutional issues at play."
"We're going to have to identify witnesses in Mr. Bannon's favor. I understand there's some suggestion the case ought to be accelerated," he said. "We don't agree with that."
Bannon has said he was just following the former president's assertion of executive privilege and vowed to "go on the offense" against President Joe Biden and congressional Democrats as he fights the case.
Bannon surrendered to the Federal Bureau of Investigation on Monday. The former Trump campaign chairman and White House strategist earlier surrendered his passport and was released on his own recognizance.
The judge declined to set a trial date right away, as the U.S. requested, and instead scheduled a Dec. 7 hearing for defense lawyers and the Justice Department to discuss the exchange of evidence.
The case is U.S. v. Bannon, 21-cr-00670, U.S. District Court, District of Columbia (Washington).