Bannon Lauds Orban as 'Heroic,' Says Euro Should Be Abandoned
(Bloomberg) -- Former White House strategist Steve Bannon said that European states should abandon the euro over time and lauded nationalist leaders including Hungarian Prime Minister Viktor Orban as "heroic."
Bannon, one of the architects of Donald Trump's presidential victory, said his support of "The Movement," a Brussels-based organization promoting populist political groups, is aimed at turning the European Union back into a "collection of sovereign nations" rather than an economically and politically-integrated bloc.
"I'm a huge believer that you should have control over your national currency," Bannon said in an interview at the Bloomberg Invest summit in London on Wednesday. "I think it's a fundamental part of economic nationalism."
Bannon is trying to replicate the sort of populist movement he helped to success in the U.S. as the chief of Trump's election campaign. Through The Movement, he aims to supply campaign help for like-minded political parties in the run-up to next year's European elections, focusing on national sovereignty, stronger borders and curbs on migration.
It will cater to "populist, nationalist movements" rising in countries as far apart as Brazil and Pakistan. "It's not just about the EU; it's global in nature," he said.
Bannon said he's already put some of his own money into The Movement, as well as starting to raise money from "high net-worth" Europeans, mainly from working-class backgrounds. The Movement will supply polling information for parties fighting May's elections to the European Parliament, identifying which voters to target and setting up a "war room" as he did during Trump's campaign. He said his chief opponents are French President Emmanuel Macron and German Chancellor Angela Merkel.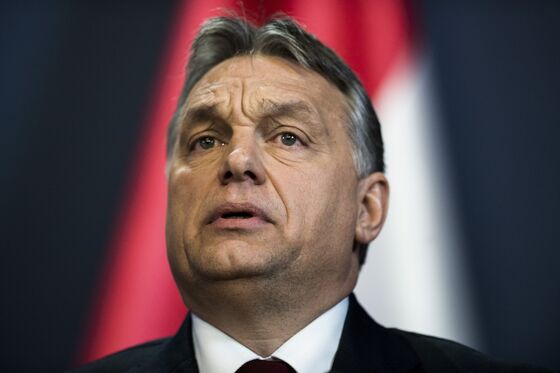 Still, France's Marine Le Pen sought to distance herself from Bannon's offer of campaign aid earlier this week, saying that her National Rally -- formerly known as the National Front -- had no need of American help.
"We're actually going to provide the tools and the building blocks for victory and those parties that want to use them can use them and those that don't, won't," Bannon said. "As an American I'm not over here to tell anybody how to run their elections. It's going to be a European effort with Europeans."
Asked about his support for the likes of Orban and Italian Interior Minster Matteo Salvini even in the face of their provocative statements about immigrants and Muslims, Bannon said that they they're not racist, xenophobic or "ethno-nationalists."
"These are individuals who believe in their countries," he said. "I think what they've done is quite heroic." He added that "I think the world" of Le Pen and her party.
He said The Movement isn't "really doing anything" in the U.K., where it's decided Brexit is going to happen.
On the common European currency, Bannon acknowledged it's "complicated" for countries to leave a currency they've been in for two decades. "You just can't wave a magic wand and say 'oh we want out," he said. "It's incredibly difficult. It's much more difficult" than the political exit from the EU that the U.K. is undertaking.
Equally, he said that he wants to help reform the EU rather than end it, beginning with the European elections.
"It's going to be quite a fight," he said.