Bank Profits Probably Won't Resume Pre-Crisis Levels, ECB Says
(Bloomberg) -- Euro-area banks probably won't restore their profits to the peaks seen before the 2008 financial crisis, according to the European Central Bank.
The squeeze on profits has resulted from factors including tougher capital requirements put in place since the crisis and banks' shying away from riskier businesses, the ECB said. Still, firms need to earn an "appropriate return" on their capital to be sustainable, the central bank said.
A review of profitability and business models completed by the central bank's oversight arm will feed into the setting of capital demands on lenders, the ECB said. It could also result in stricter scrutiny of some firms.
Banks have seen lending revenue come under pressure from record low interest rates and stricter regulation while inefficient operations and fines for misconduct have eroded their bottom line. Unlike their U.S. competitors, European lenders have been slow to take drastic action, often responding by firing staff and pulling out of businesses, sometimes at the cost of lost revenue.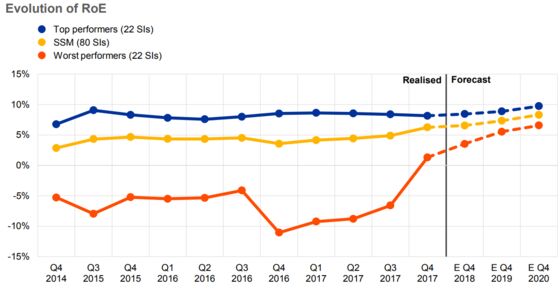 "Banks lack profits, with a number of them not earning the cost of their capital," Daniele Nouy, head of supervision at the ECB, said in Paris on Tuesday. Completing the integration of the euro area's banking market would put lenders in a better position to serve large companies and compete with their global rivals, she said.
Nouy's call for policy makers to wrap up their work on the so-called banking union and parallel efforts to develop a single capital market for Europe was echoed by senior bankers on Tuesday. "If you really want to have a competitive edge" versus the Americas and Asia, "we must complete the banking union," Deutsche Bank AG Chief Executive Officer Christian Sewing said at the Bloomberg European Capital Markets Forum in Milan.
The banking-union project, which dates back to 2012, is an attempt to level the playing field in the bloc's financial markets and avert future crises. It consists of the EU's common rule book, ECB supervision and a bank-failure authority, the Single Resolution Board. A planned common deposit insurance system remains on paper.
In its report published on Tuesday, the ECB reiterated its insistence that banks step up efforts to tackle non-performing loans, which remain "far too high by international standards." It noted that while mergers have taken place, markets like Austria, Germany and Italy remain fragmented.
The banks that have done best tend to have tools such as good corporate governance that help set a course toward long-term objectives, the ECB said. Here's where the watchdog sees room for improvement:
Understanding of what drives revenue across businesses, geographies
Granular breakdown of expenses and a grasp of the quality of cost-cutting plans
Awareness of the level of loan-pricing needed to cover costs and risks
More involvement of risk management staff when formulating strategy