Bank of Portugal Cuts 2018, 2019 Growth Outlook as Exports Slow
(Bloomberg) -- Portugal's economy will expand less than previously forecast next year as export growth slows, the country's central bank said.
The lower outlook for the country's economy follows Thursday's announcement by European Central Bank President Mario Draghi that risks to the euro-area economy are growing due to a range of concerns over geopolitics, trade protectionism and market volatility.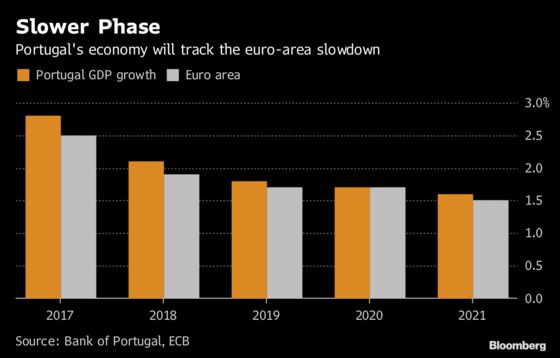 Tourism has boosted the Portuguese economy, which last year posted the fastest growth since 2000. That's helped the country's minority Socialist administration, which faces a general election in October, to lower the jobless rate and manage the budget deficit.
Gross domestic product will expand 2.1 percent in 2018, 1.8 percent in 2019, 1.7 percent in 2020 and 1.6 percent in 2021, the Lisbon-based Bank of Portugal said in a statement on Tuesday.

Previously forecast 2.3 percent for 2018, 1.9 percent for 2019 and 1.7 percent for 2020.
Predictions are more pessimistic than those by the government, which sees 2.2 percent growth in 2019.

Other central bank forecasts:

2018 export growth cut to 3.6 percent from 5 percent.
Inflation will be 1.4 percent this year and in 2019.
Unemployment will fall to 6.2 percent in 2019 from an estimated 7 percent this year.