EU Bank-Law Revamp Puts Lenders on Notice With Tougher Debt Rule
(Bloomberg) -- European Union finance ministers gave the green light to an overhaul of the bloc's banking laws, including new rules on handling failed lenders that could affect their debt issuance for years to come.
The update, first proposed in late 2016, incorporates capital and liquidity standards set by the Basel Committee on Banking Supervision. It also sets new requirements for loss-absorbing liabilities that banks must have so they can recapitalize themselves quickly after restructuring, avoiding a public bailout.
A disagreement between Germany and France over these debt requirements in the overhaul of EU bank-failure rules had stalled progress on the package for months. Both countries' finance ministers on Friday supported a compromise deal in Brussels, joined by most of their EU counterparts. Italy and Greece abstained from the vote.
France's Bruno Le Maire said the decision will increase the stability of EU banks and push forward the bloc's broader plans for deeper integration of the euro area. Olaf Scholz of Germany said the "balanced" compromise would help ensure that the costs of bank failures are borne by shareholders and creditors, not taxpayers.
Under the plan, the largest banks must have subordinated liabilities equivalent to 8 percent of their total liabilities and own funds. That's important, because it's also the level of losses that must be imposed on investors in the resolution of a bank -- a procedure known as bail-in -- before access can be gained to rescue funds.
"The banking union needs to protect taxpayers as well as possible," Scholz said. "The cost of bank failures, as a rule, should be borne by the bank's shareholders and investors." And that means firms need enough subordinated debt to meet the 8 percent threshold so the bail-in tool can work effectively, he said.
Resolution authorities would have discretion to set a higher requirement based on the riskiness of the bank and any impediments to its orderly resolution. The requirement could also be set below 8 percent if no "material risk" of a successful legal challenge by creditors is found.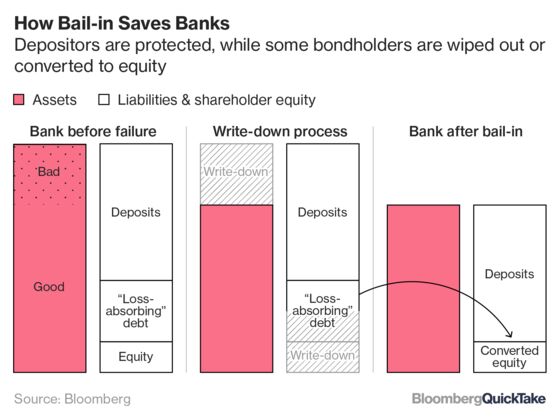 The compromise extends the toughest requirement to all lenders with a consolidated balance sheet of more than 100 billion euros ($117 billion). This threshold "would be at the top of the range previously proposed, and could make it more difficult to apply bail-in to mid-sized banks under the EU's bail-in framework," according to Fitch Ratings.
With the member states' settled on their approach to the legislation, the focus shifts to the European Parliament, which is trying to stake out its own negotiating position before lawmakers leave Brussels for the summer holiday. Once the assembly is ready, the two sides will thrash out final texts of the bills. The goal is to get the laws on the books this year.