The Vote to Replace the Woman Who Leads Europe
It's the end of an era, as German Chancellor Angela Merkel hands off the reins of her Christian Democratic party.
Delegates will choose today between candidates to succeed her as party leader who represent diverging visions for the future of Europe's dominant country: extend Merkel's legacy as a bedrock of regional stability or take a more right-ward tack.
Whatever the outcome, Germany is headed for a transition to a more diffused power structure than the dominant, one-leader model that's characterized Merkel's tenure as Europe's longest-serving leader.
For now, her chancellor post is secure. Expect the winner — whether it be BlackRock's Friedrich Merz from the conservative bloc, or Merkel acolyte Annegret Kramp-Karrenbauer — to declare loyalty to her. Yet the vote pushes her further into a lame-duck period after 13 years in office that included two financial meltdowns and a refugee crisis that soured the party on her leadership.
How Merkel's successor leads Germany's biggest party will influence the degree of global standing she retains, whether she'll serve out her term until 2021 and how actively Berlin will shape the post-Brexit European Union.
For Merkel, at least, life will go on. "We've always known that the party isn't a party of one," she told delegates, urging them to keep a "cheerful heart."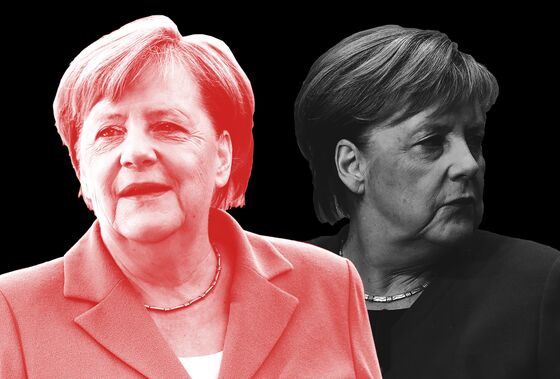 New envoy | U.S. President Donald Trump has settled on State Department spokeswoman Heather Nauert to replace departing United Nations Ambassador Nikki Haley, Jennifer Jacobs and Nick Wadhams exclusively report. Nauert is an unusual choice, given she had little experience in government or foreign policy before joining the administration in April 2017 after several years as an anchor and correspondent for Fox News, Trump's preferred network.
Falling out | Kremlin insiders are souring on Trump after he snubbed President Vladimir Putin twice in under a month on a potential meeting. As Ilya Arkhipov and Henry Meyer report, that may mean Russia now takes a harder line in talks with the U.S. on thorny issues including arms control, the conflicts in Ukraine and Syria and the Iranian nuclear accord. It may also retaliate against possible future U.S. sanctions after Putin held back from responding to earlier penalties.
Last-ditch options | U.K. Prime Minister Theresa May is considering a plan to postpone Parliament's planned Tuesday vote on her Brexit deal, in a bid to avoid a landslide defeat that would risk a major political crisis. As Jess Shankleman and Tim Ross exclusively report, May met with top ministers to discuss options that also include asking the EU for a better deal by reopening talks in Brussels and offering U.K. lawmakers a bigger say over the pact's most contentious clauses.
Tricky moment | Chinese officials are split on how to respond to the arrest of Huawei's chief financial officer, depending on whether they're focused on the economy or national security. Meng Wanzhou's detention in Canada at the request of the U.S. has set off a debate over whether to carry on with a trade thaw with Washington or link the two issues and retaliate. Some officials say a collapse in trade talks would hurt China more than the Huawei furor.
Digging in | Three months in, and the man picked to lead U.S. talks with North Korea — ex-Ford Motor executive Steve Biegun — has barely met officials from Pyongyang face-to-face. It's a sign that the regime may prefer to deal directly with Trump, who has stressed his personal rapport with Kim Jong Un. Rumors are rife however that Kim may show up in Seoul this month, the first visit to the South Korean capital by a North Korean leader.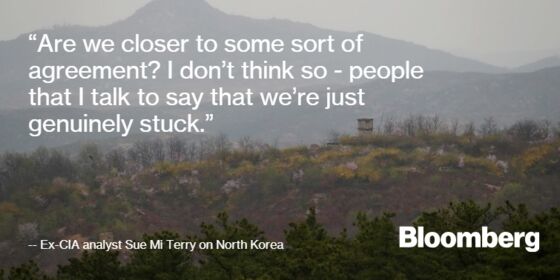 Special Counsel Robert Mueller is due today to submit new filings in cases involving the convictions of Trump's former personal lawyer Michael Cohen and ex-campaign chairman Paul Manafort. The documents could provide fresh details about the cooperation each man has provided to prosecutors investigating Russian efforts to sway the 2016 election.
A top U.S. House Democrat plans to propose the government sell 40-year bonds to capitalize a U.S. infrastructure bank, an indication that the party may seek common ground with Trump on an issue that stalled in the Republican-led Congress.
Five states in India are set to announce election results on Tuesday, offering a hint at the popularity of Prime Minister Narendra Modi's ruling party and the main opposition ahead of national polls next year.
And finally… An online activist has become one face of the Yellow Vest movement that's rocking Paris. A Facebook group run by 31-year-old Maxime Nicolle, who writes under the alias "Fly Rider," has more than 120,000 members and seeks to coordinate and organize actions. It's home to posts about everything from injured protesters to what to wear to avoid tear gas. As Paris braces for more demonstrations, we look at how President Emmanuel Macron's challenges at home erode his bandwidth to defend the liberal order more broadly in Europe.